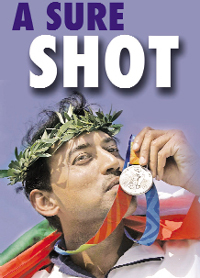 Few had heard of him till he shot to fame with a silver medal in the Olympics. Vibha Sharma visits Rajyavardhan Singh Rathore's house in Delhi to chat up the ecstatic family of the man whose name is now on everyone's lips.

It is 10 am, just about 16 hours after the medal-starved Indians finally got the opportunity to celebrate when the Raja Hindustani from Bikaner, Major Rajyavardhan Singh Rathore, trapped the first-ever Olympic silver medal for the country at Athens. Last year, when Major Rathore won the bronze at the World Championship in Nicosia, not many knew about his event, double trap, or the man himself.



At last, a silver lining
Prabhjot Singh reports from Athens

Balle Balle software
The new Punjabi word processor is here. It is user-friendly with a string of dream features, finds out Roopinder Singh
This is the story of one man's passion, dedication and focus. Many years ago, a young man decided to work on making Punjabi computer friendly. Initially, he developed an optical character reading (OCR) programme for Punjabi, and after much work, got one that had 97 per cent accuracy.