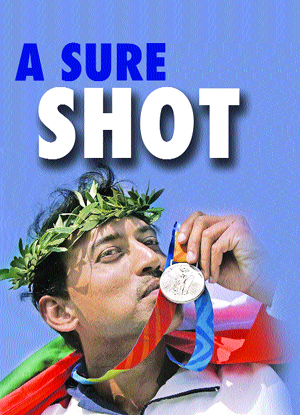 Few had heard of him till he shot to fame with a silver medal in the Olympics. Vibha Sharma visits Rajyavardhan Singh Rathore's house in Delhi to chat up the ecstatic family of the man whose name is now on everyone's lips.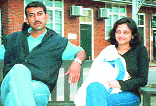 Rathore with wife Gayatri

It is 10 am, just about 16 hours after the medal-starved Indians finally got the opportunity to celebrate when the Raja Hindustani from Bikaner, Major Rajyavardhan Singh Rathore, trapped the first-ever Olympic silver medal for the country at Athens. Last year, when Major Rathore won the bronze at the World Championship in Nicosia, not many knew about his event, double trap, or the man himself. Today, while trying to locate his house in the Delhi cantonment area, it was a small boy who guided us to the crack shot's house. At the neat Army house in the Old DID lane in Gopinath Bazar, waiting for his wife Gayatri Rathore are two old friends from the Army, with their respective wives, and a photojournalist from a daily attempting a photo-feature from old family photographs.
The phone has not stopped ringing since Tuesday evening and mom Manju Rathore is attending each and every call, most graciously. Gayatri, who has put her own career as a doctor on the hold to help Chilly, as Major Rathore is better known, pursue his dream, has been busy since the morning.
Chilly, Manju says, had called up at 3 am and talked to her, Gayatri and his two children—five-year-old son Manav Aditya and two-year-old daughter Bhagyashree.
Talking about the man most of us knew nothing about till August 17, Manju's eyes get moist: "He was not a naughty child. In fact, he was quite obedient and listened to me. But he did not like to study and was just about average as far as academics were concerned. He liked to play -cricket, basketball volleyball, basketball, just about any sport. Whatever he has played, he has given it his cent per cent. He also represented his school in the Kendriya Vidyalaya national meet in discus throw. Believe me, when he played volleyball and basketball, it was with so much passion that if I was standing and watching him I would turn my back with the thought ki kahin meri nazar na lag jaye. When he was in the ninth standard, we were in Jabalpur and he went to Indore to participate in a cricket tournament. That was the first time his photograph appeared in a newspaper. I still have the clipping of the photograph. And today when he is the lead in all newspapers in the country, it is the proudest moment for the entire family. I knew he would do well. But to have him do so well is to have a dream come true.
"Chilly has worked hard in Delhi's sweltering heat and the entire family has pitched in. He chose to be posted at Delhi so that he could train without interruptions. He did not even bother about his promotions. All this while, Gayatri has been with him, providing him support and comfort. She has been his pillar of strength, sharing his problems and calming him when the going got tough. She has been managing his schedule, booking his tickets and hotel rooms. In Italy, she would sit in the basement with the machine, pulling targets and assisting him. To reduce her workload, I took Gauri with me to Jaipur. I took charge here when Milo's school reopened."
When Rathore did call up to talk to his family at 3 am on Wednesday, the happy mom told him that they were all proud of him. He lovingly replied that he had thought of her during the crucial final round. His mother is his inspiration, his Army friends add. "He is a perfectionist and a self-made man with nerves of steel and total commitment. He has the winning characteristics and is a natural athlete," Aarti Soi, Gayatri's friend, adds.
A graduate of the 77 NDA course, Rathore passed out with a sword of honour at the IMA before being commissioned into 9 Grenadiers where he took up shooting. He was the Cadet Sergeant Major of the Echo squadron at the NDA. Mom Manju agrees with his friends. "He is very down-to-earth and has never bragged about his achievements. He is a perfectionist and even when he is doing very well, shooting 49 out of the 50 targets, he will say 'theek hai'. He was 28 years old when he started shooting. In selection trails for Mavalankar, he participated in double trap, trap and skeet and won two gold medals and one silver medal. He was told to concentrate on double trap. Initially, there was no one to help him and he would watch seniors shoot and try to rectify his faults and mistakes. It is a very expensive sport. Later there was support from the Army and the government. He also had the chance to work with experts in double trap."
It is not easy getting a word with Gayatri with her mobile constantly ringing. "I am sorry," she says politely every time her phone rings and she attends the call. Gayatri, who is from Kumaon in Uttaranachal, got married to Major Rathore in 1997. "It was an arranged marriage. Chilly is a simple man and likes simple Indian khana, particularly non-vegetarian food and kadi-chawaal with a Rajasthani flavour and likes listening to music. He has a number of friends, likes social gatherings but is a teetotaller. When you set out to achieve something, you have to make certain sacrifices. And when the result is favourable, you feel good. He started shooting while we were in Mhow. In Italy, I stayed with him at the range while he was practising, and spent time listening to his fears and discussing his problems. Venice was just half an hour's drive from where we were putting up, but we did not go sight-seeing. But we did it all with a very positive attitude. Believe me, even if there had been no medal, there would have been no regrets."

At last, a silver lining
Prabhjot Singh reports from Athens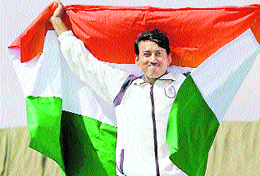 Pride of the nation
— Photos: Reuters
For someone who is called Chilly, Major Rajyavardhan Singh Rathore managed to generate a tremendous amount of warmth and pride in Indians' hearts on August 17. By winning a silver medal at Athen's Markopoulo shooting centre in men's double trap — the most difficult event in shooting because the player has to aim at two moving targets within less than one second — he created history. It was for the first time since Independence that a country of over a billion could boast of an individual silver medal. A late starter, the major had started shooting four years earlier at the Army Marksman Unit in Mhow. It was from 1994 to 1996, when Rathore led from the front and battled insurgency in the Kashmir valley's Hadwara sector, that 9 Grenadiers, Rathore's battalion, got a citation of excellence. Steely nerves, sharp reflexes and an unfailing killer instinct, precisely the same qualities that had helped the 32-year-old officer score over the enemy and make a mark in Baramula and Kupwara, were what contributed to his winning marksmanship at Athens.
He consciously stayed away from the media strobes while training at Italy with his Australian coach Russell Mark and Italian Luca Marini for the past four months because he did not want to be under pressure to speak or give quotes. Whether it was scientific coaching, backed by latest technology, or the special, world-famous Perazzi guns that were made by the maker Mario Perazzi exclusively for Rathore, that contributed to the makings of a winner, in the ultimate analysis it was his overriding desire to cross the threshold and a firmly entrenched self-belief that helped Rathore take a well-aimed shot at Olympics success.
The last year has been especially remarkable for Rathore. Ranked fourth in the world in 2003-4, his shooting careergraph has been rising. The Commonwealth Games Champion in 2002 had won the bronze twice in 2003, at the World Shooting Championship as well as the World Cup Shooting. Last year he was also the Asian Shooting Champion and the Afro-Asian Games Champion.
After sharpshooter Rajyavardhan Singh Rathore broke India's medal drought in Athens, there is a new wave of enthusiasm not only in the Indian contingent but also among members of the Indian community overseas. No individual Indian has ever bagged an Olympic silver.
Though Samanacha Chanu, Kunjarani, Abhinav Bindra and Suma Shirur — all made it to the final round in their respective events in Athens, they couldn't win any medal.
Medals have been eluding India for a long time. In Sydney also a number of Indians made it to the final but couldn't finish among the top three. P.T. Usha, Sri Ram Singh, too, had qualified for the finals but returned home without any medals. Now more and more Indian athletes have started finishing among the top eight. The recent medal successes for India have been Karnam Malleswari (weightlifting, Sydney) and Leander Paes (tennis, Atlanta), but none have progressed beyond a bronze. Rajyavardhan has kindled hope afresh.
"It is a great day for Indian sports in general and shooting in particular," remarked Baljit Singh Sethi of the Rifle Shooting Association of India. "We lack not only in physical fitness but also as far as the killer instinct is concerned. Besides, we continue to trail in use of technology in our preparations for such big events," remarked Mewa Singh, saying that Rathore had done the country and the Indian community here proud. "Depending upon his availability, we will felicitate him."
The performance of both Kunjarani and Chanu has been commendable as they were just a step away from an Olympic medal. Many, however, do not rate their performance as something to crow about, as in the absence of lifters from Chinese Taipei, Indian women with a little more effort could have finished among the top three.
Meanwhile, pictures of a beaming Rathore with the crown of laurel leaves will be etched frozen in the history of Indian sport.