Bangla rebel's fresh tirade
by Aradhika Sekhon
Selected Columns
by Taslima Nasreen. Shrishti, New Delhi. Pages 158. Rs 250.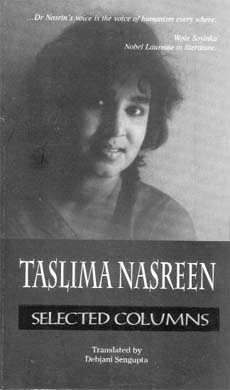 Taslima Nasreen, known as "the angry young woman" of Bangladesh literature, gives us "countless instances of the injustices that make her angry" in this collection of writings. Selected Columns is a skilful translation by Dabjani Sengupta, of Nirbachita Kalam that came out in 1992. Along with Nasto Meyer Nasto Gadya (Fallen Woman's Fallen Prose), the two volumes have created a significant niche for Taslima among South Asian feminist writers. Nirbachita Kalam was awarded the Ananda Puruskar, one of the most prestigious of West Bengal's literary awards.
Taslima's voice is distinctly her own–passionate, fearless and strident, "without inhibition, sometimes full of outrage and betrayal, yet also simply human". In fact, Selected Columns created waves in Bangladesh when first published. Taslima says: "My columns had created a storm inside offices, outside in the Press Club, in literary gatherings. I do not know how to please readers. I simply know how my eyes fill up with tears as I write every column. Every sentence, every word in each sentence takes shape from my heart, not from my pen."
The columns flow from Taslima's belief that "from the dawn of civilisation, humans have been guided by society and religion. Society and religion have always been owned and directed by men in every age. State and society surely, but religion too had forever dishonoured women."
In her columns, she builds a strong case for indictment against marriage, Vedic diktats, social mores for women, lusty Pirs and holy men and even the Hadish, which propagates: "If a man wishes to be physically united with his wife and calls her, she must come at once, even if she is cooking." Or, "If your wife does something shameless, banish her from your bed and beat her."
Thus injustice and dishonour against women is recommended even in holy texts (she doesn't spare the Vedas either and quotes umpteen examples of women's suppression clearly set out in their pages.) and perpetuated by the male-dominated society.
Taslima is throbbing alive to the nuances and "catch phrases" that are so detrimental to women's independence or prestige, but which are often and unthinkingly used by people. If, for example, she speaks of a holiday in India, the first reaction of people would be "who went along?" as if "women, whatever age they maybe, cannot go far without a man." Or when her prose is considered "even better than Selina Hossain's`85 the best among women writers", she realises that howsoever excellent her prose maybe, she would be judged only in relation to women writers.
Taslima's most scathing attack is against women themselves, against whom she lashes out again and again. "The new educated woman is an ideal 'modern slave'. To keep their husbands satisfied and attracted to them, they perform unending tasks, make themselves beautiful, go to meetings of culture and art and participate in women's movements," and, "every woman is oppressed one way or the other; where is the class distinction among them?"
Speaking for womankind, she declares, "We are not stagnant ponds that one blow will push us towards death. We do not belong to anyone, we are neither the personal property of anyone else, and nor the kind that will turn barren, if someone doesn't tend us."
Readers of these columns, be they men or women, have to really gird their loins and grit their teeth before they can face the onslaught that Taslima unleashes. There is such unarguable fact and so much honesty of conviction in her words that all but the brave or the grossly insensitive are left cringing in the corner as Taslima sweeps by.