Any other 'Pran' out there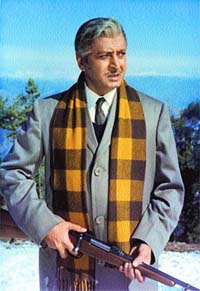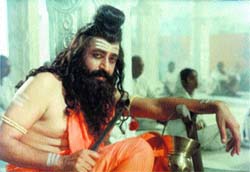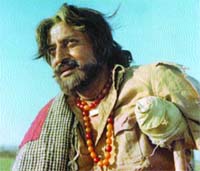 The hunt is on for all the Prans of the world. Thanks to Pran's spectacular screen career, his name became synonymous with villainy, and to such an extent that in the decades following the 1960s, many believe, very few male babies were named Pran. Kuldip Dhiman writes about the character and the unique competition to find out how many other Prans are around.
It is the climax scene of Ram aur Shyam. Dilip Kumar is on the one end of the screen, presently Pran appears with a whip in his hand. There is a lull in the cinema hall.
As Dilip Kumar snatches the whip from Pran's hand and begins to whip him mercilessly, Dadi ma, the childless Sindhi woman of our neighbourhood suddenly began to cry out, "Maar. . . aur maar isko! Ek aur maar. . . bahut sataya hai isney."
After the show an informed person told Dadi ma that Pran was a bad man only on the screen; in real life he was actually a wonderful person. Dismissing the man, Dadi ma said, "Woh aadmi to achcha ho hi nahin sakta".
That was the kind of intense loathing Pran managed to evoke in filmgoers.
With sterling performances in films like Halaku, Madhumati, Jis Desh Mein Ganga Bahti hai, Johny Mera Naam and many others, Pran grew in the public imagination as the very personification of evil. It is not unusual for the audience to confuse the screen character with the person, but in Pran's case the identification was so great that in the decades following the 60s, it is widely believed, hardly any children were named Pran. It was an era when there were other great villains like Ajit, K. N. Singh, Jeevan, Madan Puri, Prem Nath and others, but parents still named their children Ajit, Jeevan, Prem and so on for we come across young men with such names, but we rarely come across a Pran.
Wondering what it was like to join the ranks of mythical characters like Ravana, Duryodhana and Shakuni, a contact was made with the great actor himself on the phone to ask him how his family and friends reacted to the awesome impact his roles had created in the minds of the public.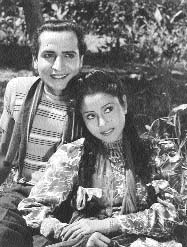 Pran with Anjana in his first film Yamla Jat (1940)
"The claim that mothers were reluctant to name their children Pran after my advent in the film world is the greatest critical acclaim for my work. My family had no problems with the notoriety I had gained because of my roles. But one day my daughter Pinky, when she was little, came up to me and said, 'Daddy, won't you ever play the nice man.' She had been disturbed because her friends at school had probably said something nasty about me. That set me thinking. I began to wonder if I should go for a change of image, but that was an extremely difficult thing to do in those days. But I got a chance to change my image in Manoj Kumar's Upkaar. This film changed the course of my acting career. Slowly, people began to change their views about me. Otherwise, I have had no problems with my name and career as villain."
Sometime back, a group of college students from UP, members of Pran Fan Club, met the much-loved actor. They told an amused Pran that they had gone through the lists of students of various educational institutions in UP, and they did not find a single student named Pran.
Intrigued by such incidents, Pran's family have launched a competition called 'Hunt for Pran'. This coincides with a biography of Pran by Bunny Reuben, published by Harper Collins that will be released on October 1, 2004. The book titled . . . and Pran will be released by Amitabh Bachchan, who has also written its foreword. The title of the biography was aptly suggested by his daughter Pinky Bhalla.
"You see," Pran says, "my name used to usually appear at the end of the star cast. For instance, a poster often read like this: Bimal Roy's Madhumati- Starring Dilip Kumar, Vyjayanthi Mala, Johnny Walker, Jayant, Tiwari . . . and Pran. Here I suddenly remembered something amusing. Rikshawalas in Delhi used to pronounce the word 'and' as 'end' and exclaim- Arey! End main Peeran bhi hai! Phir to zaroor dekhenge."
There are two parallel competitions. One is for the oldest person named Pran born after 1960. The winner, and his 'brave' mother who chose to name him Pran, would be invited to the book launch, and will receive the first copy, provided the claim is proved with necessary documents. The other competition is for the youngest man named Pran before 1960. With this, the organisers hope get an indication about the 'missing generations.' Entry details are available on www.pransikand.com. The competition closes on August 31, 2004.
I tried conducting a little research on my own. In my life, I must have met thousands of people, but I have come across only two persons named Pran. One worked with me in Muscat. "People give a funny smile , says he, "when I introduce myself, especially over the phone. The first thing everyone says is: Are you Pran, the villain? But once I tell them my name, no one ever forgets it. I am proud to be known as Pran, because I know the actor Pran is a very nice man in real life."
And the other Pran is well-known to The Tribune readers as Pran Nevile. He says, "I have great regard for Pran as a human being and as an actor, and I know of him from the his Lahore days before he became an actor. He used to often come to Nisbat Road there. But this widely-circulated story about mothers not naming their sons Pran has no basis, it is just one of those stories about celebrities that get into circulation, thanks to the media. I have been in the foreign service all my life, and I have had no problems with my name."
But there is some truth in the claim. Whenever asked to suggest a name for their newborn sons, I often suggested the name Pran. Quite predictably, the reply was: "Rahne do yaar, humne bete ko chor, daku, badmash thoda banana hai." These parents were only joking in return, but nevertheless, they never named their sons Pran.
Whatever the case might be, it is a bit difficult to prove or disprove the claim for the research work required to test it would be a mammoth task.
Perhaps all the Prans among our readers could settle the matter by coming out of the cold.