TELEVISION
Spirited Sanjit


Bedi in SaathiyaÖserial affair

Itís not for nothing that TV circles call him a serial surfer. In one year, he has dumped three serials ó Sanjivani-a medical boon, Kyun Hota Hai Pyarrr and Koie Jane Naa.
But Sanjit Bedi has no qualms about it. "These shows were not exciting me any more so I decided to move on," says the star, who has done theatre with Lilette Dubey.
That heís not lost his stardust is evident from the fan following heís getting for his role in Saathiya on Sahara. "It was its freshness that appealed to me. Nothing like this has been attempted before on television." Bedi adds "The key to success is to pick the right roles and dump those that are not dynamic. You have to keep evolving".
Undeterred Richa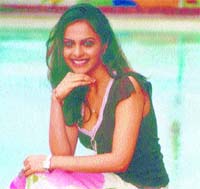 Richa PallodÖFilms or nothing
If you win the Best Actress Filmfare award for your debut film, you can be forgiven for assuming that your path to Bollywood would be strewn with roses.
Richa Pallod thought just that after winning the coveted award for her debut Telgu film Nuve Kavli. But her first two Hindi films Kuch Tum Kaho Kuch Hum Kahein and Wrong Number sank without a trace and Richa herself became a wrong number in Bollywood.
The young lady who had been a top-of-the-line model before stepping into films and had also done two Falguni Pathakís videos Yaad Piya Ki Aane Lagi and Piya Se Mil Ke Aaye Nain could have shed a few tears and gone back to the small screen.
"That would have been the easiest decision. But I didnít want to take the easy way out," says Richa who is now back in the lead role of Mahek in Kaun Hai Jo Sapno Main Aaya.
Though not much is expected from the film, yet Richa says itís a performance-based role.
Though Bollywood acceptance may be eluding her, there are plenty of TV offers but she says no, for her its films or nothing. "I want to keep trying my luck in films. I am sure Iíll succeed one day." Yes, Richa. So did King Bruce.
A new junoon
Heís one of the best-known faces on television in Pakistan and has turned the countryís pop music on its head. Yet the doctor-turned-musician Salman Ahmed, lead guitarist of Junoon, has something else to sing about. He has become an anti-AIDS crusader.
The rock star is the UNDP Ambassador for AIDS awareness in Pakistan and works relentlessly to spread the message about the disease. He says more than 25,000 people test HIV positive everyday in India alone. In Pakistan, the authorities donít even know the figures.
Ahmed was in India for a promotional tour of his new video Ghoom Tana featuring Naseeruddin Shah and Shubha Mudgal that was shot in his ancestral home in Patiala.
The move to appoint one of the most popular celebrities of Pakistan as the AIDS ambassador is aimed at focusing on the havoc wreaked by the deadly disease. The campaign was kicked off by a poster of Salman Ahmed titled I care... do you?
It takes six to gossip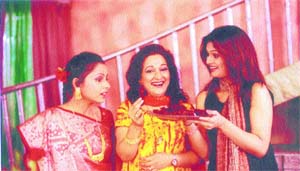 Aao Bahen Chugli Karen.. A nose for rumour
Are you tired of the tear-jerking saas-bahu stuff? Do you find the Jassi storyline going round and round in circles? How about a few laughs? Great idea. And providing the comic relief are a group of ladies who are the epitome of what is commonly perceived to be a common pastime of women ó gossip.
Aao Bahen Chugli Karen, a weekly aired on Sahara Wednesday at 9 p.m, revolves around six women who live in a elite south Mumbai society and for whom keeping a tab of who is doing what in the locality is a way of life.
Though they hail from different regions and backgrounds, they share a common bond when it comes to keeping an eye on the neighbours. Whether it is eavesdropping on telephonic conversations or deliberate slips of the tongue, these six women will keep you in good mirth with their habit of invading the privacy of others.
Produced by Girish Malik, the cast includes seasoned stars like of Himani Shivpuri, Shruti Ulfat, Sejal Shah and Anita Kanwal. The comedy looks impressive for a start. But only time will tell that how long things can survive only on gossip.
Aiming for the sky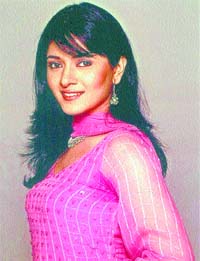 Sonal SehgalÖNo hurry, no worry.
She can match Manisha Koirala not just in looks but even in her choice of roles. In Saara Akaash on Star Plus, Sonal Sehgal plays the kind of character Manisha played in Dil Se.
"Itís been a great experience for a rookie like me whose only exposure to television has been the ad campaigns for Thums Up, Godrej, Airtel and others," says the Delhiite who has also done music videos for Euphoria, Pankaj Udhas and Harbhajan Mann.
Saara Akaash, she feels, has been a perfect launch pad for her. "To play a school teacher who transforms into a terrorist is big challenge and I am enjoying it," says Sonal.
But despite her new found stardom she isnít going on a signing spree. "Offers are coming but I am still on a learning curve and donít want to overwork myself," says Sonal putting an end to speculations that she is open for any TV role. It sure pays to be choosy.