M A I N N E W S
Saras takes 25-minute 'inaugural flight'
Sridhar K Chari
Tribune News Service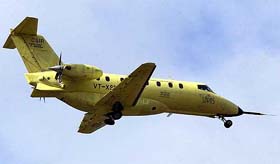 A prototype of India's first locally-built 14-seater civilian aircraft flies after taking off from the tarmac of the Hindustan Aeronautics Limited (HAL) airport in Bangalore on Sunday.
— AFP photo


Bangalore, August 22
The second prototype of the Saras 14-seater multi-role light transport aircraft developed by the National Aerospace Laboratories (NAL) along with Hindustan Aeronautics Limited (HAL) will fly in about one year, and the certification process, which will require about 500 hours of flying, is targeted to be completed in 24 to 30 months, NAL consultant T.S. Prahlad said here today.

Minister for Science and Technology Kapil Sibal, who was here for the "inaugural flight" (actually the seventh test-flight), said that he would recommend to the government to consider favourably the request for an order of 30 aircraft, which will give a boost to the civil aviation industry in the country. NAL is a laboratory under the Council for Scientific and Industrial Research (CSIR) which is under the Ministry of Science and Technology.

Mr Sibal, along with the project scientists, confirmed that the prototype was indeed heavier by about 700 kilograms, but stressed that it was not an issue as weight optimisation and power optimisation exercises were already under way, and expressed confidence that the production version would be in alignment with optimal parameters.

A detailed project report had been sent to the IAF which has already issued a letter of interest in procuring six aircraft. Air staff requirement (ASR) parameters were being finalised. The IAF will use it for training, troop transport, executive and casualty evacuation.

Dr Prahlad, a former NAL Director, under whom the project was sanctioned in 1999 after

several false starts, said the production version would have a more powerful engine, 67 A, from the same family of Pratt and Witney engines. Other planned improvements included a more ergonomical cockpit, and easy maintenance accessibility. The original project cost of Rs 132 crore, with funding from CSIR, the Technology Development Board (TDB), HAL and the Ministry of Civil Aviation, was now revised to Rs 157 crore. The projected unit cost was about Rs 30 crore, which could be reduced with a larger production run, he added.

The aircraft has been developed with collaboration with other CSIR labs, ADA, Taneja Aerospace, a private company contributing with sheet metal parts and fuselage assembly, and 25 to 30 SMEs for various components. HAL is responsible for the wings and landing gear.

There was also a proposal to "stretch" the fuselage by adding a "plug" which would enable the aircraft to seat 19 passengers, thus increasing its commercial viability. NAL would aim for a United States Federal Aviation Regulations (FAR)-25 certification. NAL sees a market for 150 aircraft in the next 10 to 15 years, in various roles like short-haul travel, especially in remote locations like the North-East with short or semi-prepared runways. Other roles include executive transport, aerial reconnaissance and air ambulance services. Saras is designed for short takeoff and landing runs. HAL is likely to be the nodal production agency.

The "inaugural flight" today, flown by Sqn-Ldr K.K. Venugopal with Wg Cdr R.S. Makker as the co-pilot, both from the Aircraft and Systems Testing Establishment (ASTE) of the IAF, lasted about 25 minutes. "We kept to a speed of about 150 knots, and flew up to a height of about 7000 feet. Handling characteristics and other parameters are along predictable lines," Sqn-Ldr Venugopal said.

The aircraft, with a full payload, has a projected range of about 500 kilometres, which can go up to 1,400 kilometres in the eight-seater executive version. Other projected figures include a max speed of 550 km/h, an economy cruise speed of 450 km/hour, a cruise altitude of 7.5 kilometres, and take-off and landing distances at 700 and 850 metres, respectively.

Dr Prahlad said that avionics and engines were the main foreign components in the aircraft, and there was a programme to indigenise the avionics in the 10th plan.

NAL Director B.R. Pai, CSIR Director-General R.A. Mashelkar, DST Secretary V.S. Ramamurthy, HAL Chairman N.R. Mohanty and NAL Centre for Civil Aircraft Design and Development (C-CADD) head K. Yegna Narayan participated in an inaugural function after the flight in the morning.