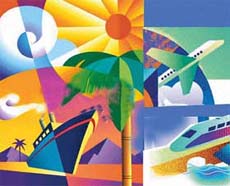 Travel industry takes you places
The task of sending people on a holiday is serious work for those employed in the tourism sector, writes Biswajiban Sharma
THERE was a time when a holiday meant fleeing the heat and dust of the plains to cooler climes. During the sojourn, the family would mostly stay cooped up in its salubrious surroundings, play cards, take the mandatory daily walk up the 'Mall' and go for the weekend picnic at the edge of a waterfall. The LTC changed all that; so did the increase in the disposable income of the Indian middle class, the explosion of the Internet, the travel bonanza on the Discovery and National Geographic channels, the discounted airline fares and the mushroom growth of the hospitality industry.


CORPORATE CHAT
"This is the road to fast growth"
IF you have determination, grit and guts, then there is nothing like a career in travel and tourism, says Sheema Vohra, Director, India & Subcontinent, Global Sales Organisation, Marriott International Inc.


Sheema Vohra

HOTJOBS
Fashion a suit-able future
Manish Kumar Singal
IF the big names in the fashion industry ó Hemant Trivedi, Ritu Beri, Manish Malhotra, Rohit Bal and others ó are anything to go by, a career in this field promises glamour, money and fame. No wonder, fashion designing is a career option that is drawing more and more people.

CAREERCATURE
by Sandeep Joshi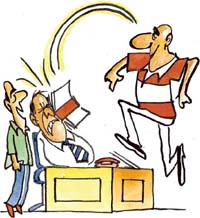 Donít mind, heís from the sports quota. He is a former discus thrower.

SMART SKILLS
Initial impression an investment in itself
Usha Albuquerque
SO, you have got yourself a job, and are preparing yourself for the start date. The honeymoon period can be fun, but remember this is the time when your behaviour, your initiatives, your attitudes and the impressions you make will set the stage for the rest of your tenure with the organisation.
---
WORLD WATCH
British furore over outsourcing jobs to India
Outsourcing of jobs to India has come under renewed fire here, especially with the British Government allowing 200 of its own jobs to be shipped out and doubts emerging over data protection standards outside Europe, according to a report from London.


---
CAREER HOTLINE
Food processing parks to give fillip to food technology
Pervin Malhotra
Q What are the prospects after doing a course in Applied Science in Food Technology (B.Sc.)?
---