M A I N N E W S
Economic scams, terror have strong links, says PM
Tribune News Service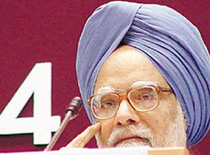 Prime Minister Manmohan Singh on the opening day of a two-day conference on corruption in New Delhi on Friday. — Tribune photo by Mukesh Aggarwal
New Delhi, August 27
Prime Minister Manmohan Singh, who was instrumental in initiating economic reforms in the country over a decade ago, today said that while economic reforms helped reduce scope of corruption, there has been a spurt in economic offences and a strong link has developed between these offences and anti-social and terrorist organisations.
"Rational policies, transparent procedures, simple rules do have the positive externality of reducing the scope for corruption. However, even as old problems are solved, new ones present themselves. Following the liberalisation of the economy, there has been a spurt in economic offences such as financial frauds, bank and stock market scams, money laundering and cyber crimes," Dr Manmohan Singh said here while inaugurating the 15th Biennial Conference of State Anti-corruption Bureaus and the Central Bureau of Investigation (CBI).
"A strong link has developed between economic offences and anti-social and terrorist organisations," he said, asking the personnel of investigating agencies to develop the ability not to let the criminal rest, to keep him always on the run and, to nab him before he can inflict more harm on society.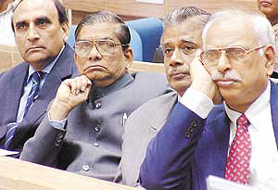 Former directors of the Central Investigation Bureau Rto L: T. N. Mishra, D. R. Kartikeyan K. Vijay Kumar Rao and P. C. Sharma at the opening day of a two-day conference on corruption. CBI officials and heads of State Anti-Corruption Bureaux from 28 states and 7 Union Territories are expected to have talks aimed at strengthening the struggle against corruption in India during the conference in new Delhi on Friday, — Tribune photo by Mukesh Aggarwal
"To check these enemies of the civilised society, it is necessary for the investigating and crime-fighting agencies to develop a high degree of professionalism and technical skills as well as heightened commitment to their mission. To combat crime and corruption, you have to become alert to their nuances, methods and their reach."
Asserting that the reform of the government and of governance is an important area of policy focus for his government, Dr Manmohan Singh said, "We are committed to making the Freedom of Information Act more progressive, participatory and meaningful so that there is greater transparency, accountability and probity in the entire system of governance."
"An improved model Right to Information Draft Bill has just been received from the National Advisory Council and the government is actively examining it," he added.
Acknowledging the vital role being played by investigating agencies in weeding out the cancer of corruption, the Prime Minister asked the CBI and anti-corruption agencies of the state to exercise utmost caution to ensure that no innocent was subjected to any "mental torture".
"While you shall be justified in instilling fear in the minds of corrupt, any harm done to the innocent compromises our image...you may consider engaging the services of psychologists, behavioural science trainers and counsellors for developing positive personality traits amongst the investigating officers," he said.
"It is sometimes complained that the CBI, which registers a preliminary enquiry (PE), attempts to include in the charge as many persons as it can. Very often, after the probe is over and Regular Case is registered, many out of that original list are found not to have even a remote connection with the case...One can only imagine what mental torture those people would have gone through," he said.
Commenting on the Central Vigilance Act, he said the government feels that the CVC has a key role in the fight against corruption and is expected to provide leadership to the nation's vigilance set-up.
"Protection of whistle-blowers has also been provided under a resolution by which the CVC has been designated as an authority to whom complaints may be made," the Prime Minister said.
Recapitulating his yesterday's remarks in Parliament, the Prime Minister said that there should be a code of conduct for political parties and people in public life, including government servants, for the betterment of the nation. "Time has come for us to evolve consensually a code of conduct for all political parties, a code of ethics for all individuals in public life and a code of best practices for the government at all levels," he said.
The Prime Minister also presented the CBI Gold Medal for Best Investigating Officer for 2002 to Mr Suman Kumar, an Inspector with the CBI, for his outstanding contribution in the field of investigation.
Dr Manmohan Singh also presented the President's Police Medal for distinguished services to 12 CBI officials.