Little wonders
They show exceptional abilities at an early age. They are subjects of envy as well as adulation.
Priyanka Singh delves into the intriguing world of prodigies and finds out that these little geniuses require sensitive nurturing and the right kind of push. Excessive pressure could be harmful to their development.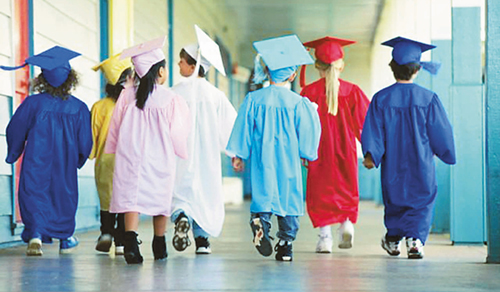 Known as super kids, beautiful freaks, miracles of nature, or more cynically, famous flameouts, child prodigies intrigue the ordinary just as they tease scientists to decode the mystery surrounding their brain development.
There are numerous prodigies in India like P. Hari Krishna, the country's youngest-ever chess grandmaster in 2001; the Khadilkar sisters (chess); the Mysore brothers, Nagaraj and Manjunath, who gave their first violin concert at the ages of 10 and 9, respectively; Srimushnam Raja Rao who gave his first performance on the mridangam at the age of seven and is a leading mridangist in the Carnatic music scene; Chandra Sekar who cracked the Microsoft certified systems engineer test in 2000 at the age of 10; five-year-old Satyanarayanan who is a keyboard maestro; and Aditya Kishore Patil who is a software wiz at 13. Singer Shankar Mahadevan, too, was a prodigy at four and Sachin Tendulkar was dubbed a prodigy at the age of 14. Human calculator Shakuntala Devi was also a child prodigy as was Srinivasa Ramanujan (1887-1920), who at 12 had mastered trigonometry and invented theorems.



11-yr-old Akrit Jaswal's IQ beats that of Einstein


10-year-old Isha Dang has
given 125 solo dance
performances


Five-year-old Jasmine Choudhaary taking part in the Parsvnath National under-11 chess championship. — PTI photo
A child prodigy would be one who displays exceptional talent or intelligence far beyond his chronological age. If by the age of 10 years, a child shows a mastery of and is finely attuned to a particular field that is usually an adult's domain, chances are that the child is a prodigy.
Whether a prodigy can be created in a controlled and stimulating environment or are they simply endowed with a rare gift that has its origin in an accident of genetics continues to baffle scientists. Research indicates that the brains of such children function in startlingly different ways and show increased metabolic activity when viewed with an MRI (magnetic resonance imaging) scanner which measures blood flow to different segments of the brain.
Teachers and psychological tests can help identify a prodigious child but neuroscientists feel that there is no need to ask whether your child is a prodigy, for the calibre of such a child would manifest on its own and would be too stark for an oversight. Their standout accomplishments are obvious.
If parents are not alert, the talent of a child could easily go unnoticed and may never come to the fore. Golf sensation Tiger Woods was born with a great deal of raw golf ability but it might have gone undetected if it wasn't for his father's early detection.
Not all is smooth sailing for a prodigy though. Starting life with an enormous IQ, which some experts believe is not the best measure of a person's potential, may not guarantee future success. Studies have indicated that not all prodigies are able to sustain their achievements once they step into adulthood or have to opt for a career. Also they may not mature into leaders in their fields. They could carry on in their specialties in adulthood but never match their childhood achievements.
Regarded as objects of envy and adulation alike, their aptitude may wane and they may actually burn themselves out much before their time. Late-bloomers — Charles Darwin was one — may overtake them at this stage.
Alan Greenspan, Chairman of the Federal Reserve Board, USA, showed early signs of mathematical genius but drifted for some years and signed up with a music band. Later, he majored in economics and abandoned his music career. There is another case of a child prodigy in music who grew up to teach at the Julliard School of Music in New York but took to doing an MS in computer science.
Winner, a psychologist, says in his study that "to make the leap from pint-sized prodigy to grown-up genius, that is, into a person who not only excels in a subject but also revolutionises it, requires more than mere technical prowess. It takes intuition, creativity, originality and years of patience and diligence." He goes on to add that if precocity and technical skill are all that a prodigy has, as an adult he would no longer be special.
Parental pressure could also backfire with the child being pushed against the wall to achieve wondrous performances. This only acts as a debilitating factor as the child is driven to breaking point and it fails to nurture the precocious ability.
A famous tragic case in point is that of William James Sidis. He was a reluctant genius gone to waste. When he was seven, he developed a set of logarithms, at eight he passed an anatomy exam from Harvard Medical School, at nine he knew a dozen languages and at 11 he lectured at Harvard on four-dimensional bodies, following which it was said he would grow up to be the greatest mathematician of the century. His father was one of the foremost psychologists at Harvard and debunked the traditional approach to child-rearing which he believed obstructed the learning process.
Sidis felt his intellect was not admired but "stared at" and suffered a nervous breakdown. Constant media attention took a toll on him and he soon tired of academic life. He fled from public life and ended up doing odd jobs. He died in 1944 at the age of 46.
Akrit Jaswal (11) from Nurpur in Himachal Pradesh is a child prodigy. As per the US-based Gifted Development Centre where his psycho-evaluation was done in 2001, it was found that he had an IQ level that beats that of Einstein.
Akrit has had a stint at the Tata Cancer Institute, Mumbai, and has interacted with research fellows. He has his own laboratory in Delhi, where he is researching the genetic treatment of cancer and AIDS. While in Class II, he had cleared examinations meant for Class V. His mother first realised he was special when he would answer graduate-level questions.
It doesn't come as surprise that the Himachal Pradesh School Board has allowed him to take his plus two examinations next year. He feels it would help him patent his research.
Akrit feels like any other child his age but for the fact that he is maturer and can take independent decisions. He and his family are wary of the media after it was wrongly published in a section of the Press that he had a cure for cancer and AIDS. He plans pursuing a PhD degree in pharmaceutical chemistry.
Ten-year-old Isha Dang, student of Our Lady of Fatima in Patiala, has over 125 solo stage performances to her credit. Her first dance performance was at the age of three, when she was spotted by a teacher. For someone so little, it comes as a surprise that she should give performances to raise funds for the Red Cross Society. She raised Rs 1.5 lakh last year and Rs 36,000 the year before that for the benefit of the deaf and dumb.
The Punjab Heritage Foundation has awarded her a gold medal and the Institute of Performing Arts, Chandigarh, bestowed upon her the Best Dancer Award in 2002. Isha was the only child to have been selected from among 2,500 children who had auditioned for "Boogie Woogie" in Chandigarh last year, says her proud father Harinder Dang, an accountant with a private school.
She was selected as the second-best classical dancer at the national level in 2002 and so far, has received 64 prizes at the national and state levels, he says. Besides, Isha has won the first prize in kathak and Punjabi folk dance in contests in Orissa and Gurgaon. Her father is quick to add that she has not neglected her studies and tops her class as well. Her brother, a Class VI student, is a "normal" child.
The achievement of one sibling could have an adverse impact on the other. Rajshree Sarda, a psychologist, says that it is only natural for sibling rivalry to occur. "The focus on one child could make the other child resentful and make him feel like a loser. It is essential for parents to maintain that delicate balance," she says.
Supreet Saluja (6), Class I student of Sant Nishal Singh Public School, Yamunanagar, is a natural on wheels and started driving a Maruti van when he was only about four years old. Now he drives a Qualis. Since Supreet has a problem reaching the lower pedals, his father, Manjit Singh Saluja, helps coordinate the accelerator and clutch pedals while he negotiates the road. Supreet, however, is never allowed to take the vehicle out on his own.
Kirti Gahlawat, a Class VII student of Manav Mangal Model School, Panchkula, who clinched a gold medal in the 12th World Cup of Olympic Yoga Sport held in Lisbon, Portugal, last year, also qualifies to be a prodigy.
Spectacular achievements by peers could mount pressure on non-prodigious children but parents need to understand the limitations of their children as each home can't have a prodigy. Each child is different if not special and ought to be treated so. Mozart was a child prodigy, Bach wasn't but he wasn't any the lesser for it.
Grooming prodigies
Dr Prabhjot Malhi, psychologist and Associate Professor, Department of Paediatrics, PGI, says that evidence corroborates the belief that primarily there is a genetic component to genius but if the right environment eludes the child, the talent of the child may gradually dissipate. Both, therefore, play an equally vital role and are mutually inclusive.
In the West, she says, there are special classes for children with higher IQ levels. However, in India just as there is no specific training capsule for slow learners, there is no such concept in place for precocious children.
"Parents of a prodigy may require counselling as unrealistic expectations could drain a child empty. A child may be an achiever at the age of 12 but he is after all only 12 years old emotionally. Other aspects of development also have to be taken into account lest a child suffer from complexes," Dr Malhi says, adding that parents sometimes like to achieve success through their children and may provide a hot house to precipitate the child's talent, thereby hampering the normal development of the child. He may get a PhD degree or be a painter to reckon with at the age of 15 but may be ill-equipped socially.
In one case, she says, the parents of a promising child artiste would not let her be in the sun for fear of her complexion getting ruined. This sure is not healthy and could reflect on the child's personality at some stage, she adds.