Of mice and men
Lovelina Singh tells the story of the dispute over the bountiful estate of John Steinbeck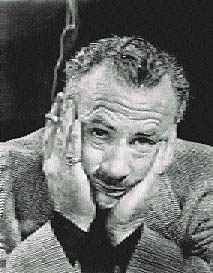 John Steinbeck's writings are, indeed, part of the photography of the U.S. and his work to no small degree defines the American spirit. Even though Steinbeck died in 1968, his books remain in great demand. Classics such as Grapes of Wrath and of Mice and Men sell hundreds of thousands of copies annually; and East of Eden witnessed a sudden resurgence with Oprah Winfrey making it the selection that revived her celebrated Book club stating that it might be the "best novel I have ever read." Now it seems that Brad Pitt is keen on remaking Elia Kazan's 1955 production based on the 1952 novel by Steinbeck.
Although Steinbeck championed the poor in so many of his novels, he has left an estate valued in millions and a body of work that continues to generate wealth. His blood heirs want a greater share in his literary estate and have filed a suit claiming past royalties, greater control over the author's work and 18 million dollars in damages. The suit alleges that Steinbeck's third wife Elaine propagated a "30 year hidden conspiracy" to withhold a greater percentage of the author's estate than was due to her. The suit has been filed by son, Thomas Steinbeck, who has authored a book entitled Down to a Soundless Sea (2002). At the heart of the dispute are conflicts over copyright ownership of Steinbeck's vast body of work, and trademarking of his image and even signature.
The author's literary estate was originally bequeathed to Elaine Steinbeck whom he married in 1950. Elaine who died in April 2003, has long been admired by many Steinbeck fans including Edward Albee, Bruce Springstein and Julie Andrews as a tireless champion of his legacy. Her obituary in The Chronicle noted that she had carefully "guarded the literary estate of her late husband .... over the 35 years since the Nobel laureate's death." In the lawsuit filed by Thomas , however, she is portrayed as a jealous and vindictive woman who sought to cut off her husband from his sons.
The lawsuit also states that Elaine had also been an actress before marrying Steinbeck and thus fancied herself a "theatre" person: Describing a "below market" deal with a theatre company for film rights of The Winter of Our Discontent, the transaction is defined as "satisfying to Elaine's ego; and based merely on "personal whim and friendship." The litigation is, indeed, unfortunate especially since it is attached to an artist who brought honesty and integrity to his craft and who believed that: "The ancient commission of the writer has not changed. He is charged with exposing our many grievous faults and failures, with dredging up to the light our dark and dangerous dreams for the purpose of improvement." As a critic succinctly puts it: "It is a great pity that a great artist has spawned great litigators."
Steinbeck's connection to books grew when an aunt gave him a copy of Morte d' Arthur for his ninth birthday. This was the book that gave Steinbeck a literary compass that he would follow for the rest of his life. He says: "I think my sense of right and wrong, my feeling of noblesse oblige and any thought I may have against the oppressor and for the oppressed, came from this secret book."
Although by 1935 Steinbeck had written several books, he achieved his first popular success in that year with Tortilla Flat. He offered his readers spicy and comic tales about a gang of paisanos, asocial individuals who in their wild revels are almost caricatures of King Arthur's Knights of the Round Table. It has been said that in the USA, the book came as an antidote to the gloom of the then prevailing depression.
However, Steinbeck was no entertainer. The topics he chose were serious and denunciatory as the bitter strikes on the Californian plantations which he depicted in his novel In Dubious Battle (1936). Steinbeck was always fascinated by the drama of the dispossessed which becomes apparent in his epic saga The Grapes of Wrath (1939) which poignantly chronicles the travails of the Joad family during their journey to a "new home."
In 1962, John Steinbeck was awarded the Nobel Prize "for his realistic as well as imaginative writings, distinguished by a sympathetic humour and a keen social perception." The bitter family feud over the literary estate of the Nobel laureate is dismaying for all Steinbeck aficionados.