Prerana Trehan reports on the fastest-growing, sunshine industry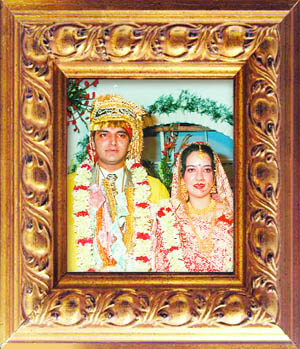 It is a staggering Rs 50,000 crore industry, growing at a robust 25 per cent. And no, it has nothing to do with microchips and motherboards.

It is, instead, about diamonds and dreams.

n

It was the stuff dreams are made of. A canopy of a million lights strung across tall eucalyptus trees paled in comparison with the diamonds and Swarovskis that adorned the 500-odd guests at the Rs 3-lakh-for-a-night farmhouse.

The bride wore a Rs 1.5 lakh Rohit Bal lehenga, the groom came in a limousine especially rented for the occasion.

The tulips had been flown in from Belgium for the tidy sum of Rs 2 lakh. The daughter of one of the biggest industrialists was getting married, the occasion had to be perfect.

And it was. Intrepid cameramen perched precariously atop cranes sought the best angles and a giant projection screen relayed the event live for the benefit of those who didn't want to crane their necks. It was straight out of Hum Aapke Hain Kaun, only more expensive.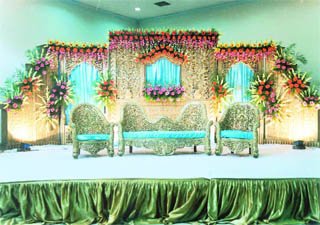 n

The ladies' sangeet had been held in a five-star venue in Delhi, the wedding was at an equally affluent address in Udaipur. Inspired by Bollywood actress Raveena Tandon's wedding, the 23-year-old bride too wanted an equally spectacular ceremony. And so it was. A Rajasthani theme for the wedding made it a night to remember. Wedding planners, hired for Rs 50, 000, had transformed the wedding venue into a Rajasthani village, all for a sum of Rs 15 lakh. Music especially composed for the occasion regaled the guests while folk artists performed traditional dances. The guests, too, had been instructed to dress in Rajasthani gear so as to blend with the theme. The bride looked radiant in a designer lehenga and designer jewellery custom-made for the wedding for a combined sum of Rs 5 lakh.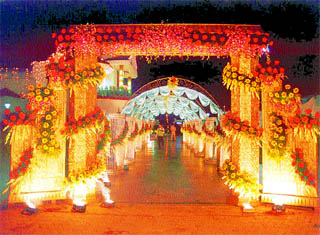 n

The guests at the wedding of the state minister's daughter were having a difficult time deciding what to eat. With a multi-cuisine menu — featuring Chinese, Thai, Mexican, Lebanese, Continental and Indian dishes — to choose from, it was clearly proving to be a problem of plenty. Assuming, of course, that they had finally reached the dinner tables, after having made their way past tables laden with fruit imported from around the world, some of which the guests had never seen before. The invite to the wedding had been an elaborate 10-page affair on glossy paper. The guests realised now that the colour and theme of the invite, along with that of the box of chocolates that accompanied it, matched exactly the dresses of the bride and groom, as also the d`E9cor of the venue. The know-it-alls among the guests put the cost of the designer wedding at Rs 30 lakh.

Nowhere does India glitter as much as it does in its marriage pandals. The Big Fat Indian Wedding, which to begin with was never about subtlety, is now bigger and flashier than ever. And it's a thriving industry which sees business worth crores being transacted every day during the peak season. Unorganised for decades, the industry is finally getting its act together — a trend that is reflected in the popularity of exhibitions like Celebrating Vivaha and Bridal Asia, which deal exclusively with products and services used in marriages, and is driven by the emergence of wedding planners and others professionals in the niche segment.

The Vanisha Mittal and the Sahara weddings may have received their share of snorts and sneers but they have undoubtedly raised the glitz index for marriages. Add this to the fact that Indians have traditionally never been known to marry modestly and it is easy to see why the Indian wedding industry is a case of what glitters is gold. "Indian spend in weddings is the largest in the world," says Tarun Sarda, CEO, Vintage Group, Vivaha Interactive, the organisers of Vivaha exhibitions. As incomes rise, so do aspirations and for a shaadi-obsessed nation, what better occasion to spend than on weddings. "People who have the money want to display it," he says. "Apart from this they also want to reinforce their social status and make a style statement." Avers Jai Raj Gupta, CEO, Shaadi Online, a complete wedding services company, "People want to do something different. Everyone wants his marriage to be memorable."

Wedding planners and a slew of specialists offering every conceivable wedding-related service from d`E9cor, make-up, and food to lighting, invites, flowers, trousseaus, entertainment and honeymoon packages, put up spectacular shows to make fantasies come true. Of course, it all comes for a price. Sarda puts the cost of an average-size dream wedding at Rs 50 lakh, while he says a big-size one can be arranged for anything up to Rs 100 crore. Gupta is more conservative with his estimates, putting the price tag between Rs 10-50 lakh — depending on how elaborate the celebration is — minus the cost of jewellery.

And as the nuptials of film stars, politicians and industrialists — Jayalalithaa's son, Amitabh Bachchan's daughter, Laloo Prasad's daughter, Subroto Roy's offspring and Raveena Tandon's — make news for their mind-boggling scale, Mr Average-next-door too hopes to match their panache if not their bottom lines. However, if wedding planners are to be believed, a dream wedding is no longer just an upper crust fetish, but is fast becoming a middle class reality. "More and more people from the middle class are now approaching us. Moreover with both the bride and groom working, they just don't have the time to look into the arrangements themselves," confirms Meher Sarid, Director, Themes and Concepts, Sound of Music, a wedding solutions company. "Earlier people would laugh if someone hired an agency to handle a wedding, but not anymore. Now it has become acceptable to hire wedding planners," says Sarda.

"People feel that wedding planners are expensive but, in fact, approaching planners makes more financial sense," says Jatin Virmani, CEO, Vivaha, a company which specialises in making invitation cards, gift-wraps and trousseau boxes. "We try to convince clients that they should not go to the unorganised sector. The prices we get from the vendors are much lower than what the clients can get if they went themselves. Since we give the vendors regular business, they give us better prices," he says. "In spite of the commission we charge, the client still ends up paying less," says Virmani. The aim is obviously to rope in customers from all income brackets, not cater only to the richie-rich crowd. "We have even organised weddings for as low as Rs 7 lakh," maintains Virmani.

"Planners cater to all budgets and work within a budget," says Gupta. "We ask the clients how much they plan to spend and then work backward from there. This ensures we don't overshoot the budget," offers Virmani. Vivaha asks the clients who their preferred vendors are and then approaches the vendors on behalf of the clients. This way not only does the client get what he wants, but he also ends up getting it for less. "Also, please remember, we have a knowledge bank far greater than the client's. We do R&D and keep ourselves abreast of the latest in terms of styles and trends and give our clients the best," says Sarid. Her company conducts not just Indian weddings but also Italian, German and English, among others, apart from of course the NRI weddings. Sarid has recently finished organising the wedding of Princess Nada, of Kuwait. In the peak wedding season, she handles anything up to 54 weddings with three functions each. Last year Sarid's company earned about Rs 3 crore from weddings alone. "We meet our yearly targets in the wedding season alone when we organise approximately 20 weddings per month," says Jagan Chaudury, Banquet Manager, Shivalik Hotel.

In return for the attractive remunerations, the planners offer a mind-boggling array of expert services. Sound of Music, for instance, provides theme weddings, event coordination, singers, dancers, invites, fabrication of structures, embroidery, tailoring, venue selection, trousseau packing, travel-related services, accommodation, catering, even fireworks, escort services and filming of the wedding. Vivaha specialises in invitation cards. The company designs the invitations and also distributes these personally. Apart form this, it also designs trousseau boxes, photo frames, carry bags, shagun envelopes, sweets and gift boxes and return gifts. Apart from offering all kinds of wedding-related services, Shaadionline provides information on the rituals included in the different kinds of Indian marriages from Kashmiri to Konkani.

For all those taking pot shots at the extravagance of these weddings, Sarda has an interesting rebuttal. "The positive side to big weddings is the income and employment these are generating. For instance, Mittal could have simply given all the money to his daughter. Instead, by spending it on her wedding, he has distributed his wealth among all the people involved in organising it."

Sarda estimates that the wedding industry is worth Rs 50, 000 crore and is growing at 25 per cent anually. Sarid feels that the boom phase for the industry is yet to come. That will happen only when institutes in India start offering courses in wedding planning, as happens in other countries, says Sarid, who has done such a course from Salzburg, Austria.

The best, like they say, is yet to be.
Picture perfect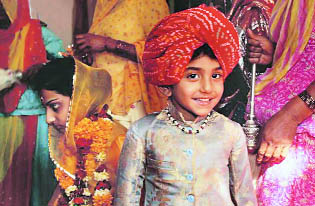 When the occasion is something as momentous as a wedding, the instinct is to capture it for posterity. No wonder photographers are much in demand and like every other wedding-related service, photography too has been fine-tuned to meet the ever-rising expectations of customers. Earlier people were satisfied with CDs of marriage functions, now nothing less than DVDs will do. "Most people these days have DVD players so we make DVDs for them. These can cost anything between Rs 30,000-40,000," says Vivek Bhardwaj, a Chandigarh-based photographer who covers marriages. "These have broadcast quality and are shot with digital cameras. Above DVDs you now have Betacams, which give the same resolution as TV serials. These cost about Rs 1 lakh." The photos for the marriage album are also taken with digital cameras and can an album can cost anything between Rs 15,000-50,000, he adds. Photographers these days use a system called spot mixing. Three, sometimes even four, cameras are used to shoot different parts of the wedding venue simultaneously. A projection screen is put up and a mixer is used to change the shots on the screen. The final editing for the cassettes is done later.
Designer dresses
The bride's dress is not just a piece of clothing, it is an event in itself. Designers and trousseau creators by the dozens are riding high on the wave of the demand for newer and more innovative styles. Mohini, a manager with Gyans, a company that makes trousseaus, says, "We make lehengas for Rs 60, 000 to Rs 2-2.5 lakh. Most people, however, opt for the ones in the price range of Rs 1-1.5 lakh. In the peak wedding season, we sell around 40-45 lehengas." Says Gautam Gupta, manager, Vinayak, a Delhi-based company which makes wedding lehengas and sarees, "We work according to the client's budget. Most of our lehengas are between Rs 8,000-80,000. We get orders from Gurgaon, Muradabad, Hyderabad, Bombay, even US and UK."
Wedding exhibitions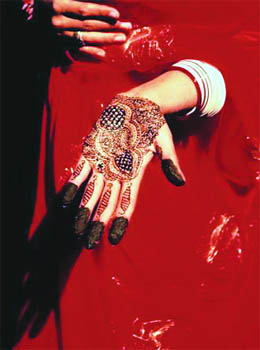 Celebrating Vivaha 2004, which was held from August 6-9, in Delhi, was visited by 1,22,000 people and business worth Rs 6 crore was transacted at the exhibition.
It witnessed the participation of 80 national and international brands, among them designers Ritu Kumar, Ragini Singhania, Shantanu & Nikhil, cosmetic giants Christian Dior, La Parairie and Boucheron perfumes, furniture brands Soher, Mariner, Rose-Handwerk and tourism boards Australian Tourism, Tourism Malaysia and Star Cruises.
Premium Swiss watch company Bovet launched for the wedding season their artistic range starting at Rs 3 lakh, at the exhibition.
Sarda plans to take the exhibition to US, UK and Dubai next year, as also to Chandigarh, Ahmedabad, Bangalore and Kolkata.
Bridal Asia, another wedding exhibition, was first held in 1999 with 40 participants. Last year the number rose to 90. Divya Gurwara, CEO of Bridal Asia also plans to take the exhibition to West Asia, England and the US. Last year it was held in Karachi and the response was phenomenal.
Exotic honeymoons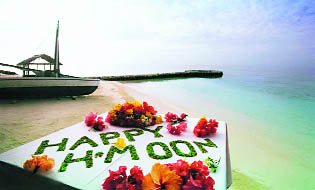 As weddings get exotic, so do the honeymoon destinations. More and more honeymooners are exploring destinations beyond Shimla or Manali. "Many people prefer Goa or Kerala," says Mohinder Bajaj, Executive Director, Bajaj Travels.
A package to Goa, including air fare and four to five star hotel stay, would cost approximately Rs 18,000, while Kerala would work out to Rs 30,000, says Bajaj. Mauritius, Maldives, Malaysia, Singapore, and Thailand are also hot destinations.
A honeymoon at these destinations would be between Rs 20-29,000. The odd honeymooner to Switzerland is even willing to shell out Rs 40-50,000, depending on the season, informs Bajaj. "We get people from the middle, even the lower middle classes, going in for honeymoon packages," says Bajaj. "Such people normally opt for what they can get between Rs 25-30,000. This normally means a honeymoon in Kathmandu or Colombo."

Shaadi, the Ludhiana way
Ruchika M. Khanna reports on how the Ludhianvis pull out all the stops to celebrate weddings on a grandiose scale
A number of cities all over the country are famous for their unique celebration of festivals. Think Ludhiana and opulent weddings- which are no less than a festival, come to mind. From decorating the wedding venue with tulips imported specially from Holland to having more than 100 kinds of eats (including a separate stall for baby food, one for chocolates, another for all kinds of imported cigarettes, and a stall for food without onions and garlic), to specially hologramed invites and distributing Swiss chocolates in sterling silver trays along with the invitation for marriages — that's the stuff marriages in this megacity are made of.
Gone are the days when the best marriages in the city were the ones organised at Maharajah Palace, or any other marriage palace on the Ferozepore Road. Just as the city has expanded several kilometres outside the Municipal limits- upto Phillaur on one side, Sahnewal on the other, Daad on the third, and almost reached the horizons of Jagraon on the fourth side, the Ludhianvis in their search for greener and more exquisite landscapes for the weddings have found answers in the farm houses located outside the Municipal limits. It is another matter that these farm houses charge anything from Rs 50,000 to Rs 3 lakh for renting their premises alone.
"Interestingly, the Ludhianvis difficult-to-please palettes, and the Scotch whisky served, most often determine if the marriage is a success. It is not just the Mughlai cuisine, but also Thai, Mexican and Continental that is served," says Gaurav Gera, restauranteur and proprietor of Gazebo Caterers. Live snack counters (including a choice of exotic fish from an aquarium), Russian girls as bartenders serving the choicest of Scotch- Black Dog, Red Label, Chivas Regal or Teachers. Often the food budget in the wedding ceremonies run into several lakhs of rupees.
If the mujra was the form of entertainment at the pre-wedding bashes (there are a minimum of three pre- marriage bashes — a mehendi ki raat, sangeet and a dance party for the young to groove, and of course, a reception after the wedding), the dancers from Banaras have been replaced by belly dancers, live performance by Brian Silas, Anuradha Paudwal, Gurdas Mann or Mika.
Event managers are specially hired from Delhi to do the venue. Exclusivity and one-upmanship are the mantras that these event managers are told to adhere to. The house of the hosts too are decorated in style—the marigold is out, and gold-and-silver frills hanging from each possible corner of the house, are in. And going by some recent weddings in the city, they have finally caught up with the Ludhianvis inherent need for a "different wedding". From Victorian outlays at the venue to Gujarati ones, from a typical urbane chic white-and-gold decoration to a decoration with earthen lamps (diyas) these designers are providing them the best of both worlds.
Ask Japneet Kaur Bawa, who specialises in designer packaging of trousseau. She says that the clientele from Ludhiana is what gets her the big bucks. "They have more money-spending capacity, are more status-conscious and are always on the look out for exclusivity to celebrate the Great Ludhiana Weddings," she says. From home linen for trousseau— silk bed linen and table linen, special thaals for engagements and shagun ceremonies, suit, saree and shoe packings, jewellery boxes, potlees, shagun envelopes, fruit baskets, bangle cushions et al, are as much a part of the weddings as the clothes or the gift items itself.
It is also a city where the money to be spent on the wedding is first "announced" by the bride's family, and only after this deal is struck that the alliance is finalised. In a particular community, marriage alliances are based solely on the money-spending capacity of the bride's family (to avoid any problem of dowry later on, reason the members of the community.)
Austerity is certainly not what the residents of the city are known for, especially when it comes to marriage. The teen kapde mein dulhan is certainly unheard of here. Not only does the trousseau have to have a minimum of 21 outfits for the bride, but an equal or more number of outfits and jewellery items for all relatives of the groom. At a top industrialist's daughter's wedding last year, 11 of the groom's relatives were given a Santro each as part of the dowry, while the groom got a Lancer.
As Chandigarh-based Manmohan Kohli, who has attended many a wedding in the megacity puts it, "The lavish weddings organised in Ludhiana are actually a statement to show off your wealth. The factories and industries are invisible source of economic assessment. It is only through the car that the Ludhianvis drive, the houses they live in and the weddings they host that speak of their wealth.