Sholay still sets the screen ablaze
V. Gangadhar on how the magic of Sholay, re-released recently in Mumbai, endures. The movie that captured a nation's imagination still evokes a buzz even after 25 years.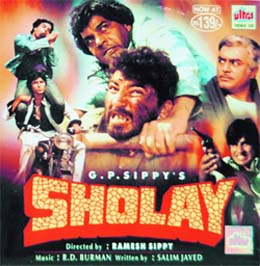 Lamington Road, the hub of the Hindi film industry, is humming. There are queues outside Minerva theatre which proudly displays the 'Housefull'. The old, unforgettable Sholay is back—brand new, swanky and spunky, with a new sound system in an eye-catching new print. Some films never fade away. Millions all over the world have watched Gone With The Wind and whenever it is released again, it is a hit. Some 25 years back, Sholay had a record-breaking long run at the same theatre. For five years, there was no current booking. Every ticket for every show had to be bought in advance.
Sholay was not a mere film, it became a legend. Bombay in the 1970s, talked the Sholay talk. Using sentences like Arre O Samba, Ab Tera Kya Hoga Kaaliya? Mothers frightened their children with the name of Gabbar Singh. Sholay was loud, garish, but it had something which touched everyone's heart. Nitish Kulkarni was a 23-year-old accounts clerk when Sholay was first released. During it's long run, he and his friends saw the film 34 times and could repeat the dialogues by heart. When the film was re-released, Nitish's group was back in Minerva to enjoy the blockbuster with the same enthusiasm.
"This film had every thing", explained Nitish. "A great story, sensational revenge plot, super acting, the special charm of the Dharmendra and of course Amjad Khan. He was evil personified."
17-year-old Aparna Broker had not been born during Sholay's first run. She watched it on TV. "The small screen does not do justice to the splendour of this film", exclaimed Aparna after watching the film at Minerva. "What technical brilliance, what acting and what a story!" At the Minerva recently, most of the audiences were in the 15-30 group, a more mature group than the earlier generation. They had been weaned on Star Wars, Harry Potter and other scientific marvels but even to them Sholay was a revelation. "To think that India made such a film in 1975 was mind-boggling" was the popular verdict.
Today's Mumbai audiences found Viru (Dharmendra) and Gabbar (Amjad Khan) more appealing. The Thakur played by Sanjeev Kumar also won critical approval. "Amitabh is just okay", said one of the viewers coming out of Minerva. " But then he was a bachcha in those days."
Bombay's theatre scene had changed since 1975. Minerva no longer boasts of 1200 seats. Part of the theatre is a commercial complex and the current accommodation is around 750. Apasara, another fabulous theatre opposite Minerva, had been closed for long. Despite the emergence of multiplexes, the single-theatre scene in Mumbai is depressing.
Sholay has brought a much-needed silver lining. The revised version shows clear technical improvements and other producers may follow Sholay's example and re-release their old hits. B.R. Chopra has plans to release his black-and-white classic Naya Daur in colour. So Mumbai and the rest of India maybe in for a feast of revised versions of classics.
Writers Salim-Javed were not surprised at the smashing response to Sholay. For Javed saab, a good film will always remain popular and never fade away. "Everything clicked for this film," he recollects. The Sippy family thought big, planned everything big and Sholay was the result. This view has been supported by the massive response to the new version.
Going back in time, capturing the old glory in a fiercely competitive world is not easy. If Sholay did well, it is because it is more than a film, it is a legend. Coming out of Minerva, a group of college students say, "How boring are these BEST buses and cabs! How we wish we had tongas driven by that wonderful Basanti (Hema Malini).

The superheroes of the 1960s and 70s — Shammi Kapoor, Rajendra Kumar and Rajesh Khanna — were all at peace with the social order. The battles they fought were in the arena of personal relationships. This state of being mellow and insulated changed with the arrival of Amitabh Bachchan, the angriest hero Hindi cinema had ever seen. In Zanjeer, Bachchan fought a bitter battle against corruption in the bureaucracy.
His anger and his fierce battle for personal and inter-personal dignity took the celluloid hero out of stuffy studios to the streets in search of answers to corruption in high places.
Today the anti-establishment cop that Bachchan played in Zanjeer has rebelled. While he continues to play the seething no-longer-young but still-enormously angry cop in Khakee and Dev, his son has taken the anti-establishment hero to a new frightening dimension in the lately released Yuva.
The difference between the senior Bachchan in Zanjeer and the junior in Yuva isn't just in the colour of their clothes. Abhishek's entire personality in Yuva exudes an alarming disdain for playing by the rules of a civilised society.
In Yuva, Abhishek breaks free of the cordon of law and civil conduct that restricted his father's character in Zanjeer to make his own rules of survival.
Like Jaya Bhaduri in Zanjeer, Lallan's soul mate in Yuva watches helplessly as he turns his anger and bitterness into a violent denial of every law of decent living.
In fact, there're many similarities between the legendary Amitabh-Jaya pair and the new Abhishek-Rani Mukherjee twosome that seems to be gaining momentum. The two were seen in Hum Tum and will co-star in Shaad Ali's next film.
Like Jaya — or for that matter Smita Patil in Govind Nihalani's Ardha Satya — Rani in Yuva represents grace under pressure. The woman must helplessly watch her man destroy himself with his rage.
So has the anti-hero finally reached a point of no return? Are the noble heroes in danger of looking like angelic anachronisms? Interestingly, Ajay Devgan who plays the idealistic student leader in Yuva is the adrift Bihari who arrives in Kolkata in Rituparno Ghosh's Raincoat.
And in Ashutosh Gowariker's Swades, Shah Rukh Khan is a young middleclass Indian looking for a direction in life.
The Hindi film hero seems to be swinging precariously on the moral pendulum. While Abhishek in Yuva fights a losing battle with his conscience, his father battles societal demons in Dev to emerge morally uncorrupted.
So will the real hero please stand up? — IANS