TELEVISION
Reenie reigns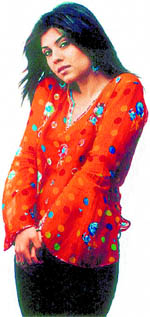 Reenie…Bollywood's New York connection
Remember Sophia Haque the pop star turned [V] veejay, whose songs, Kamasutra and One Night In My Life zoomed up the western charts in the early 90s? Yes we all do.
Now meet Reenie Bhammer, who is traversing the opposite path — a veejay turning into a pop star.
The stunning hostess of the Bollywood game show Saturday Live in the New York-based channel ITV, Reenie is all set to make her singing debut with Rahey.
"It's a Hindi pop fusion album composed by Mahmood Khan. The strong point is the music and imaginative lyrics," says Rennie, a trained Indian classical musician.
If the album is a hit, she says then she won't mind shifting base to India. "I want to make a mark in music and would love to do film shows on Indian channels," says Reenie.
Reenie is a self-confessed Bollywood buff and says that hosting a Hindi movie show on ITV was a dream come true. She's interviewed most of the top Bollywood stars but guess who's the one who completely bowled her over — Punjab da Puttar Sunny Deol!
Newsmaker Monita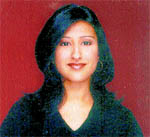 Monita…making news
When she appeared on the screen for the first time she grabbed instant attention with her looks and quick wit. Three years down the line Monita Rajpal is CNN's star anchor. "It's been a very eventful time with the CNN," says Monita who is in India to announce the second Young Journalist Award 2004.
Monita, whose channel pioneered round-the-clock news broadcasting way back in 1980, is enthused with the proliferation of news in India. "Many of the news-based shows are at par with global channels," says the anchor.
If the Indian channels are so good does she not fear competition? No, she says. "CNN's strength is international news and issues and that sets us apart."
All for a laugh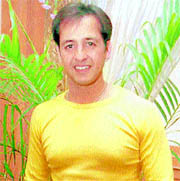 Rakesh Paul
He's back to doing what he does best — making people laugh. Rakesh Paul can't hide his emotions when he is complimented — which is a lot these days — for his role in Main Office Tere Aangan Ki a sitcom aired on Sahara.
And that's not all. Paul has another reason to celebrate. He is looking forward to yet another comedy — Anant Mahadevan's Kabhi Hero Kabhi Zero — that will be aired on the new kiddie channel Hungama.
"For me comedy is very serious business and I work very hard to make people laugh," says Paul who plays the forgetful adman Gogo in Main Office Tere Aangan Ki.
"It's a hilarious role. Gogo's forgetfulness lands him in all kinds of funny situations," says Paul.
Stage-struck Jha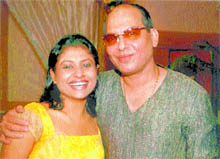 Jha with Jaya Bhattacharya…Play acting
You can take an artiste out of the theatre but not the theatre out of an artiste. Don't believe it? Ask Muni Jha the JD of Kyunki Saas Bhi Kabhi Bahu Thi. After giving memorable performances in many serials his heart still beats for the stage.
Even as his Gujarati play Havey To Lila Laher Chhe is still going strong, Muni has come up with another hit play Sabse Bada Rupaiya featuring the Kyunki Saas Bhi Kabhi Bahu Thi team. "It's a great comedy and I decided to do it with the Kyunki cast," says Muni.
So is it going to be more theatre and less TV? No, says Muni. "I am balancing them. I am doing a comedy serial Chup and am also planning a new play." — NF