Burglars decamp with mobile sets worth lakhs
Second theft in Sec 35 market in 6 months
Chandigarh, August 30
Burglars decamped with mobile sets worth lakhs from SCO 359 and 360 in Sector 35 last night, a second time during the past six months.

A forensic expert examines fingerprints at a shop burgled in Sector 35 in Chandigarh on Monday. — A Tribune photograph
PGI staff union says MP acting under "threat"
Chandigarh, August 30
The sudden change in the stand taken by the member of Parliament and PGI's institute Body member, Mr Suresh Chandel, extending support to the Deputy Director, Administration (DDA), Ms Meeta Rajivlochan, has baffled the PGI's employee union.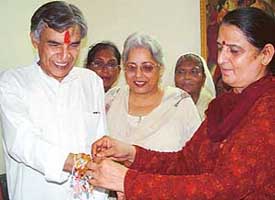 The former Mayor of Chandigarh, Ms Lalita Joshi, ties a Rakhi on the wrist of the MP, Mr Pawan Kumar Bansal, in Chandigarh on Monday. — A Tribune photograph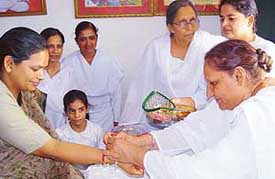 A brahma kumari ties a rakhi on the wrist of city Mayor Kamlesh to mark Raksha Bandhan at Rajyog Meditation Centre, Sector 21, Chandigarh, on Monday. — A Tribune photograph
Watching TV channels to be a costly affair
Chandigarh, August 30
Watching your favourite TV channels is going to be a costly affair. With the cable operators all set to pass on the service tax to the subscribers, the monthly cable bill is likely to go up by atleast Rs 20, much to the chagrin of the general public.
PUDA move on urban estate to boost development
Zirakpur, August 30
The announcement of an ultra-modern urban estate near Zirakpur by the Punjab Urban Development Authority (PUDA) is set to give a fillip to the planned development of this township and the adjoining areas.
All set for teachers' selection
Chandigarh, August 30
After waiting for over an year, the UT Education Department is all set to recruit over 150 teachers against the reserved category posts. The process of holding interviews for the recruitment, to be done on All-India basis, would begin by the second week of next month.
A tearful day for three sisters
Brothers succumb to burn injuries on Rakhi
Chandigarh, August 30
Sisters' prayers for the longevity of three fire victims turned tearful when their brothers succumbed to their injuries in the GMCH, Sector 32, on the day of Rakhsha Bandhan today.
Ex-servicemen may get service benefits for 2nd emergency period
Chandigarh, August 30
The Punjab Government is set to grant the benefit of service rendered during the second emergency period by ex-servicemen who have been re-employed in the state government after discharge from the armed forces. The benefit includes counting the period of military service towards fixing seniority for the purpose of pay and pension.

Chandigarh Calling
SANDEEP Arora was a strapping young man studying engineering. He sacrificed his life while saving the lives of his fellow students who were drowning in a canal. Sandeep was a third year student of Baba Asthal Bohr Engineering College, Rohtak.