IN FOCUS
Shaping the builders of tomorrow
Manish Kumar Singal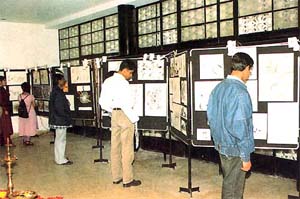 An inside view of the School of Planning and Architecture, New Delhi
THE School of Planning and Architecture (SPA), Delhi, is one of the pioneer institutions in the field, offering aspiring architects the best possible education and training. The institute, located at the ITO, has no branch and is 100 per cent funded. It is directly controlled by the Ministry of Human Resource Development (MHRD).
The institute was established in 1942. It was initially located at Kashmiri Gate and was known as the Delhi Polytechnic. Later, in 1955, the Town and Country Planning course was added to its curriculum.
It was the first institute to be declared a Deemed University in 1979. Now, it attracts students not only from all over India but also Africa, Bangladesh, USA, Nepal, France and other countries.
Courses: The School of Planning and Architecture is presently offering two undergraduate courses — Bachelor of Architecture and Bachelor of Planning. Besides, it is also offering Masters and Ph.D courses in these fields.
Minimum qualifications: The minimum qualification to get admission to the graduate programmes is plus two with 60 per cent marks in physics and mathematics plus one of these subjects — chemistry, biology, engineering drawing or computer science. Thereafter, the student has to undergo a written test-the AIEEE — and the ranking in this determines whether a student can get admission to the SPA.
Student capacity: The institute offers 60 each seats in the B.Arch and Bachelor of Planning courses. At the postgraduate level, it offers 20 seats in each programme, according to the Director, SPA.
Library facility: The institute has two well-stocked libraries each for architecture and planning. Both the libraries have a collection of nearly 75,000 books and related texts plus 250 journals. Besides, the libraries also have computers and Internet facility and are connected to the Delnet library system.
Infrastructure: Architecture is a course which has no meaning without practical applications. To meet the need for practical training, the SPA has a Material Testing Laboratory that is fully equipped to train both undergraduate and postgraduate students. It also enables firms to undertake tests of building materials such as cement, steel, aggregates etc, in the pre and post-construction stages as well as destructive and non-destructive tests. Recently, the institute also set up a Conservation Material Laboratory to provide scientific training in testing ancient artifacts and material.
Faculty: The institute has a good faculty that includes professionals and academicians from IITs, Harvard University and the MIE, Toronto.
Student activities: At the SPA, students run a series of clubs and associations. The dramatics club Spandan and the Indian music group Sankalp have several excellent performances to their credit. Spakriti is exclusively in charge of organising SpicMacay concerts each year, featuring the nation's eminent performing artists.