OFFBEAT OPTIONS
Set your sight on the job of private eye
With the growing incidence of corporate crimes, extra-marital affairs, burglaries and murders, detectives are very much in demand. Private investigation is a calling that beckons those looking for thrill and willing to take risks. It is especially suited to those armed with a knowledge of criminology and possessing the knack to crack knotty cases, writes Pramod Chaudhari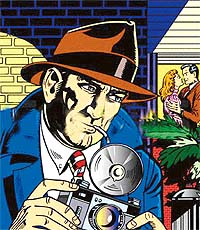 WANT to be a Sherlock Holmes? The detective extraordinaire who cracked several tangled cases at the drop of a hat. The need for such ace detectives is growing every day with the rising incidence of thefts, murders, extramarital affairs, frauds and the like.
Every day, there are reports of loss due to pilferage, theft, shoplifting, fraud, embezzlement and vandalism. These offences affect various kinds of organisations-factories, hotels, banks, offices, shops, museums and libraries.
No wonder, there are a number of detective agencies making their mark in the Capital and other areas. Leading hotels, insurance companies and legal firms need the services of detectives to solve their knotty cases. More and more persons are thus earning their bread and butter by entering this thrilling, yet gruelling vocation.
Training talk
As yet there are not many institutes to provide proper training to an aspiring detective. Some private institutes do provide orientation training. Besides, regular refresher training is imparted to keep the trainees informed of the latest security techniques and gizmos.
The Ministry of Home Affairs has an institute for the training of sleuths, National Institute of Criminology and Forensic Science in Rohini, Delhi

There are two more government schools in Hyderabad and Chandigarh which offer such courses: the Central Detective Training Schools (CDTS).

Delhi University also offers courses in criminology.

The private training institutes are mainly confined to South Delhi. Some of them are--- India Detective Institute; International Institute of Security and Safety Management; Lancers Detectives; Detective Network; Ace Detectives; Globe Detectives; and Goliath Detectives.
(The list is not exhaustive)
The nature of a detective's job is hazardous to say the least. According to a former CBI officer, Sunil Sharma, who owns Authentic Investigations, "A detective does not have any legal authority in India. In most of the European countries, detectives are licensed and have legal sanction to chase their targets. But in India, they have no official powers to zero in on their target. In fact, they have to often grease several palms to get even a minor piece of information."
Thrilling yes, but risky too
His advice to the youngsters is: Do join the vocation if you want thrill and adventure, but be ready to face the risks. It is a challenging yes, but hazardous too. "Shadowing is one of the most difficult part of the job," says the former CBI officer.
He alludes to the risk to one's life thus: Suppose a detective is to shadow the vice-president (VP) of a company suspected to be passing on some valuable information to a rival company. His job starts early in the morning when the VP is supposed to leave home for his 'office'. He will remain with his target throughout the day, perhaps even in the wee hours.
And woe betide the sleuth if the man being followed comes to know about it. He may report it to the police and the chaser is then booked. Since the sleuth has no legal authority to 'chase' someone, he will have to pay either a bribe or use his contacts to bail himself out of the situation.
Not for clock-watchers
The profession is certainly not for a clock-watcher, for it is not a 10 to five job. One is on duty round the clock. Then there is always a threat to one's life in this profession.
Ramesh C. Madan, who runs Goliath Detectives in South Delhi, says, "During the course of investigations, I often receive threats. Three attacks have been made on my life so far, so it is adventurous, but becomes a misadventure some times."
Besides, one has to remain fighting fit always. Madan, who has been in the line since 1958, even has a gym in the basement of his flat. The gym has all the accoutrements and disguises of a theatre artiste also.
When asked why he keeps the artiste's kit? He explains that in this line, one has to change one's disguise chameleon-like. One has to be alert like a tiger and strong like Hercules. One is supposed to wear many hats to chase the target.
Another difficult sphere of the vocation is checking the antecedents of the parties for matrimonial purposes. Such cases have to be handled with the utmost delicacy.
"It is a very sensitive matter. The moment one of the parties knows that the other party is enquiring about your family details, the proposed match fizzles out even before it materialises," says Sharma.
Qualifications that help
Who is qualified to handle these cases or who has the aptitude to enter this line?
The former CBI officer says, "Anyone who has confidence can enter the profession."
"Graduation is definitely an asset but it is not a must. Anybody who knows the three 'Rs' can go great guns in the line," he adds. Those who have diplomas in Forensic Science or Criminology have an edge over others, he opines.
Knowing several languages will definitely be a plus point for the wannabe Sherlock Holmes. A person should also have the gift of the gab.
Learning the ropes is not elementary!
It's rewarding too
However, for those who want pots of lucre then this is not a line that promises big bucks though it offers immense satisfaction. Madan claims proudly: "I have saved 26 people from the gallows. This is the biggest achievement."
The thrill that this line offers is often the main reward. Narrates Sharma, "After leaving the CBI, I joined a courier company as a security manager. Soon after there was a massive fraud in SBI credit cards in 2001. A courier agent stole some cards. He purchased many electronic items by using the cards like TV sets, etc. That did not lead us anywhere. Subsequently, he bought recharge coupons for his cell phone with the cards. I traced the recharge coupons to a mobile phone shop and the cat was finally out of the bag. I nailed the culprit." Eight persons were arrested by the crime branch for the fraud, involving lakhs.
"Still, one can make a decent pay packet. It all depends on the reputation of a sleuth," says Sharma.
Ordinarily, in the beginning of one's career, a Junior Investigator earns about Rs 5,000 a month plus some perks like conveyance, mobile expenses and so on. After putting in a couple of years in the profession, the person becomes Senior Investigator and earns about Rs 10,000 a month. A Chief Investigator gets nearly Rs 20,000 per month.
Then there are also manager and senior managers. They are basically of supervisory grade.
Myriad openings
The people joining this field are usually those who've worked in security agencies or as security men, ex-army men, policemen and paramilitary personnel or commandos Fingerprint and handwriting experts generally enter the field of detection. Quite often after working in the security agencies, they open up their own detective companies.