SMART SKILLS
Networking is about give & take
Usha Albuquerque


Usha Albuquerque
WHAT is networking, and why do you need it to get ahead? Networking can mean different things to different individuals. You're probably using it all the time without realising it. Think about how you find out about a new dentist, or computer repairman. How do you make your choices about what movies to see, or music to buy? How do you decide which programmes on TV to watch ? How do you know which car to buy?
For all these things you talk to people. You get opinions and work them into your thinking and decision-making. So, whether you are aware of it or not, that's a form of networking. Chances are you also allow the thoughts and opinions of others - teachers, parents, people in high positions, or media - to influence your choices. This is also a form of networking, because it involves reaching beyond yourself, your thoughts and your personal resources.
Networking is an ongoing activity that has limitless intrinsic value. It is often carried out informally and intuitively but can be highly purposeful . The focus of career networking is usually to advance or research a job search, or to actively manage your career growth while working.
Not only for the pushy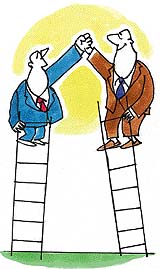 Many people are afraid to network. They believe it is only for career climbers who take advantage of others for their personal gain. Others think they are doing good networking but wind up alienating their contacts. But good networking involves interacting with people in an ongoing process of collecting and sharing information for the mutual benefit of yourself and the people you network with. It is about giving as well as getting information and ideas.
It lends visibility
We are all aware how a personal reference can open doors and generate better results than just an unsolicited cold call. In fact, in business circles more than seven out of every 10 new jobs are filled through references and contacts. Managing your career effectively is not an activity you can do in isolation. Even if you turn out work that is excellent, meet all your deadlines, fulfill all your responsibilities, you still need other people to give you visibility and to facilitate your career path. That's what networking does for your career.
Broadly speaking, networking consists of contacts in three areas. These are distinct but often overlap and intersect:
Your personal network

Your organisational network

Your professional network
Your personal network consists of your family and friends along with acquaintances from your community, schools or colleges you attended, and clubs or associations you belong to. These are basically people you would socialise with, spend your leisure time with and invite to your home.
Your organisational network are contacts developed through your work. The larger the organisation you work for, the wider your field of potential contacts. This would include the people you work with directly — on project teams, committees, within your department, and can also include customers, consultants, and even competitors.
However your professional network is more far-reaching. It consists of people who do the same or related kind of work as you, but are outside your organisation. They could even be associates, or clients from other organisations. It is the professional network that will be the most valuable to you in managing your career, and so you need to invest time and energy in developing and nurturing it.
Build professional network
How can you develop your professional network of contacts? The best way to do this is through career-related associations, special interest groups, clubs and institutes. Identify the associations you think may be useful and get information about them. You can select them according to several criteria, including membership size, geographic location, frequency of meeting and so on. Then contact the associations and find out when upcoming meetings will take place, where they will be held, and whether or not they are open to non-members. You may wish to attend a couple of meetings as a non-member until you are sure you wish to join the association.
Once you become a member get involved in the activities and encourage your colleagues at work to attend meetings with you. Pass along the information to contacts you already have, and keep abreast of the activities they have. Read any publication or newsletter and pass them along to others who may be interested in them. At the meetings, meet people and get them to meet you. Develop relationships and follow up on them.
Join special interest group
Your professional network can offer you the benefits of career-related information, influence your thinking and provide personal and professional support. You can look to professional contacts for guidance and perspectives on your career progress. Your contacts there can provide you with valuable insights on your professional role, resources for development and problem solving techniques. It could also give you first-hand knowledge about people in your organisation. They may be able to assist you in gaining exposure and visibility within your profession, both by informing you about what forums and arenas to investigate and by promoting you through word of mouth.
Moreover, your network of professional contacts can enrich your personal life. As you build and develop relationships, you heighten the interaction among the three networks. You may be in need of information about a financial adviser, or even a good school for your children, your professional network can be a valuable source of leads and recommendations, since some of its members may share lifestyles similar to your own. You may be invited to join their sports group or club and thereby further your network of contacts.
Keep it reciprocal
Once you have developed your networks, it is also advisable to give back. Share your ideas, offer opinions. If you have information to offer, share your findings with other people in your network — information about developmental resources, conferences and workshops. Even if people are not highly interested in the information you are directing to them, they will appreciate your thoughtfulness. As you extend your network reach out to others. Be willing to learn from others and help them to learn from you. Extend your help by making recommendations that can promote other people's careers and personal pursuits.
Chiranjeev Singh is a banker who moved into the city a years ago. He realised that to be successful at work he would need to know as many potential clients as possible. Through his personal network of school friends he made an effort to meet people, joined the nearby golf club, and became a member of the chamber of commerce for his region. Today, he is a senior vice-president of his bank, and sees his career going places He is also the honorary treasurer for a small but exclusive bankers club. He spends every week-end playing golf where he has met and clinched many deals with large business contacts, and has a rich and active social life.
As career specialist Donna Fisher has observed, " 'Power networking' is an opportunity to tap into your own inner resources while working wisely with your outer resources: your contacts." It provides the framework for realising your full potential.
The writer is a noted career consultant