TALKING POINT
Does an exit interview help to improve a company's HR policy?
Interviewing an employee to find out the reasons for his exit is a practice followed by several corporate houses as part of an exercise to improve staff retention policies. Companies like Infosys and Wipro are giving a lot of importance to feedback from their employees, even when they are exiting, so as to modify their human resource (HR) policies. Manoj Kumar presents arguments in favour and against.
"It gives an insight into employee's psyche"
— Adhikarla Gopal Krishna
Sr General Manager, Sales & Mktg,
TCL India Holding Pvt Ltd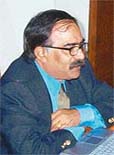 Adhikarla Gopal Krishna
The policy of interviewing the employees at the time of exit can provide sound and effective feedback to the company to understand their mindset and the need to design appropriate orientation programmes for them.
An exit interview will also give an opportunity to the employee to share his experiences and complaints against the management and superiors. He will feel important thinking that company has given him an opportunity to tell " the truth about it."

The management will also come to know about the limitations in leadership and communication skills of its supervisory and managerial staff. It will enable it to chalk out programmes for their career growth and personality development besides evolving a suitable recruitment policy.

In the Indian scenario (where employees may be retrenched), the exit interviews can also be used as an opportunity for the counselling of employees, who may not find it easy to find jobs in the market. Otherwise, they may prove as "potential enemies of the company" who could damage its reputation.
"Workers may use it to air biases against seniors"
— Navin Batta
Asst General Manager-North,
Thomson India Pvt Ltd


Navin Batta
All leading companies in India and abroad today have a policy of exit interviews but it can backfire sometimes since employees may express biased opinions against their seniors and colleagues.
Sometimes, when the employee might be switching to another industry or starting his own company, his views regarding the working of the company may not carry too much weight and may not be of much use for the HR people.

Exit interviews should just be considered as one of the tools to understand the psyche of the employees and to evolve a better and efficient working environment. They need to be supplemented with day- to-day feedback, suitable communication tools and induction programmes.

Sometimes, employees in the software or electronic industry may be leaving the company just to explore better opportunities abroad. Thus, they may not want to express objective views about the company or the management.