Punjab Govt in no mood to relieve Virk
Chandigarh, August 30
The Punjab Government is in no mood to let IPS officer S.S. Virk go. In an attempt to secure his stay in the state, the government has shot another communique to the Union Home Ministry.
Hardcore criminal escapes
Throws chilli powder in cops' eyes
Faridkot, August 30
A dreaded criminal and kingpin of an inter-state gang, Gurbakash Singh, today escaped after the hearing in his case in court of the Chief Judicial Magistrate, Mr Ravinder Singh. Gurbakash Singh was involved in four murder cases and various bank robberies.
Govt fails to verify 'fake degrees'
Principal with fake degree still serving
Ropar, August 30
An inquiry into the fake degree scam, in which hundreds of teachers recruited during the SAD/BJP regime were found to be having fake degrees acquired from universities of Bihar, Chhattisgarh and Uttar Pradesh, has hit a stumbling block.


PSEB power cuts are back
Patiala, August 30
After barely a fortnight of calm, the Punjab State Electricity Board (PSEB) has reintroduced power cuts in both rural and urban areas. The demand has been outstripping supply following a spell of hot weather.
Region to have most heart patients in world by 2015
Sangrur, August 30
Dr Gurpreet Singh Sidhu, eminent cardiologist from Patiala, has said that by 2015, Punjab, Haryana and western Uttar Pradesh will have the highest number of heart patients in the world.
Callipers given away to disabled
Patiala, August 30
The Patiala Society for Rehabilitation of Physically Handicapped held its annual calliper distribution function today. Mandi Board Chairman Sant Ram Singla was the guest of honour and gave away the callipers to patients.
Beant's daughter stays away from function
Ludhiana, August 30
Ms Gurkanwal Kaur, Minister of State for Social Welfare, Punjab, and daughter of late Beant Singh, today stayed away from an official function organised to unveil her father's statue at Doraha near here today.
Pak youth freed from juvenile jail
Faridkot, August 30
A Pakistani youth, Nasir Ali, was today released from the local Juvenile Jail. Deputy Commissioner Alok Shekhar and the SSP Kulchhinder Singh were also present there to see him off.
Indian girls tie rakhis to Pak brothers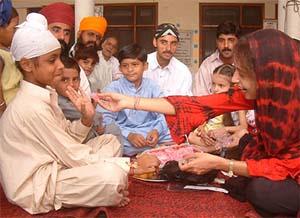 Amritsar, August 30
It presented a unique scene when Indian girls thronged the local Sri Guru Harkrishan School, Golden Temple, to tie rakhis on the wrists of their Pakistani brothers who had come here to participate in the quadricentennial celebrations.

An Indian girl offers sweets to a Pakistani Sikh boy after tying a rakhi to him on the occasion of Raksha Bandhan at Amritsar on Monday. — Photo by Rajiv Sharma



Moga ticket bags Rs 1.5 cr Rakhi bumper

SOS children tie rakhi to Governor
Platoon commander honoured
Ferozepore, August 30
In a ceremony held today at the local Army Divisional Headquarters, officiating GOC Brig R.S. Sidhu presented the GOC-in-C Commendation Card and a badge to Platoon Commander R.K. Awasthi of the 5th battalion of the Border Wing Home Guards (BWHG) for his distinguished services during Operation Prakaram.
100 colonisers take refuge in HP
Pathankot August 30
A large number of colonisers, property promoters and estate agents of this area have gone underground fearing arrest. According to sources, about 100 such persons have taken shelter in the adjoining Himachal Pardesh considering it to be a safe shelter.
Gurdas Mann enthrals music lovers
Jalandhar, August 30
It was Gurdas Mann who stole the hearts of thousands of Punjabis, who had converged at the Doordarshan Jalandhar premises to be a part of "Jashn di Raat', a live programme organised on Sunday night.
Seminar on AIDS
Amritsar, August 30
A seminar on AIDS awareness for industrial workers and their families was organised by the Employees State Insurance Hospital on a premises of the Khanna Paper Mills here today.
Police officials honoured
Fatehgarh Sahib, August 30
The Anti-Terrorist Front of India today conferred the Bharat Rakshak award on Mr Shiv Kumar Sharma, SSP, Fatehgarh Sahib, for his fight against terrorism during militancy at a function here.
Police probe refutes torture charge
Moga, August 30
The Moga police today claimed the allegations levelled by a murder accused against the Fatehgarh Panjtoor police were found to be false.
Truck driver 'beaten up' by octroi contractor staff
Kharar, August 30
A truck driver was allegedly beaten up by employees of the octroi contractor here today. It is alleged that Nirmal Singh, a resident of Khanpur village, was beaten up by employees of the octroi contractor for not stopping at a naka when signalled to stop.
Rotarians installed at ceremony
Patiala, August 30
The Rotary Club Patiala Greater organised a function to mark the installation ceremony here last evening. The Commissioner, Income Tax Appeals, Mr Daya Shankar, was the chief guest, while the Assistant General Manager State Bank of Patiala Mr S.K.S Sandhu, was the guest of honour.


HIGH COURT
Poaching case
Chandigarh, August 30
The Punjab Government on Monday sought more time from the High Court to trace the owners of the phones from which threatening calls were allegedly made to some of the main witnesses in the Pathankot poaching case.


MC chief in trouble as meeting lacks quorum
Moga, August 30
The MC president, Mr Joginder Pal Jain, found himself in a soup today when the monthly meeting of the MC had to be cancelled as it fell short of the quorum. The MC House has 31 members, but only eight were present at the meeting.


Kidnapped girl from Gujarat rescued
Moga, August 30
A girl from Gujarat, who had eloped with her "lover", was rescued from the Godewala area here yesterday. A team of the Gujarat police was camping here for the past couple of days in this connection.


Jobless teachers' protest on Sept 7
Moga, August 30
The Unemployed ETT Teachers Union and the Diet Students Welfare Association, have decided to mobilise support in rural areas for their state-level protest march, which will be held in Ludhiana on September 7.
Honour for Punjabi varsity don
Patiala, August 30
The Delhi Sikh Gurdwara Management Committee has decided to honour Dr Sarbjinder Singh of Department of Guru Granth Sahib Studies, Punjabi University, for his book "Dhur Ki Bani".