M A I N N E W S
150 die as commandos storm school
Bloody end to Russian siege
Vinay Shukla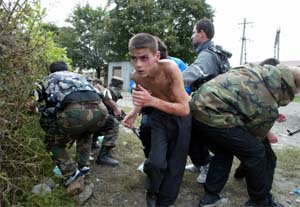 A boy runs for cover after he was released from the school seized by heavily armed masked men and women in the town of Beslan in North Ossetia province. Russian soldiers battled Chechen separatists to end a two-day-old school siege.
— Reuters photo
Moscow, September 3
Russia's three-day hostage crisis in a school came to a gory end today with more than 150 captives killed and nearly 350 injured, mostly children, after commandos stormed the building, gunning down over 20 militants, including 10 Arabs.
Russian President Vladimir Putin aide Aslam Aslakhnov said over 150 hostages had been killed by the militants. Of them, 60 had been identified. According to Inter-Fax news agency, the toll could go up to 200. Itar-Tass news agency said its correspondent from the scene has reported seeing over 100 bodies of the hostages in the school seized by the heavily-armed militants on Wednesday in the city of Beslan in the southern republic of North Ossetia. The Crisis Centre said 344 wounded, most of them children, had been taken to hospital, the agency reported.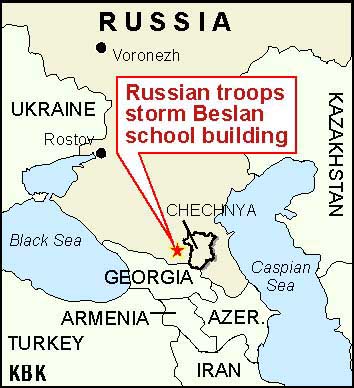 A British ITV News reporter also said he saw over 100 bodies lying on the smouldering floor of the school gymnasium where the hostages were held.
Screaming children, some of them covered in blood, ran out of the building amidst gunfire and explosions as commandos launched the onslaught.
The roof of the building also collapsed, possibly because of the explosives strapped to the bodies of some militants, killing dozens of people, mostly children.
Several militants, including some disguised as civilians, escaped from the school and reported to have taken shelter in a nearby building and were engaged in sporadic exchange of fire with troops who have surrounded the area.
After nearly two hours of the operation, the commandos took control of the entire school complex but reports said sporadic gunfire continued nearly four hours after the commando operation, indicating that some militants were still holed up inside.
All the hostages have been evacuated from the building, Russian media reported.
Interfax said militants fired at the children who ran from the building and that some children might have been taken away by women terrorists.
Security forces had to blow up a wall of the school to help hostages escape.
TV channels showed dozens of children, wearing only underwear, running out of the school. Troops were also seen carrying the injured on stretchers.
The police said during the raid militants were separated into three groups with some of them mixing with hostages, Interfax reported.
FSB's regional head Valery Adreyev said the commando operation had not been planned. The assault was launched after the militants started killing hostages, he was quoted as saying by Itar-Tass.
"Going into the building, the special forces took all measures to save the lives of the hostages. As a result of their professional action, many of the hostages in the school were saved," Andreyev added in remarks broadcast on national television.
President Vladimir Putin had said that everything possible would be done to end the "horrible" crisis and save the children.
North Ossetia President Alexander Dzasokhov said the militants were demanding that Russian troops pull out of Chechnya.
Russia has been rocked by a series of attacks in recent time, including the suicide attack outside a subway station in Moscow which killed 11 persons and wounded dozens others. — PTI