Freed hostages get grand reception
Kiran Deep
Tribune News Service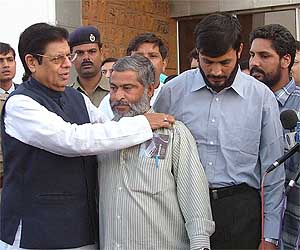 E. Ahamed, Minister of State for External Affairs, welcomes Tilak Raj, Antaryami and Sukhdev on their arrival at Indira Gandhi International Airport, in New Delhi on Friday. — Photo by Rajeev Tyagi
Dehlan (Una), September 3
It was not just a homecoming for hostages who had been in captivity for 42 days, but a hero's welcome that awaited Antaryami and Tilak Raj, who were reunited with their families today.
Not only the people from their native villages joined their families in welcoming them but the entire district thronged the roads as the two were brought home in an open jeep.
Seeing the enthusiasm it appeared as if the crowd was welcoming victorious soldiers. They were given such a rousing welcome that even their family members were lost in the sea of humanity and have to wait to embrace their loved one's.
Hundreds of villagers along with the district administration have been waiting for Antaryami and Tilak Raj, who were released by the militants two days ago in Iraq, at Mehatpur, the gateway to Himachal Pardesh, since morning.
Antaryami and Tilak Raj along with the government officials reached "Shaheed Captain Amol Kalia Gate" in Mehatpur at 5.30 p.m. Hundreds of people raised slogans "Bole So Nihal, Sat Sri Akal", "Anataryami Zindabaad, Tilak Raj Zindabaad". Even police personnel, deployed there, failed to control the crowd. It took about half an hour for the Chief Parliamentary Secretary, Mr Mukesh Agnihotri, to take Antaryami and Tilak Raj from the government vehicle to an open Jeep. The villagers beating drums went along with the procession, crackers were burst and ladoos distributed among villagers.
"I had lost all hopes of returning home. I was sure that we would be killed" said Antaryami as he drove to a local gurdwara to thank God. Another hostage, Tilak Raj, said " I have not thought of returning home safe. It was new birth for me. It all happened because of prayers of lakhs of people". Even though I was treated well by my captives. I was not sure of my release. I am grateful to the Indian Government for freeing me from the militants' captivity".
After spending about 20 minutes in a local gurdwara, the procession stopped near Antaryami's native village Dehlan. Antaryami's mother Bhago Devi and his wife Kusum could not stop their tears as they saw him accompanying a huge crowd. Thereafter Antaryami's mother also joined her son in an open jeep.
Antaryami and Tilak Raj were welcomed by the Deputy Commissioner of Una, other government officials and about 3,000 villagers when they reached the rest house where an official function was organised in their honour. Thereafter Antaryami returned to his home and Tilak Raj left for Dharampur.
The Chief Parliamentary Secretary, Mr Mukesh Agnihotri, while speaking to The Tribune said Indian truck drivers were abducted by the Osama bin Laden's group.
MAKRAULA KALAN (ROPAR): Sukhdev Singh, one of the three Indian truck drivers released by their Iraqi captors after 42 days of captivity, today arrived here to a tumultuous welcome from people of his village and other surrounding villages.
Sukhdev was brought in a procession and the scene was a typical marriage scene — with drum beaters, band, tent, caterers, guests, etc.
As the vehicle carrying Sukhdev reached near his home, all the police arrangements, including barricades, were broken. The approach road to his house was full of people who wanted to take a close look at the man who had gone abroad in search of greener pastures but had to cut short his stay following his kidnapping.
Pal Kaur, mother of Sukhdev, was the first to be greeted by her son who made it clear that he had no plans to go abroad again.
TNS adds from New Delhi: "On Wednesday, we saw the sun for the first time in 42 days," said Tilak Raj after he and two other Indian truck drivers, Antaryami and Sukhdeo Singh, returned home after as many days in captivity to an emotional welcome by friends and families this morning.
The three truck drivers, who were taken hostage by a little-known Iraqi militant group, Islamic Secret Army--Holders of the Black Banners, from a check post near Fallujah on July 21, were received at the airport by Union Minister of State for External Affairs E. Ahamed.