Call of cash
Chandigarh is emerging as the hub of sex trade in the region. The stereotypical image of sex workers being coerced into prostitution has undergone a change. Now, more and more young, educated urban women are joining this age-old profession. While some of them are lured into this business, there are many who are joining it willingly. Sanjay Sharma reports.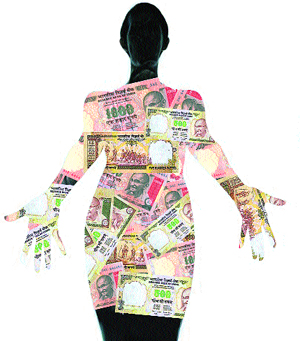 ---
The daughter of a landlord from Punjab found the monthly pocket money of Rs 3000 insufficient to support her lavish lifestyle. Though a student, she needed between Rs 8,000 and 10,000 to sustain herself. The girl struck a deal with a moneyed man for a monthly payment, in exchange for entertaining him and his friends.
---
A former student of MA English, Panjab University, initially entered the trade for the thrill but when she saw the money in the business, she willingly continued. From a well-to-do business family of Haryana, she is also into the insurance business.
---
A girl from Kashmir came to the city to explore job opportunities. Though educated, she could only get jobs that paid her about Rs 3,000. Since that wasn't enough to meet her needs, she chose to trade her body for money.
---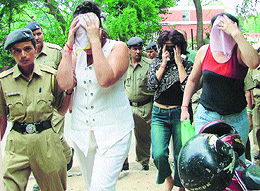 As per an AIDS control survey, there are 3224 commercial sex workers in the city
Chandigarh, which till a few years ago held on to middle class values, is fast emerging as a new sex destination. Considered a regional hub of sex trade, the city has recorded an unprecedented rise in this business. In the past couple of months, the Chandigarh police has arrested more than 30 call girls and pimps.
"There is a massive demand and equally easy recruitment of new girls (mostly willing) into the trade," discloses a woman who was in the business.
"The Chandigarh flesh trade market offers a mind-boggling variety — girls from different age groups and strata, gigolos, gays, lesbians, keeps as well as temporary partners," she says.
According to this former call girl, the sex trade in the city is proportionately higher than that in any of the metropolitan cities — Mumbai, Delhi, Calcutta and Chennai.
While some girls are forced into this profession because of financial reasons, the others go into 'business' to meet their aspirations of what they consider a 'good life.'


The police version
The SSP, Chandigarh, Gaurav Yadav, says the police has been cracking down on immoral trafficking and arresting pimps and call girls. There is no survey or data on the number of prostitutes in the city, he admits, adding that a special crime cell had recently busted a number of call girl rackets in the city. This has led to these girls and pimps shifting base from Chandigarh to nearby places. Flesh trade has been controlled largely, Yadav declares even as he confesses that its eradication is difficult as it has its roots in societal demand.
In fact, the stereotypical image of sex workers being pushed into the trade by vile gangs of pimps to satisfy repressed male sexual needs has undergone a change. If statements made by arrested sex workers are to be believed, a good percentage of the current crop of urban prostitutes who are "doing well" are into the profession of their own free will. Of course, many of them are also lured or forced into the racket but the number of such cases is declining.
Moreover, it is claimed that the typical pimp has to a large extent been replaced by a superior species. Nowadays, influential persons — police officers, bureaucrats, businessmen and politicians — are filling in the slot. They recruit girls, with dreams of mega bucks, for extending favours to those whom they want to please. Such girls, many times, enter the circuit for a very short time and exit when they have made the moolah they wanted to. In Chandigarh, most of these girls cater to this powerful nexus of businessmen-politicians-bureaucrats.
The racket in such cases is run as disguised prostitution. Girls are usually hired as office employees and are offered to clients and others to curry favours. An undergraduate girl who agrees to use her charms for the employer can get a salary in the range of Rs 7,000 to 10,000, while one who is on the regular rolls may not cross Rs 5,000 a month, discloses a girl who was doled out a "proposition to please" when she took up her job.
The girl says employers prefer single girls to those living with families for this purpose, and girls from outside the city fit the bill perfectly.
But there is a "willing" section of girls in the city who take up a job only to look for an opportunity to get out of the house and carry on the business. Many students too fall in this category.
The money involved in the business is enormous. Girls brought on contract from Delhi, Mumbai and other areas of the country are getting between Rs 25,000 and Rs 80,000 per trip according to their age, qualification and looks. These girls, interestingly and ironically, seek to gain social acceptability and status with their earnings.
Social scientist Pramod Kumar, Director of the Institute of Development and Communication, Chandigarh, says the trade is growing as there is a struggle for supremacy. He says that men traditionally used their muscle to enjoy power. But today, women have realised that their beauty and body could provide them strength and power. There is also no ideology (idea, value and purpose) available today to accommodate changing needs of an individual and society.
While in India prostitution is banned, in many parts of the world it is not so. An ILO report in 1998 had quantified the sex industry to be ranging between two and 14 per cent of the GDP in Thailand, Indonesia, Malaysia and the Philippines, whereas shares of Daily Planet Brothel in Melbourne, Australia, are being listed on the Australian Stock Exchange since 2003. The World Bank even offered a financial package for the sex workers of Thailand. A prostitute is now called a sex worker. This is in recognition of her activity as an economic activity that can be considered productive.
Feminists' position towards prostitution is divided: while some define prostitution as an act of self-determination and demand destigmatisation and decriminalisation, others consider it to be sexual abuse and rape. Feminists belonging to the former group pushed a law reform in Germany, resulting in the country recognising prostitution as a regular profession in January 2002. This made it possible for prostitutes to join social security and health care systems and form trade unions.
Furthermore, there seems to be a weakening of resistance against the unacceptability of multiple partners. Advertisement of condoms for family planning and AIDS openly say the use of condom is necessary for sexual intercourse with a stranger or a partner other than your wife. It does not question extra-marital relationships.
In the city, the state AIDS control survey estimates commercial sex workers to be around 3,224. Many of them are entertainment workers and beauty saloon employees.
Pramod Kumar says in the present times, when values and culture are in a state of flux, the new generation is emulating icons from the world of glamour like beauty queens and film actresses who now openly declare that there is nothing wrong in exposing one's body. To consider the body as a source of power takes the logic to the next stage, where it is not deemed wrong to offer the body for pleasure and money. This 'philosophical' framework provides an opportunity to the so-called modern girls to accept prostitution.
Dr Rajesh Gill, Reader in the Department of Sociology, Panjab University, says she had conducted a study in Palsora Colony, where sex trade is rampant. She learnt of a mother who had pushed her 14-year-old daughter into the trade and a number of men who "offered" their wives for money. "The metropolitan anonymity now available in the city is providing an opportunity to girls to slip into the trade," she says, adding that the city has now become infamous for flesh trade and a girl sitting alone near a bus stop may have to face an awkward situation as she may be mistaken for a sex worker.
Dr Gill says the Punjabi girl has been projected as a commodity in video numbers with semi-clad girls dancing with a Punjabi male. This image, she says, has created a demand for them.
She laments that values have undergone such a change that girls prefer rich persons as their marriage partners instead of the educated and the virtuous.