Hurdles in India's way
Gopal Sharma
Victory over Pakistan in the league phase is the key for India to keep their campaign alive in the ICC Champions Trophy in England from September 10. Under Bob Woolmer Pakistan, after India's successful and historic tour of that country, have defeated India in Sri Lanka and Holland. India will have to embark on a well-chalked out plan to reverse the trend. Any complacency against Pakistan could spell disaster.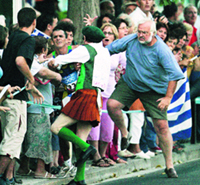 Mad mar-a-thon
Vikramdeep Johal
When marathon runner Frank Shorter entered the Olympic Stadium in Munich, 1972, way ahead of the other competitors, he expected cheers and applause from the crowd. Much to his bewilderment, he heard whistles and booing.


Cornelius Horan tries to push Vanderlei de Lima into the spectators. — Reuters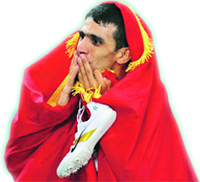 Deluge for El Guerrouj
Rubinder Gill
At the spiritual home of the games, the Olympic gods smiled, and smiled full time, on the genial Moroccan Hicham El Guerrouj. After eight years of feasting it was time for deluge. He ended the jinx and misery to finally feel the thrill of an Olympic gold around his neck, not once but twice. With the 1500-5,000m double he confirmed his place in the pantheon of athletics legends.
IN THE NEWS
110 per cent champion
China made steady inroads in disciplines not considered their strongholds and Liu Xiang became the first man from China to win an athletics gold for the hosts of the next Olympics.
Debacles of our making
It was wonderful to watch human bodies perform at Athens. The level of competition demands one's optimal best.
Sports scam

Catch them young