Windows to reality
A week-long festival of documentaries in New Delhi showed the growing richness and dynamism of this genre of films. Saibal Chatterjee reports.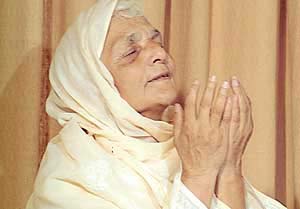 A still from Sabina Kidwai's Shadows of Freedom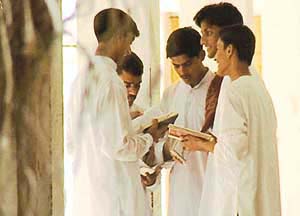 Swadhyaya depicts the life of Pandurang Shastri Athavale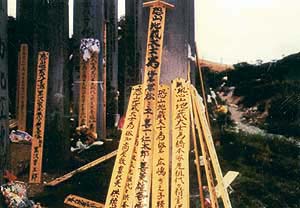 A scene from The Ghost Season
A small, tentative step taken a little over three years ago has now grown into a full-fledged movement. Confirmation of that salutary expansion was available all through the duration of Open Frame 2004, a week-long international festival of documentary and reality films that concluded in New Delhi's India Habitat Centre on September 2.
Conceived and organised by the New Delhi-based Public Service Broadcasting Trust (PSBT), a not-for-profit outfit that operates in partnership with Doordarshan and is supported by UNESCO and the Ford Foundation, the hugely rewarding festival brought together some 50 independent documentaries from all over the world. But most important, the event showcased a clutch of new low-cost public service documentary films funded by PSBT.
"The idea," says seasoned documentary filmmaker and television personality Rajiv Mehrotra, PSBT's managing trustee, "is to create a platform for independent young voices in the broadcasting space." With the government-funded Prasar Bharati Corporation, which runs Doordarshan, throwing its weight behind the activities of PSBT, the trust provides the national broadcaster 52 reality films each year for telecast on a weekly Sunday night slot.
Elaborating on the raison d'etre of PSBT, Mehrotra says: "Broadcasting has grown in leaps and bounds in India. But public entitlement in the shaping and distribution of content hasn't kept pace." The trust, therefore, seeks to facilitate democratisation of the media by distancing the filmmaking process from commercial imperatives or political pressures.
"The value of public service broadcasting lies primarily in its independence and credibility, attributes that are beyond the ken of commercially-driven broadcasters because their primary aim is to deliver audiences to advertisers," adds Mehrotra. "Therefore, the mainstream media reinforces the culture of the privileged to the exclusion of all other voices."
The PSBT experiment, which has already yielded nearly 150 widely acclaimed independent documentaries, has been successful enough for Prasar Bharati to extend the partnership by "a second tranche of three years". Says K.S. Sarma, CEO, Prasar Bharati Corporation: "Independent documentaries and reality films cannot come out of a completely commercial set-up. It is to fulfil Doordarshan's charter as a public service broadcaster that we are partnering PSBT. What we cannot do as Prasar Bharati due to commercial pressures PSBT can."
PSBT draws much of its strength from the active support that it receives from several international organisations and the globally respected Indian filmmakers who serve on its board of trustees. In addition to the public screening of PSBT and other films, on the Open Frame 2004 bill of fare were a variety of workshops, seminars and discussions made possible by the participation of the British Council, UNESCO, Max Mueller Bhavan and International Public Television (INPUT), among others.
PSBT's Board of Trustees, headed by veteran Malayalam filmmaker Adoor Gopalakrishnan, includes Mrinal Sen, Shyam Benegal, Sharmila Tagore, NASSCOM president Kiran Karnik, K.S. Sarma and film critic and festival organiser Aruna Vasudev. Mrinal Sen doubles up as chairman of an Advisory Board that boasts such names as artist Anjolie Ela Menon, jurist Fali Nariman, sitar maestro Ravi Shankar, theatre veteran Habib Tanvir and NDTV's Prannoy Roy.
The seven-day festival opened with Sabina Kidwai's Shadows of Freedom, funded by PSBT, and BBC undercover reporter Mark Daly's Secret Policeman. While the former delves into the lives of three women in a liberal Muslim family seen through the eyes of the filmmaker herself, the latter uses a hidden camera to expose the deep-seated prejudices that plague the Manchester police force.
Among the other PSBT films on view were K. Bikram Singh's Passing On, about the transmission of the Manganayar and Langa folk music tradition from one generation to another, Arun Chadha's Swayam, which looks at how micro-credit has impacted women's self-help groups, Ajai and Vijai Bedi's The Policing Langur, an interesting probe into the man-monkey relationship in Delhi's concrete jungle, and Abir Bazaz's Swadhyaya, on the life and work of Pandurang Shastri Athavale.
The sheer range of subjects and the spirit of innovation were particularly notable. "These are exciting times indeed for independent Indian documentary films," says Shyam Benegal. "Documentaries have come of age in this country. Never before have young filmmakers had the opportunity to make such a large number of films on a such a diverse range of subjects and issues."
Independent documentary filmmaker Amar Kanwar puts the explosion in perspective. Says he: "When the 1984 riots shook Delhi, 3500 people died in three days. But there are no moving images of the violence and its impact available. In contrast, there are hundreds of hours of raw footage and tens of films on the Gujarat riots of 2002. That reflects the change in technologies and a democratization of the filmmaking process as a result of the proliferation of video production facilities."
The last word here should probably, as it often does in personal and public conversations, belong to Mrinal Sen. "The inclusion of Michael Moore's Fahrenheit 9/11 in the main competition section of the 2004 Cannes Film Festival is an indication that documentaries can break into the mainstream."
That breakthrough may not be quite as easy or as dramatic for independent documentary films in India but it is now increasingly clear that they cannot be stopped from wresting their rightful space in a media spectrum dominated by advertisers in search of eyeballs.