Champion of the girl child
Gitanjali Sharma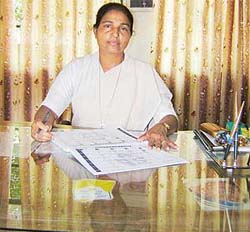 Sister Elsy Odackal ó Photo by Rajesh Sachar
"THE bias against the girl child can be removed only if we educate the girls, and make them aware of their rights and responsibilities," says Sister Elsy Odackal, who has been selected for the CBSE National Award for Teachers-2003, for her contribution towards the girl child. This Principal of St Paulís High School in Ajrawar village in Patiala district is popularly known for her term as head of Sacred Heart Senior Secondary School, Chandigarh, from July 2001 till May this year. She had also served the school as a teacher from 1985 to 89 before leaving to teach in a convent in Mussoorie.
Upbeat about this yearís Class X result of Sacred Heart girls this year, 50 of whom scored above 90 per cent, Sister Elsy says it has always given her immense satisfaction to attend to the weak students and those from the weaker section of society. The Hindi-medium section at Sacred Heart, essentially for the underprivileged, grew in strength to over 1000 students under her charge.
Known for quietly helping the needy students with books and uniform, this much respected and admired teacher made sure that these girls got all facilities and opportunities that were given to the English-medium section.
Taking up teaching as her calling in 1979, this Keralite missionary says she may feel happy about the honour bestowed on her but she did what was expected of her. "It is our duty to bring up the downtrodden and educate the girl child."
Concerned about the lack of time parents have for their offspring, Sister Elsy says in the present times with both parents working, childrenís problems not only remain unsolved but also unrecognised. "I have seen the brokenness of girls. Outwardly, they may appear happy and cheerful, but they seem to be suffering inside. They have none to share their anxieties and concerns with."
Children need time and love more than anything else, this educator asserts, adding that nobody else can offer them these more than parents, especially mothers, who are the first and the best teachers. And, nothing can be more precious a gift than spending time with children and listening to their problems.
Sister Elsy would like to continue with her work of assisting and guiding students in the co-educational St Paulís High School, as she considers that "thereís nothing more satisfying than securing and brightening up the future of your wards."