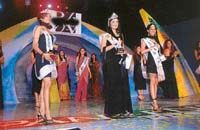 Stage an entry as event manager
Event management is a sunrise sector that is set to gallop in the coming years. Managing mega events is no longer an amateur operation but a full-time profession that has thrown open a host of opportunities for dynamic youngsters, writes Biswajiban Sharma
Corporate chat
"An event manager must be innovative and good at organising "
The phenomenal growth of the event management sector has opened the floodgates for those inclined towards a career in it. Vineet Pathania, Director of Entertainment Solution Provider (India) Pvt. Ltd, gives a peek into the industry.

CAREERCATURE
by Sandeep Joshi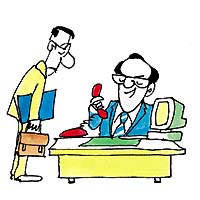 Sorry, we canít give you the job. You have only 11 recommendations.


OFFBEAT OPTIONS
Make a future in assessing future risks
With the entry of several private players in the insurance sector, there is more work for actuaries, the people who calculate the financial impact of uncertain future events, writes Manish Kumar Singal

SMART SKILLS
GD tests gift of the gab, not grab
Usha Albuquerque
SWATI did brilliantly in the written test of the MBA admission and was called for the interview and group discussion (GD). She had prepared quite well for this part of the admission process, but when she actually sat with five other candidates for the GD, she could barely speak. And, as she ruefully admitted later, she did not make it.

STRATEGIES FOR SUCCESS
"I look for win-win solutions"
Manoj Kumar
"Most of the industrialists or managers would try to fix problems through quick-fix solutions, but I always try to work out a solution that would create a win-win situation for all the stake holders, including company employees, share holders and the consumers," says Navin Jindal, industrialist-cum-politician. He is, at present, representing the Kurukshetra Lok Sabha constituency of Haryana.

CAREER HOTLINE
Pursue plastic technology

BITS AND BYTES
Voice disease hits call centre staff
CALL centre workers are suffering from a new industrial disease: repetitive voice injury, also dubbed as "call centre-itis", according to a recent report from London.