M A I N N E W S
Natwar, Kasuri promise visa-free travel to journalists
Rajeev Sharma
Tribune News Service
New Delhi, September 7
External Affairs Minister K Natwar Singh and his Pakistani counterpart Khurshid Mehmood Kasuri played to the gallery this evening. They exhibited their newly-struck personal chemistry and made spontaneous announcements of a liberal visa-free regime for journalists of the two countries.
At the same time, the two Foreign Ministers took care to attach strings to their announcements and dropped subtle hints that the announcements were subject to approvals — Mr Natwar Singh citing the necessary nod of the Cabinet Committee on Security (CCS) and Mr Kasuri talking of a new Home Minister of his country whose name he is yet to discover.
The occasion was a reception in the honour of Mr Kasuri by the South Asia Free Media Association (SAFMA) at a five star hotel here. Mr Natwar Singh was gracious enough to make last-minute adjustments to his appointments to receive Mr Kasuri at the reception.
Before climbing up the dais, the two Foreign Ministers had reached an understanding to practise an adage which is Mr Natwar Singh's favourite — a good diplomat is he who thinks twice before saying nothing. In simpler words the Natwar-Kasuri understanding was that they would not say anything at such a high-profile gathering of journalists, diplomats and politicians.
But this was not to be. The reason: a fiery speech by SAFMA Secretary-General Imtiaz Alam, a noted Pakistani journalist, which forced the two Foreign Ministers to make announcements on the spur of the moment.
Mr Alam openly blamed Mr Natwar Singh and his predecessor Mr Yashwant Sinha of making false promises to SAFMA about ushering in a visa-free regime for journalists of the subcontinent.
"India and Pakistan are the greatest obstructions to free media (in the region)," Mr Alam thundered as he was heard by the high-profile gathering. One could hear a pin if it were dropped.
"Today the major deficit in South Asia is information deficit. We are not ISI agents or agents of any other organisation. We are the agents of free flow of information. We have lived enough in enmity. Now we deserve to live in amity," Mr Alam said.
He stressed the need for the leaders of India and Pakistan to stay engaged in a dialogue. "They should talk and continue to talk and understand each other's point so that we produce results. It doesn't matter whether the results come in one year or 10 years or 20 years."
After this explosive speech, the compere, Mr Vinod Sharma, expressed the hope that the two Foreign Ministers would now reverse their earlier decision and respond to the points raised by Mr Alam.
By this time, hectic consultations had begun between the two Foreign Ministers.
Just before Mr Natwar Singh was called upon to speak, National Security Adviser J.N. Dixit, who was also seated on the dais, walked up to Mr Natwar Singh and the two had a brief and animated conversation.
Mr Natwar Singh immediately announced that Pakistani journalists were free to visit any part of India. "Dixit and I will persuade the Home Minister to go along with us. Though it will have to be cleared by the CCS, I think that the CCS should have no difficulty (in clearing this). The Pakistani journalists can visit any borders of the country."
The drama was not over yet. Mr Natwar Singh peered sideways and told Mr Kasuri "Arre Khurshid haan kaho naa" (Look here, Khurshid, say yes.)
And Mr Kasuri was a picture of "I do" when he loudly announced "Yes".
Mr Natwar Singh carried on and observed that the intrusion of media in foreign policy was now irreversible.
The bonhomie in the air was so much that EAM took this opportunity to say that after his two-day talks with Mr Kasuri he got a lot of phone calls from across the country by people who complained to him that television footages showed that Mr Natwar Singh was chewing something when he stood by the side of Mr Kasuri.
"I don't know if I was chewing something. If I was, I was wrong and I am sorry for that," Mr Natwar Singh said.
Mr Natwar Singh's personal touch diplomacy proved to be infectious. Mr Kasuri said he had been in the Opposition for so long and had been jailed six times which made his image in Pakistan that of a subversive. "That is why I sympathise with subversives. I myself am an anti-establishment figure in Pakistani politics."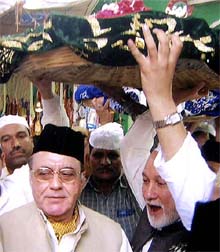 Pakistan's High Commissioner to India Aziz Ahmed (right) holds a 'Chador' (holy cloth) over Pakistan's Foreign Minister Khurshid Mahmud Kasuri (L), during the latter's visit to the Ajmer Dargah on Tuesday.
— AFP photo
Ajmer, September 7
Notwithstanding sharp differences over Jammu and Kashmir issue and the problem of cross-border terrorism, Pakistan Foreign Minister Khurshid Mehmood Kasuri today said he has come with a message to foster friendship with India.
After offering prayers at the mausoleum of Sufi saint Khwaja Moinuddin Chisti here, Mr Kasuri said "from here, I want to send a message not only to the Muslims in India, but to all the Indian people, including Hindus, Sikhs, Christians, Jains and other communities that people of Pakistan want friendship with all of you".
He said "we have extended a hand of friendship towards you. The dialogue we are engaging with India is with sincerity."
Describing External Affairs Minister K. Natwar Singh with whom he held extensive parleys for two-days to review the progress in bilateral relations and the composite dialogue process, as a man with considerable experience, Mr Kasuri said "I feel that both of us have started understanding each other".
He said "we both know that the issues before us are very difficult and complex" but "we are trying to respect each other's point of view in totality".
Noting that when Islam came to this part of the world, it brought a message of peace and love, not of the gun, he said that is why both Hindus and Muslims visit the holy shrine and there was no attempt to impose one's religion on another. "That is why I wanted to specially come here". — PTI