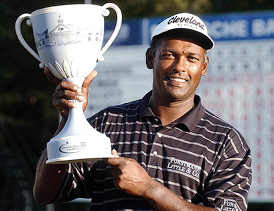 Singh is King
Mark Lamport-Stokes
Vijay Singh's rise to the pinnacle of the game will have surprised none of his peers because he has been widely regarded as the best player in the world for at least the last 14 months. The workaholic Fijian, who officially replaced Tiger Woods as world No 1 on Monday, has clinched 10 PGA Tour titles since the start of 2003, including his third career major at last month's US PGA Championship.
No place for makeshift keeper
Gopal Sharma
"Take wicketkeeping gloves off him and let him concentrate on his batting," fumed Ravi Shastri after India crashed to a humiliating defeat against England in the second match of the NatWest Trophy.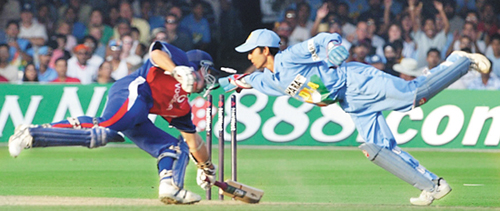 Out-of-the-world stumping by Karthick. Photos: Reuters, AFP

No mid-life blues for this runner
Vikramdeep Johal
Time is his watchword, fitness his mantra. Come rain or shine, he rarely misses his daily two-hour practice. A veteran athlete who has distinguished himself in national as well as international meets, Amarjit Singh seems free of physical and psychological problems that afflict people in the middle age.
IN THE NEWS
Queen of pole vault
Rubinder Gill
It is not every day that world records are broken but Yelena Isinbayeva is making a habit of going against the norm. Every time she picks up a pole to compete, she vaults to a new high.


Remarkable run

In the 200 league
Rathore only saving grace
It was a pity to watch the dismal show of the Indian contingent in the Olympics. The contingent consisting of 76 members cost the exchequer more than Rs 100 crore. Such a performance by our sportsmen hurt every Indian.