Om shakti
Thereís no one quite like Om Puri when it comes to versatility. His performances are unforgettable. With the Order of the British Empire now in his cap and King of Bollywood set for international release soon, Saibal Chatterjee traces the journey of our man from Ambala to the world stage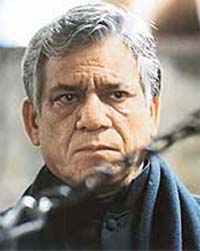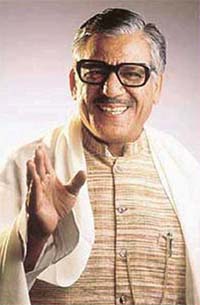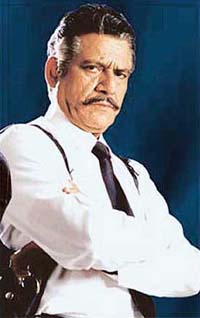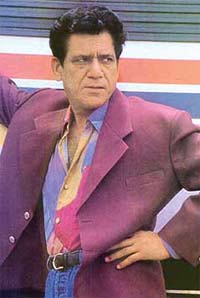 Piyush Jha, the director of Om Puriís newest film, King of Bollywood, has reason to consider himself blessed. He knows exactly what having the unassuming 54-year-old Ambala-born actor on board can achieve in England.
Scouting for a location in London, Jha homed in on one particular house that seemed perfect for his film. The location manager was contacted, but the man responded rather frostily to the unitís request for permission to use the bungalow for the shoot. He all but slammed the door on Jhaís face.
And then, a veritable miracle unfolded. During the course of the grilling that Jha was subjected to by the owner of the house, the harried director revealed that his lead actor was Om Puri. The name worked wonders. The hitherto curt, unhelpful gentleman melted beyond recognition. He happened to be a great Om Puri fan and was only too willing to throw his home open to any project toplined by the Indian star-actor. "He was now a transformed man and told us that we were free to use his bungalow as we wished. Our stocks shot up in a jiffy in his eyes," recalls a somewhat bemused Jha.
Indeed, few actors in the annals of Indian cinema have achieved as much sustained international success as Om Puri. Having shared screen space with the likes of Michael Douglas (The Ghost and the Darkness), Jack Nicholson (Wolf), Sam Neill (Zookeeper) and Patrick Swayze (City of Joy), he is in a zone of his own.
He is especially big in Great Britain, where he is an A-list performer who has bagged several nominations for BAFTA and London Critics Association awards for his widely acclaimed work in films like East is East and My Son the Fanatic.
The latest honour bestowed on Puri by the Queen of England ó the Order of the British Empire (OBE) ó is a thoroughly deserved recognition for his yeoman contribution to the cause of cinema in Britain. "I was a bit surprised though," says Puri. "I did not know that foreigners were eligible for the OBE. Of course, there are a large number of people in Britain, including Prince Charles, who think that I am a citizen of the United Kingdom."
Some people back home did not, however, see the OBE in the right spirit. They sent Puri an e-mail and exhorted him to turn down the award on the grounds that it had come from a nation that had at one time "treated Indians as slaves".
The actorís reply to the sceptics was polite but firm. "I am an artiste, not a politician. It would be petty for me not to accept the OBE. By accepting the award I do not become party to what the British did to us in the past nor do I undermine my Indian identity. The OBE is the British governmentís token of appreciation for the work I have done in their films and thatís all there is to it," he wrote back without mincing words. Mercifully, the controversy did not snowball.
No matter what, Puri asserts, the OBE is a singular honour. "It is obviously a recognition of my work in the British films that I have acted in over the years. But I now feel if they had seen my work in films like Aakrosh, Ardh Satya, Tamas, Susman and Aarohan, they might have even knighted me," he adds with a chuckle. That would not have been undeserved in the least for Puriís role in bolstering the parallel cinema movement in India in the 1970s and `80s was matched only by that of Naseeruddin Shah.
The NSD and FTII graduate was seen in Ghasiram Kotwal, Bhumika and Arvind Desai Ki Ajeeb Dastaan in the 1970s before Govind Nihalaniís Aakrosh (1980) catapulted him to the New Indian Cinema big league. In a quarter-century since then, Puri has built a body of work that is stunning as much for its sheer quality as for its unwavering consistency. Range and depth go hand in hand in his oeuvre.
Besides working for some of Mumbaiís most applauded directors (Shyam Benegal, Govind Nihalani and Ketan Mehta, among others), Puri has frequently featured in pivotal roles in films helmed by Bengalís Satyajit Ray (Sadgati), Mrinal Sen (Genesis) and Utpalendu Chakraborty (Chokh and Debshishu).
One of the finest screen actors India has ever produced, he has lent his amazing versatility to films that straddle diverse worlds. Puri is no less at home in typical Bollywood blockbusters than he is in the intensely personal cinema of non-mainstream auteurs. His standing as an actor in the West is as formidable as his position as a dependable star in India. Puriís accomplishments are too vast to be appropriated by one nation or a single cinematic form.
"I have never consciously planned my career," he says. "I have never ever thought of staying in the West in search of work. I believe if there is a role for me it will come to me. I travel to the West when I am offered a role and return to India almost as soon as my work is over. The only time I ever extended my stay in London was when I had to take my son sightseeing."
It was roughly around the time that Indiaís parallel cinema went into a slump that the West discovered Om Puri and that was a stroke of luck for an actor looking for fresh challenges. "City of Joy (1992) was a turning point in my career," recalls Puri. "Even though the film failed commercially and critically, my performance did not go unnoticed."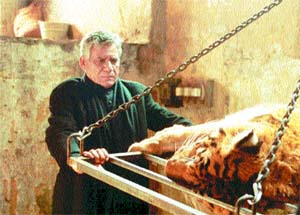 A still from The Ghost and the Darkness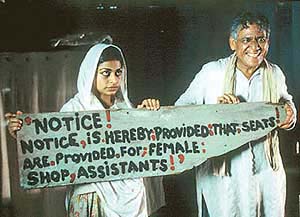 Om Puri with Ayesha Dharker in The Mystic Masseur
While the roles keep flowing in from the West, Puri continues to be a constant presence in Mumbai cinema. In the past year, he has been seen as a mentor to a young cop in N. Chandraís Kagaar, a hapless father of a Kargil martyr fighting official apathy in Ashwini Chaudharyís Dhoop, a gender-reversed personification of the accursed, clairvoyant witches of Macbeth in Vishal Bhardwajís Maqbool and a Muslim-baiting law enforcer in Govind Nihalaniís Dev. None of these films managed a decent run in the cinema halls, but Puri is too good an actor to be affected by the vagaries of the box office.
Directors are aware that he is one of a kind. So, all through the 1990s, he played meaty roles in mainstream films like Rajkumar Santoshiís Ghayal and China Gate, N. Chandraís Narasimha (which had him playing a venomous gang lord with the sort of flair that only he is capable of), Prakash Jhaís Mrityudand, Gulzarís Maachis and several Kamala Haasan films, Chachi 420, Hey Ram and Indian.
His delightfully droll star turn as a garrulous secretary in Chachi 420 fetched him a clutch of comic roles in films directed by David Dhawan and Priyadarshan. His comic talent had, of course, been first noticed much earlier - in Kundan Shahís cerebral but zany Jaane Bhi Do Yaaron (1983) and the sitcom Kakkaji Kahen, directed by Basu Chatterjee. In more recent times, Puri provided another fine demonstration of his unmatched comic timing in Nagesh Kukunoorís Bollywood Calling, a spoof in which he essayed the role of a bumbling Hyderabadi film producer who ropes in an American actor for an ambitious but mishap-prone project.
King of Bollywood, due for nationwide release on September 24, promises to be another rip-roaring comedy cast in the burlesque mould. But Puri clarifies that Piyush Jhaís satire has little in common with Kukunoorís essay beyond the fact that both storylines revolve around the follies and foibles of Bollywood. "The difference lies in the structure of King of Bollywood. It is far more episodic," says Puri.
Even in terms of his own character, he points out, King of Bollywood is in a league apart. "In Bollywood Calling, I played a struggling producer who was unsure of himself. The protagonist of King of Bollywood, Karan Kumar, is a big movie star who is too wrapped up in his notions of grandeur to notice that his sell-by date is long gone," Puri elaborates.
"It is the conflict between KKís inner fantasy and the external reality that creates the comic situations," says the actor. "It was important for me to get the pitch of the performance right. It was a trifle awkward because the role blends stretches of slapstick with moments of subtle, even poignant, comedy. The character is a flamboyant Punjabi who speaks with a slight accent and is given to flashy gestures and sweeping utterances," he adds.
Puri feels the fact that Jha chose to cast him of all people in the role of an over-the-hill Bollywood star is the most intriguing aspect of the film. "I have never fancied myself as a Bollywood star. I do not walk, talk or dance like one. I am required to do just that in this film. It is the irony inherent in the casting that makes the role all the more challenging for me," says Puri.
So, how does he assess his stature as an actor and a star? "Well, I like to believe that I have a sizeable fan following," he says with characteristic modesty. "I am no Shah Rukh Khan or Hrithik Roshan, so people do not mob me and grab a piece of my shirt. But I have respect. People think of me as one of them." For an actor, who has steadfastly used real characters as his professional building blocks, the sort of special equation that Puri has with his fans is hardly unexpected.
One of Puriís greatest attributes, perhaps second only to his undeniable talent, is his professionalism. In Govind Nihalaniís Dev, which pitted him opposite Amitabh Bachchan for the first time, he was less than convinced about the motivations of the character he plays, police officer Tejinder Khosla. But he left the final decision to the director.
"Tejinder Khosla did not have enough justification to be such a Muslim hater," says Puri. "It wasnít his son, but his friendís, who had been killed by a terrorist. I told Govind about my reservations but went ahead with my job after the director explained that the character was only a tool for an exploration of a political reality."
Puri, winner of Best Actor National Awards for his performances as a sharecropper who has to support an extended family in Shyam Benegalís Aarohan and as a frustrated policeman in Nihalaniís Ardh Satya, has recently undergone a knee surgery that has imposed restrictions on the kind of roles he can do. "I cannot take any physical strain for some time. Therefore, none of the films that I have accepted require me to push myself though they are all major roles," he says.
Puri has as many as four assignments, all of them domestic, lined up for the next four months. Among them is a Punjabi film to be made in Vancouver by Deepak, former assistant of Director Rajkumar Santoshi. Another is former actress Gopi Desaiís third film as director to be shot entirely in London. "The other two films are being directed by Priyadarshan between November 2004 and January 2005," Puri reveals.
Mumbai, London, Vancouver, Los Angeles: Om Puri is at home in the world. In his ability to assume identities without effortless ease lies the safety of his Empire.