Celebrating the Yogini cult
Yana Bey sets off to see a group of obscure temples in Bolangir and chances upon the millennium old Chausath Yogini Temple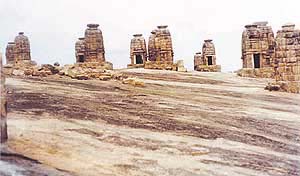 The plethora of small temples on a giant smooth rock next to the Chausath Yogini temple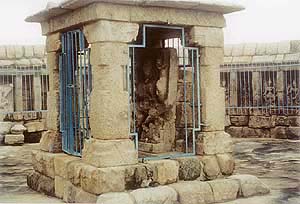 The structure housing the Shiva-Parvati idol at the centre of the circular Chausat Yogini temple
ó Photos by the writer
DEEP in the heart of Orissaís Bolangir district, with its red clay soil contrasting with the lush green of paddy and dotted with whitewashed temple spires rising dazzlingly above fields of crops and clusters of village houses, lies an exquisite temple built in the ninth century that is still a centre for worship of Shakti and tantrism. The ancient temple at Ranipur Jharial in Bolangir is one of the few remaining Chausath Yogini temples in modern India.
It is believed that the Yogini cult resulted when Adivasi animism and worship of nature in the form of female deities gradually blended with worship of Shakti and tantrism. The Chausath Yogini temples, of which nine are known to still exist, were built from the ninth to the 13th centuries. The three best-preserved temples are in Orissa, in Bolangir and Hirapur and in Jabalpur, Madhya Pradesh. There is one at Khajuraho and the others are in Uttar Pradesh and Tamil Nadu, in varying states of ruination.
On a whim: thatís how the intrepid traveller chances upon wonderful discoveries. And it was on a whim that I decided to set off to see a group of obscure temples in Bolangir and chanced upon the magnificent Chausath Yogini temple. Driving back to Kantabanji town from a visit to a weekly haat or market on its outskirts, we came to a cross-roads where I spotted a small signboard. 9th century temples Ranipur Jharial 29 km it said, with an arrow pointing down a road that could be seen disappearing into the distance like a ribbon through open fields. "Stop, stop!" I told the driver, and we screeched to a halt. "Look, 29 km isnít too far, and itís only mid-afternoon yet. Letís go explore these temples," I said. My companions agreed and the next moment, we had careened round and were setting off towards the horizon.
Travel tips
How to get there: From Bhubaneswar by road to Kantabanji. Go directly by taxi, a day-long journey. By bus take an overnight luxury bus to Bolangir (8 hrs) and then a local bus to Kantabanji (3 hrs). Taxi from Kantabanji to temple complex about 30 km.
Where to stay: In Bhubaneswar, Hotel Gouri (2433443, 2433371) for its sylvan setting and view of famous Lingaraja temple. Kantabanji has typical small-town hotels and lodges.
Other tips: You can eat in village hotels (thatched-roof huts with mud-swept floors) but always carry your own drinking water.
Twenty-nine kilometres usually isnít much of a distance but on a road in rural India it takes about an hour to cover. Just as well, for the glare of the sunlight had softened and the temples, when we finally saw them, were bathed in the mellow daylight of the half-hour before sunset.
As we neared the Ranipur Jharial site, a striking temple came into view a tall, red-brick Lingaraja temple. This sentinel-like landmark is a tantric temple and still in use. Turning the corner after this temple, the road went up an incline and, suddenly, an ancient, massive temple of sandstone filled our vision. This was the Chausath Yogini temple, built for worship of Shakti in her 64 forms.
It is circular and roofless, presenting an awesome sense of grandeur as the huge structure stands under the open sky on a giant smooth rock. There are separate niches for each of the 64 idols and a central structure housing the main idol of Shiva, with three faces, and Parvati. This temple is one of only four roofless temples left in India. The others are at Hirapur, Jabalpur and Khajuraho. Built in the 9th century, the temple has stood for over a millennium.
But the ravages of time, the elements and mankind are apparent. Some of the niches are empty, some idols chipped and many of the faces quite featureless smoothened by the weather and by the touch of millions of fingers applying "tika". A signboard near the entrance states that the temple is in the care of the Archaeological Survey of India. But the indications of its feeble attempts to preserve the temple left us amused, angry and, finally, saddened.
Grills with ugly blue paint have been fixed before the smaller idols but, while they may prevent further pilferage, they do nothing to protect these marvellously-sculpted figures of women with jewellery, buns and girdles from the elements or from worshippers applying tika and offerings of flowers and food. The central idol, of course, has a missing grill on one side making a farce of the locked grill doors on the other sides.
Beyond the giant rock on which the Chausath Yogini temple stands is another similar smooth rock. This one is dotted with temples some tiny, just about two feet, and some larger, about 12 feet and sundry piles of stones, marking the spot where a temple once stood. The sight of these empty, crumbling temples at twilight under a darkening sky made them seem even more desolate and forlorn. There was no sign of any attempts at preservation here. As we pottered about, peeking into the small sanctum sanctorums, we came across one that was obviously home to someone. There was a rudimentary bed and a hearth with fresh ashes and some utensils. The temple was built on a small platform on the sloping rock and getting into the chamber meant quite a stretch of the legs. The inmate had solved his problem by placing the broken remnant of the circular piece from atop the temple spire as a stepping-stone below the entrance. We shook our heads and looked away sadly.
The driver was wiser. He had busied himself in offering worship. He had discovered a temple still in use at the foot of the rock, beside a small lake. This is the Someswar temple to which thousands of people from nearby villages still flock during Shivratri. Its innards presented a somewhat cheerier sight and formed our last stop before we drove away, glancing back through the rear window at the beautiful temples we had discovered, on a whim.