Singer of sorrow and motherhood
M.L. Raina introduces Gabriela Mistral, the Chilean poet who devoted her life to children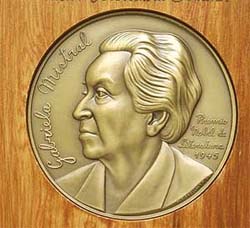 Gabriella Mistral served on the League of Nations and helped to set up UNICEF
THE first Latin American woman poet to receive the Nobel Prize as 'a great singer of sorrow and motherhood', Gabriela Mistral (born Lucila Godoy Y Alcayaga), who longed for but had no children of her own, devoted much of her life to children's causes. Anguished by the suicide of her lover, Gabriela (1889-1957) wrote of sorrow and grief, yet in later life recovered enough `E9lan to engage actively with the cultural renaissance of her native Chile.
Like her younger contemporary Pablo Neruda, she was recognised as the representative of Chilean literature abroad. Unlike Neruda's, however, her commitment to poetry was never overtly political.
She began her career as a schoolteacher. Later she was as educational adviser and Chilean counsellor in Mexico, Madrid, Lisbon and other places. She also served on the League of Nations and later helped establish the Unicef. She capped her career with a professorship of Spanish literature at Columbia University.
During all these years she continued to write in the sombre and passionate lyrical manner that had characterised her verse from the very beginning. Her Christian faith and influences from J.Krishnamurthi further strengthened her ingrained earnestness and modesty of ambition.
Gabriela Mistral is essentially a poet of love who also celebrates the rural landscapes of her small river valley of Elqui and delights in the folklore of her peasant community. Combined with these is her permanent preoccupation with death and human mortality. Her first collection, Desolation, published in America in 1922, includes her early sonnets on death and inaugurates what would surely be her life-long subject of interest: I saw him pass by. / The wind ever so sweet/and the path full of peace. /And these eyes of mine, wretched/saw him pass by. (Ballad)
In another poem, the longing for the loved one and the reverie it induces is cut short by a rude realisation: If you leave, you will crush my soul/in the very moss of your tread/ Thirst and hunger will gnaw at you/on every mountain and every plain/and in every land the evening sun/will stain the sky
with the blood of my wound. (God wills it).
In spite of grief, there is a rustic joy that courses through the early verse: Here is the salt, here the oil/in the center the bread that almost speaks/gold more lovely than gold of bread/ is not in broom plant and or
fruit". (The House).
The second volume, Tala (Tenderness, 1938) is a quasi-mystical understanding of the oneness of all being. What is distinctly new is Mistral's musings on solitude and loneliness, as in the poem, Foreigner,
She speaks with the moisture of her barbarous seas/still on her tongue, with the taste/of sands and algae unknown to me. /And she will die among us`85only her fate for a pillow/a death silent and foreign.
Lagar(Winepress, 1954), published three years before her death, marks a slight departure from permanent themes: she now writes about men and women who toil and suffer privations. She never loses sight of the mountains and clouds of her childhood memories, but now she grounds her poetry in the daily sufferings of ordinary people. From now on she regards her poetry as an act of service.
In these poems her Christian ideal of charity and social justice comes to the fore.
The years in which she wrote Lagar were a testing time for the poet. The Spanish Civil War and the death of personal friends such as Austrian novelist Stephan Zweig left her with the pain of loss.
In One Word, she spills it over. I wish to throw seeds so violent /they burst and smother it in one night /leaving not even a syllable's trace.
Another poem, Mourning similarly embodies her personal and public tragedies.
A much-travelled poet and a successful diplomat, Mistral never lost her love for Chile, particularly her childhood habitat of the Elqui valley. This home, nurtured by her instinctive motherliness, remains her lasting legacy to her people: In the valley of Elqui others have come and are singing/ and there will sing many more.