PUNJAB
HARYANA
JAMMU & KASHMIR
HIMACHAL
REGIONAL BRIEFS
NATION
OPINIONS
MAILBAG
BUSINESS
SPORTS
WORLD

Tuesday, September 14, 2004, Chandigarh, India
Updated at 3:00 am (IST)

Punjab power crisis deepens
Now, two-day off for industry
Patiala, September 13
The Punjab State Electricity Board has requested the Centre to increase its share in the Nathpa Jhakri power project to help it tide over the present power crisis even as it has increased the weekly off for the industrial sector to two consecutive days.
Punjab page: No power for Punjab from other states

Is Punjab being held to ransom on power crisis?

Chandigarh page: UT gets power from eastern grid

Industry in Mohali to lose business

CAST YOUR VOTE
Can air fares be decreased further?

ILLEGAL CREMATIONS
Kalam for new world body to tackle terrorism
Dar-es-Salaam, September 13

At a time when India is lobbying for a permanent seat in the United Nations, President A P J Abdul Kalam has opined that no country should have the veto power in the UN and there is a need for a new world body to tackle global terrorism.


In video (28k, 56k)
President A.P.J. Abdul Kalam talks to a special child during his visit to Uhuro School at the Bugurani camp for disabled children in Dar-es-Salaam on Monday. — PTI photo by P.S. Sengupta

Cabinet likely to repeal POTA
New Delhi, September 13
An ordinance to repeal the controversial Prevention of Terrorism Act is likely to be approved by the Cabinet when it meets here on Wednesday.


Tribune Impact


President steps in; tapestry to be back
in CJ's office
Chandigarh, September 13
Finally, the tapestry will be put back. Following uproar by eminent citizens of Chandigarh and intense coverage by The Tribune, the UT Administration has decided "in principle" to put back the priceless tapestry removed from the courtroom of the Punjab and Haryana High Court Chief Justice some time back on his orders.


In Education Tribune today
EDUCATION
JOBS & CAREERS
HEALTH & FITNESS
FORUM
SCIENCE & TECHNOLOGY
SPORTS
WOMEN
TRIBUNE CLASSIFIEDS
BRIDES WANTED
GROOMS WANTED
OTHERS
HOW TO PLACE ADVTS
THE TRIBUNE MAGAZINES
On Sundays

On Saturdays


SC for proper flag code to honour Tricolour
New Delhi, September 13
The Supreme Court today took exception to a petition singling out alleged dishonour of the Tricolour during Uma Bharti's Tiranga Yatra and said it was strange that none took note of the Tricolour's handling by cricket fans.

Montek ticks off Bengal delegation
New Delhi, September 13


He might be under fire from the Left parties but that did not prevent the Planning Commission Vice-Chairman Montek Singh Ahluwalia from ticking off an all-party delegation from West Bengal today for not following the rule-book.


Editorial: Inflation remains a problem
No red blinkers on cars of top cops, bureaucrats
Chandigarh, September 13
In an order likely to affect over 150 bureaucrats and top cops in the state, the Punjab Police today directed all government officers — except Additional Secretaries and Principal Secretaries — to remove red blinkers from atop their vehicles.

Air Sahara joins fare war
New Delhi, September 13
After the Jet's Check it is now Air Sahara's Steal. The private sector domestic airliner today became the latest one to join the price war to attract passengers.


'Abhiyan' without 'Shiksha' in Punjab schools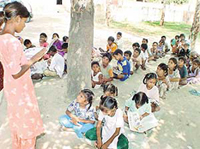 Moga, September 13
It seems that the Punjab Government needs to be told that appointing teachers and not spending crores on education drives holds the key to educating the masses.

A student monitors a class in the absence of the teacher in Government Primary School, Jindra, near Moga. There is only one teacher in the school who was on leave when this picture was taken by Karam Singh on Monday.

In Jobs & Careers today
India, Nepal vow to fight terror
September 13, 2004
Pak softening on Sir Creek
September 12, 2004
North faces power, water crises
September 11, 2004
Despite Left, govt may hike telecom FDI cap
September 10, 2004
India, Pakistan to continue composite dialogue process
September 9, 2004
Natwar, Kasuri promise visa-free travel to journalists
September 8, 2004
PM rules out China-type talks on Kashmir
September 7, 2004
Natwar, Kasuri hold positive talks
September 6, 2004
Ordinance soon to repeal POTA
September 5, 2004
150 die as commandos storm school
September 4, 2004
Fresh probe into Godhra fire ordered
September 3, 2004