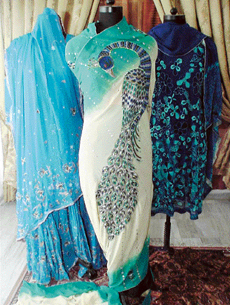 Colourful, delicate and intricate embroidery has been a distinguishing feature of Indian outfits the world over for ages. It is ruling the style graph this season. It is no longer limited only to the formal or ethnic wear but has become a part of everyday casual wear. Be it salwar suits, chauridaars, sarees, Indo-westerns or even jeans, embroidery can be seen "flowering" everywhere, jazzing up the casuals.
"Whether it is plain or printed fabric the trend now is to liven it up by some kind of work", says Geetanjali, a city-based designer. Fashion designers all over the country are busy trying out different permutations and combinations in styles and are working out subtle innovations and forms using the centuries-old tradition of hand embroidery.
While ethnic embroidery forms like phulkari, chikan, Kashmiri, kantha, zardozi, kamdhani etc are evergreen but these are more or less region specific, it is the more cosmopolitan versions of these stitches that are popular among the clients these days, she adds.
The zardozi work that was earlier being done only with gold or silver threads on silk is now being embroidered on cotton, with colourful threads. A kurta of a pastel shade comes alive with zardozi work on it, while an ordinary kalidar kurta with kantha work looks chic.
Embroidered salwars, which used to be worn by children in Gujarat are now getting popular all over. Even chauridaars are being embellished with heavy or light work.
Well, if your heart beats for westerns a fringe of sparkly bugle beads trimming and a delicate threadwork give capri pants a funky update. Add to this an embroidered white shirt for a casual look that's both bohemian and trendy. Tiny embroidered flowers pretty up a plain tee. Skinny straps of tank tops or blouse of a saree both get an uplift with sequin studded thread work. Even men's shirts and sherwanis with delicate as well as ornate work are available in a wide variety of colours. So embellishments and embroidery are everywhere these days.
The bold and bright Parsi work is quite popular in the city, says Geetanjali who has designed suits, sarees and dupattas having this work. This form of embroidery in which a lot of threads of shades of the same colour are used to create the effect of depth is done by machine and is thus quite cost effective.
Antique look is also in vogue as the retro rules not only on the ramp but also in day-to-day clothes. Oxidised silver, gold and copper effects are used to add regal touch to the clothes.
Done by hand this work is costly and is ideal if you are looking for formal or wedding outfits.
For those looking for a more delicate work, applique is a good choice, says Roop Shergill, another city-based designer. Ribbon work and cutwork are other preferred forms for casual wear.
Panels of net with embroidery also add delicate grace to an ensemble, so the choices are endless and so are the designs ranging from floral to bels to abstract and geometrical.
If you want to add a touch of shimmer and glitter then sequins, kundan and coloured stones are the obvious choice. These are being used extensively to embellish the embroidery even in the ready-to-wear clothes available in the markets, says owner of a showroom in Sector 17.
Sequins are available not only in a huge range of colours but also in shapes like the stars, flowers etc and in big sizes. According to Roop, delicate flowers and small motifs, embellished with sequins and beads, are the hot items this season as broad patterns were in vogue last season. Tone-on-tone embroidery rather than the contrast looks graceful and is the current trend on and off the ramp too.
Kundan work, which is a blend of heavy and delicate, is also ideal for trousseau as well as formal clothes. Stick-on crystals in different colours, from simple to swarovski add a glittering touch to Indian as well as Indo-Western garments.
As hand embroidery is very expensive and machine one is more affordable a mix of hand and machine is the most preferred. It is stylish as well as easy on the pocket. The trends change so fast that no one is ready to spend a bomb on a thing that may go out of fashion within a season, says Geetanjali.
Embroidery no doubt enlivens a staid dress and is the style of the moment so go romance the thread. TNS