Monorail for mass transport
S.S. Verma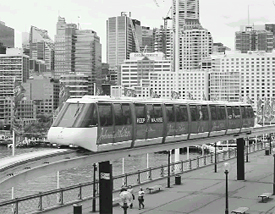 Frequent road accidents with automobiles due to rash driving and Congestion on the roads as well as price hike of fuels will make mass transit systems like trains more suitable if they can be made more convenient, comfortable, reliable, cost effective and safe. But problems with the conventional double guideway trains such as derailment, head-on collisions with trains and other type of vehicles on the tracks as well as on the intersections are proving major blocks towards providing a safe travel mode to the people. A transit system which can get rid of environmental pollution and congestion caused by auto traffic is the demand of hour.
Monorails are providing answers to these problems and thus are becoming popular mass transit systems of future all over the world. In India also recently the government of West Bengal has announced about the development of a monorail project in Kolkata.
The monorail technology is developing very fast and maglev monorails are expected to be operational in the near future.
While monorail is not perfect for every situation, the following arguments present a strong case for the narrow beamed wonders.
* Monorails are safe whether they are of the straddle-beam or suspended variety because the nature of their design which does not allow derailments.
* Monorails are cost-effective. Not only capital but operational costs of heavy rail as compared to monorail are also very high.
* Monorails are environment friendly. Since they are electric powered, monorails are non-polluting. Most run on rubber tyres and are very quiet.
* Steel wheels on steel rail grind and wear; therefore, both wheels and rail require far more care than monorail. This alone makes profit impossible with heavy rail. Frequent vehicle breakdowns during operation also make heavy rail much less reliable than monorail.
* Monorail doesn't require a lot of the area to be torn up during construction and the elevated guideway does not create problem of displacement for people on the ground. Moreover, monorail beamway can be installed far faster than the alternatives.
* Monorail are popular with people / taxpayers. In various countries, voters have demonstrated their preference for monorail more than once.
Bottlenecks
A multitude of reasons can explain why the development of monorails is not as it has to be in comparison to other transit systems. Some of them are:
* Despite the fact that there are dozens of successful transit monorails around the world, some put forward reasons like "There aren't any transit monorails. We shouldn't build something that hasn't been proven". It's a ludicrous reason, but it sticks for some reason.
* The conventional rail industry has established a stronghold and monorail is often discouraged by consultants.
* Manufacturers of monorails usually build all kinds of rail systems besides their monorail product. If our city wants a more expensive technology than monorail or their consultant steers them in another direction, manufacturers are ever-so-happy to oblige by selling them something more expensive.
* Quite often, people make the assumption that any elevated rail or peoplemover is a monorail. When they are improperly lumped together with monorail, the disadvantages are assumed to be common with real monorails. Hence, monorails get portrayed in a negative light.