Hollywood hues
A flower-power comedy
Ervell E. Menezes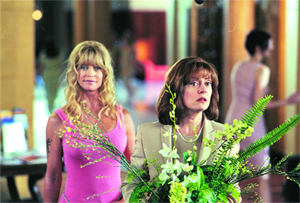 Goldie Hawn and Susan Sarandon in The Banger Sisters
Take two young women who lived, loved and rocked to the music of the late-1960s. One still brassy and euphoric about Jim Morrison and the other a prim and proper suburban mother, wife and pillar of society, who has buried her wild, permissive past. The Banger Sisters is how they get together after two decades and what a hilarious, explosive reunion it is.
Suzette (Goldie Hawn) is the one living in the past till her world comes crashing down when she's told she's as much of a ghost as Jim Morrison. So she decides to go and meet her partner Lavinia (Susan Sarandon), who now goes by the name of Vinnie. Vinnie initially gives Suzette a cold reception because she is now an ideal suburban woman. Along the road Suzette runs into Harry (Geoffrey Rush) who also has a problem. He wants to shoot his dad.
It is, indeed, an amusing plot and the comedy is basically situational. With gawky, giggly Goldie Hawn still able to put across the fizz and feistiness that she had three decades ago in Cactus Flower, the film is off to a terrific start. She also has some excellent one-liners which she delivers with usual aplomb, first to the finicky Harry and then to her ex-soul mate Vinnie, usually clad in beige, the colour of boredom.
But The Banger Sisters is also about pricking the bubble of hypocrisy and how folks often forget their younger, wilder days. Scriptwriter Bob Doleman makes his debut as director and he soon gets his teeth into this flower-power comedy. If the film is meant to resurrect that rock idol Morrison, one isn't sure how far it succeeds. But it does set up a hilarious comedy thanks to Hawn's outrageously funny role in a film not without its share of pathos. Susan Sarandon acts as a good foil till the night out when she lets her hair down. British actor Geoffrey Rush also more than makes his presence felt.
The solutions are far too easy and the characters wafer-thin but that's forgivable. As for the relevance of the title, that would be letting the cat out of the bag. The Banger sisters merit a dekko. They're bound to drive the blues away.