Wildlife in peril
Lenient punishment and lax implementation of the law is responsible for the flourishing illegal trade in endangered species, writes Arup Chanda from Chennai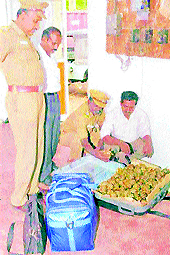 A consignment of seized star turtles
Chennai is turning out to be a hub of smuggling in endangered species of animals not only in south India but also in South-East Asia. The amount involved runs into several billions of rupees. The recent seizure of star tortoises, dried sea horses and tiger skins amounting to billions of rupees have confirmed that the south Indian metropolis is a conduit for these smugglers.
Said K. S. S. V. P. Reddy, Wildlife Warden for Greater Chennai, "Over the last eight years we have seized 6843 star tortoises which were being smuggled through the Chennai airport to countries in South-East Asia." The star tortoise (Geochelone Elegans) has been declared protected species under Schedule IV of the Convention on International Trade in Endangered Species of Flora and Fauna (CITES) and any trade in these is an international offence.
Reddy said the hatching season of star tortoises was between July to November each year and most of the smuggling took place during this time. On July 12, 450 star tortoises worth Rs 10 lakh in the domestic market were seized from one Mohammed Shahjahan, 62, as he was about to board the flight to Kuala Lumpur from the Anna International terminal at Meenambakkam airport. The value of the star tortoises in the international market is estimated to be much higher.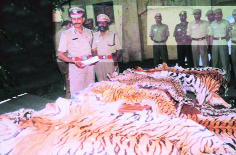 Seized tiger skin.
— Photos by S. Sukumar
Investigations by wildlife officials revealed Shahjahan was acting as a conduit for a much larger racket that operated out of Burma Bazaar in the city. The seizure was the result of an intensive ongoing crackdown on star tortoise smugglers and this would be further intensified, Reddy said. Special crack teams would be stationed round-the-clock at the airport to scrutinise passengers, especially those boarding planes bound for Singapore and Malaysia.
These star tortoises are in great demand in South-East-Asian countries and are either kept as pets or end up as delicacies on the tables of the rich. They are terrestrial and mostly found in the jungles of Tamil Nadu, Andhra Pradesh and some parts of Karnataka.
Reddy admitted that though a large number of seizures had been made and many arrested but in the last 10 years not a single smuggler had been convicted as the law was not stringent enough. Another big seizure was by the Directorate of Revenue Intelligence (DRI) in July of smuggled sea horses from a Singapore-bound vessel at Chennai port. These sea horses were worth Rs 13.44 crore in the international market and Rs 2.68 crore in the domestic market. According to DRI officials, the dried sea horses weighing 2.24 metric tonnes were being smuggled through the export container M V Tiger Pearl with a false declaration that the consignment consisted of red chillies.
As per CITES, the Sea Horse, belonging to species Hippocampus, is an endangered animal listed in Schedule I of the Wildlife (Protection) Act, 1972, and any kind of trade in it is prohibited under international law.
The DRI officials said the consignment had originated from the International Container Depot, Guntur, Andhra Pradesh, and had even been cleared by the Customs authorities there.
By the time the DRI, Chennai received information about the actual contents of the consignment, the container had reached Singapore port. It was then recalled. Upon inspection, the consignment was found to contain 76 bags of dried sea horses, concealed behind seven bags of red chillies. The red chillies had been used both as a camouflage and to suppress the odour of the dried sea horses. The consignment had been booked by a fictitious firm, supposedly based in Chennai, Niagra Export.
Till now the DRI had been seizing only smaller consignments, in the range of 10-20 kg. The quantity of seizure this time came as a surprise to them and confirmed the apprehension that the commercial exploitation of sea horses had increased.
In Tamil Nadu, the animals are poached along the Ramanathapuram coast and are illegally exported to South-East-Asian countries, where people believe these have medicinal, particularly, aphrodisiac properties, apart from being a cure for asthma and kidney ailments.
Another banned item, which is smuggled through Chennai is tiger skin, which is dirt cheap in neighbouring Andhra Pradesh, where, apparently, a tiger skin costs only as much as a bag of cheap cosmetics. The revelation came when Chennai police officials, investigating a statewide racket in the sale of tiger skins, arrested a smuggler, Kothanda Ramaiah, in July and seized tiger skins worth Rs 1 crore from him.
He told the police that he used to smuggle cosmetics and fancy items, from Chennai, where these were comparatively inexpensive, to Andhra and his contacts there gave him tiger skins in return. He said, "I used to sell them here and make money."
Ramaiah, who is only a small operator in a nationwide poaching racket, went back home every month with "suitcases full of fancy goods" and returned to Chennai with caches of tiger skins.
When he was nabbed he had in his possession four tiger and two leopard skins and 21 pairs of tiger nails. The tiger nails cost Rs 5 lakh in the international market while the skins cost much more.
Tribals living alongside forests were also involved in poaching tigers and would sell the skins to smugglers for a pittance.
A police officer said, "Since there is no great demand for tiger skins in Andhra, these are sold at exorbitant rates to people in other states and even abroad."
Reddy felt that adopting measures like undertaking an awareness campaign, amendments in the Wildlife Act and more severe punishments could help curb such smuggling.
Wildlife officials also pointed that not more than 10 per cent of the total amount smuggled was seized. It, thus, stands to reason that the business of smuggling endangered species of animals runs into several billions of rupees.