Law and injustice

Thousands of women and children have been arrested under POTA on the charge of being militants, writes Rashme Sehgal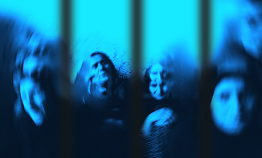 THE government's decision to recall the draconian POTA has not come a day too soon. This two-and-a-half year old law has played havoc with lives of numerous women and children.
Jharkhand enjoys the dubious distinction of arresting more than 350 women and kids, some of whom were as young as 10 and 12 years of age, and keeping them in the lock-up for two years and more.
In Tamil Nadu, Kashmir and Delhi a large number of women who were accused of having assisted militants in committing crimes against the state were arrested. A state-by-state study of the women arrested under POTA shows that most of the women arrested had no involvement with militant groups and had often been forced at gun point to assist militants.
Take the example of the six adivasi girls between the age of 16-18 years living in a small hamlet in the Gumla district of Jharkhand. Two years ago, they were ordered to prepare dinner for a group of armed men who broke into their homes. They did so under duress. The next morning, a posse of policemen arrived in their homes and arrested all six of them for having harboured the outlawed MCC members in their homes.
They were taken to the Jhansi jail and remained in the lock-up for 18 months. They would have probably remained in jail for a longer period but for the efforts of Stan Swamy, convenor of the POTA Virodhi Jan Manch(PVJM) in Jharkhand to get them released. 'Two PVJM members visited them several times in jail in order to gain their confidence and helped them get released on bail,' said Swamy.
Seventeen-year-old Ropni Khari of Tira Masori Toli village in the Gumla district, was also arrested on an equally frivolous charge. Ropni, a matriculate, encouraged girls to attend school and raise their voices against patriarchal oppression. That was provocation enough for some villagers to inform the police that she was an MCC member and have her arrested under POTA. Two high-profile arrests in Delhi also serve to reinforce the ludicrous charges under which women have been arrested.
One of the most prominent women detainees was Navjot Sandhu, arrested for conspiring against the Indian state in the infamous December 13 attack on Parliament. Deposing before the People's Tribunal, Sandhu's lawyer, Nitya Ramakrishnan elaborated on how her client had been arrested on the basis of an innocuous conversation that took place between her and her husband, Shaukat, a Kashmiri Muslim. Shaukat has also been accused of being a militant.
Following the Parliament attack, Navjot is reported to have asked her husband, Shaukat,tum pahunch gaye, to which he replied, Main pahunch gaya. She then went on to say, Kuch log aye the, referring to the arrival of some policemen who had come to her house for questioning. Her case was thrown out for lack of evidence by the Delhi High Court. Navjot was kept for two years in Tihar jail where she gave birth to a child. She has been left so traumatised by the experience that she is currently undergoing treatment at VIMHAANS in Delhi.
Sringar-based lawyer Parvez Imroz involved with the Association of Disappeared Persons points out that eight women were arrested under POTA in the valley. They, along with other POTA detainees, have been released by the People Democratic Party government. These women too were arrested for similar reasons that had led to the arrest of the women in Jharkhand as also in the southern states of Tamil Nadu and Andhra Pradesh. Security forces in all these states insist that these women provided assistance to militants. As recently as September 2003, the Tamil Nadu police arrested eight women on charges of their being Naxalites.
Mohini Giri, points out that during her tenure as chairperson of the National Commission of Women, she had the opportunity of interacting with several women dubbed as Naxalites and who had remained under the lock-up for 3-4 years and even longer.
Giri points out, "These women were caught between the devil and the deep sea. Like the women in the valley, their crimes were that they were forced to provide assistance to militants at gun-point. If they refused, they would have a bullet in their brains and when they did so, they were arrested by the security personnel. Theirs was a pitiable fate."
No figure is available about the exact numbers of women and children arrested around the country under POTA. Lawyer and activist , Colin Gonsalves says, "We have repeatedly approached the Home Ministry and the National Human Rights Commission to give us a number. They claim they have no knowledge about it.