CAREERCATURE
by Sandeep Joshi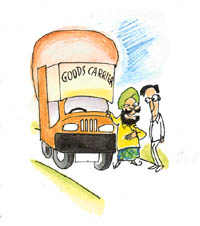 I was looking for a good career, but I ended up with a goods carrier

IN FOCUS
Imparting lessons in human rights
by Manish Kumar Singal
IN view of the increasing number of cases of human rights violations---be it in police stations, jails, hospitals, under army rule, etc---various universities are offering courses to increase awareness about human rights. These courses aim to educate students about the rights of the common man.


WORLD WATCH
UK police to recruit people who speak Hindi, Bangladeshi
by Jason Bennetto
APPLICANTS who speak languages such as Turkish, Bangladeshi and Hindi are likely to be considered by the British Home Office. Ministers hope that the plan to recruit foreign speakers, in preference to applicants who only speak English, will boost the number of non-white officers and improve race relations within minority communities.


STEPS TO SUCCESS
"Patience and hard work help in long run"
by Manoj Kumar
BONDANA Dutta, Director (North and Eastern Region) of theó Child Relief and You (CRY), says, "CRY has given a new meaning to my life and me a mission to work for the rights of the children."


SMART SKILLS
It pays to prepare for salary negotiation
by Usha Albuquerque
SANDEEP was called for his first job interview. He had put together an excellent CV and it had obviously attracted attention. After rehearsing what he should do and say at the interview, and working out all the possible questions, Sandeep presented himself for the interview. He was thrilled when he was offered the job and though the salary was not what he had expected, at least it was a start.



CAREER HOTLINE
Future in flying
Q I am in Class X and wish to become a pilot. Can you please tell me about the eligibility criteria and selection procedure?