M A I N N E W S
Grenades explode as Mufti files papers
Tribune News Service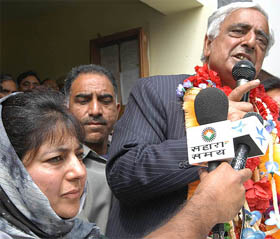 Jammu and Kashmir Chief Minister Mufti Mohammad Sayeed talks to reporters minutes after an attack at the Deputy Commissionerís office in Anantnag on Wednesday. ó Tribune photo by Amin War
Srinagar, September 22
Five pedestrians were injured, three of them seriously, in four rifle grenade explosions in Anantnag town this afternoon when the Chief Minister Mufti Mohammad Sayeed was filing his nomination papers for the Pahalgam Assembly seats.
The explosions disturbed the procession of the PDP supporters drawn from various parts of south Kashmir, who had gathered there around the office of Deputy Commissioner (DC), Anantnag.
The Chief Minister, his wife Begum Mufti Sayeed, president of Peoples Democratic Party (PDP) and MP, Ms Mehbooba Mufti, other party leaders and 16 ministers of the ruling coalition escaped unhurt. Mufti Sayeed later cancelled his public meeting that was to be held at Khannabal.
A police officer told TNS that four rifle grenades were fired at about 12-45 p.m. near the bus stand opposite to the district police office, which is about 500 yards away from the Deputy Commissionerís office. The Chief Minister, Mufti Mohammad Sayeed, had entered the office to file his nomination papers about 10 minutes earlier and was still there when the explosions took place.
Eyewitnesses said two heavy explosions took place near the bus stand leading to chaos and confusion with people running for cover. One of the grenades landed in the old bus stand and another hit roof-top of the district police office, as firing of gunshots rattled the town. A large number of Peoples Democratic Party (PDP) supporters with over a 100 vehicles drawn from various parts of south Kashmir had gathered around the venue at the time of the explosion.
Of the injured, three were shifted to hospitals here, while two others with minor injuries were being treated at the district hospital.
Mufti Sayeed filed his papers in the presence of the Returning Officer for the constituency, Mir Altaf Ahmad, Project Officer, DRDA, Anantnag.