Ga-ga over gadgets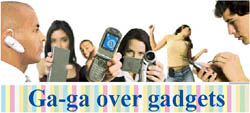 Seema Sachdeva checks out the latest gadgets and gizmos the young hanker after. The 'want list' of the have-it-all-now generation includes digicams, home theatre systems, projection TVs, LCD panels and, of course, the hottest in mobile phones.
Planting evidence
by Vibha Sharma
COPS are generally not associated with anything as pleasant as planting trees but Mumbai's Deputy Commissioner of Police Pratap Ramachander Dighavkar broke the mould when he recently received the prestigious Indira Priyadarshini Vrikshamitra Award, under the government servants (individual) category.
PUNJABI ANTENNA
One more for the devout
by Randeep Wadehra
GOOD news for the pious. On the eve of Prakash Utsav, the ETC Khalsa – a dedicated religious channel – was launched. Jagjit Singh Kohli, the CEO of ETC Networks Ltd, informs that some formalities are still to be completed before the channel goes on air; and it will be available to viewers across the globe sometime around Divali time.
HAUTE TALK
Autumn robes
A pause between monsoon and winter, autumn has a special ambience. Rashmi Kushwaha on the latest in autumn-fashion.