The lunatic fringe
Jaswant Singh
Gods on Trial and Other Stories
by Gulzar Singh Sandhu. Translated from Punjabi by Khushwant Singh, Manmohan Singh and D. R. Goyal. Fiction House, Delhi. Pages 176. Rs 95.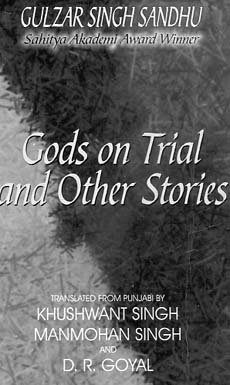 Sahitya Akademi Award winner Gulzar Singh Sandhu has witnessed the horrors of Partition, the turmoil of India-Pakistan war and the communal riots consequent to the assassination of Indira Gandhi. It is a coincidence that I, too, have gone through all these horrid experiences. The bouquet of 25 stories is presented in a lucid, yet succinct manner. I am dwelling on five stories for the sake of brevity, though the whole book is equally captivating.
In To be Mother, to be Wife, the author depicts the emotions of a mother when she sees a TV image of a man like her son who had been killed in the 1984 riots in Kanpur. She obtains a reel of the news, plays and replays it, whereas, the son's wife has remarried and settled down. A beautiful contrast has been brought about in the perceptions of the mother and the wife that fits in well with the human psyche.
The Quest describes main character Mukherji's forays in the massage parlours of Bangkok. All these parlours have set working rules. Massage girls do not give their names, but token numbers. None of them is "over 20" and none would admit to having more than one child. Mukherji has an experience of body massage by a Singapore girl "with good body, sweet features". Mukherji's mission of his visit to these parlours was his "quest".
In Immortal Story, elder uncle Natha Singh comments "Fools!" when he hears of the atrocities on the Muslim women in Bangladesh. The Hindus and the Sikhs raided the Muslims who had gathered at his village, Dholewal, chopped their folded hands and cut their bowed heads. He had given asylum to a Muslim girl, Nasiro, his daughter Tejo's friend. He hurries back from the Fatehgarh Sahib fair to Dholewal, kills Darbara and his two companions, who had been looking to abduct Nasiro. In a way, he avenges the atrocities committed on the Muslims of Dholewal.
In God for God, Gurcharan Singh, nay Ali Ghous, scion of a Muslim family of Johl Bhelan village, converts to Sikhism to escape murder during Partition. He is protected by a Sikh and later becomes a kar sewak. He goes to meet his mother, who has migrated to Pakistan. There, he learns that his mother has already died. One of his companions, Ilm Deen, who was Chaman Lal before he converted to Islam, excuses himself to go over to offer namaz in a mosque, while Gurcharan himself goes to offer his daily evening prayers: Rehras. How wonderfully they have taken to their religions of conversion, how they see their Gods!
Gods on Trial is a vivid description of the mob frenzy during Partition when hordes of rioters looted, massacred and abducted. Jaina and Rahmte, Muslim girls, to avoid this fate, start wearing yellow scarves around their necks and steel karas on their wrists. This, however, does not deter rioters from their abduction glee. In fact, they are targeted more vigorously. Badru and Nooran, Rahmte's father and mother, are attacked by a violent mob wielding spears. Many spears are jabbed into Nooran's body, her intestines dangling out of her body. The scene is pathetic. Even Gods were on trial. Who could restrain these lunatics, not even Gods, rues the author.
A well-written book, it brings out the events vividly and portrays the lunatic fringe of society in true colours. The contents of the book deserve a better container—the paper. The author has been absolutely objective, positive and his observations very balanced.