Selective tales of power play
Shastri Ramachandaran
Through the Corridors of Power
by P C Alexander. Harper Collins, Delhi. Pages 480. Rs 500.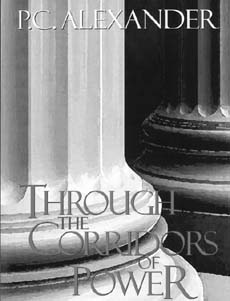 IT is a truism that bureaucrats are time-servers, and the successful ones more so. What sets P C Alexander apart from the run-of-the-mill bureaucrat is that he manages to come out on top even when times change and change again. Principal Secretary to Prime Ministers Indira Gandhi and Rajiv Gandhi and political adviser to P V Narasimha Rao, High Commissioner to the UK, Governor of Tamil Nadu and Maharashtra, would-have-been President and now Rajya Sabha member, Alexander has not only weathered some of the most tumultuous political changes in the last 25 years but has managed to remain in the innermost circles of power at the highest level.
So it is but natural that his book should be interesting as it deals with recent history, policies, politicians and decision-making. Through the Corridors of Power reveals his insights on national and international issues and their undercurrents. The narrative is eminently readable. It tells a lot about the characters who figure in it and, for those who wish to note the subtext, it also reveals much about Alexander himself.
Alexander comes through as a shrewd political negotiator, a canny aide to any leader he chooses to serve, gifted with the ability to anticipate the mood of the moment and as well as of his master. It is not surprising then that he has negotiated his way, through the many twists and turns of politics in the last two decades, to positions of power and authority. He is loyal but clever: loyal enough to justify every act and decision of his boss, be it Operation Bluestar or the toppling of N T Rama Rao's Telugu Desam ministry in 1984; clever enough to elaborate on his own role where things worked and distance himself where they went wrong — in his opinion. And, this is a very opinionated book, on the practice of statecraft replete with stories of what happened behind the scenes.
The two Prime Ministers of whom he has a poor opinion are Morarji Desai and V P Singh. Post-Narasimha Rao, he would appear to be well disposed towards A B Vajpayee, given the quote in praise of himself at the beginning of the book. He speaks well of Manmohan Singh and reminds us that he had a big hand in launching the present Prime Minister on his political career when he was picked to be Finance Minister under Rao.
As for the other Congressmen, he has a truckload of brickbats — delivered in the first chapter 'From Raj Bhavan to Rajya Sabha' where he vents his ire on those who were out to prevent him from being nominated for the presidential election. Foreign Minister K Natwar Singh and Vajpayee's Principal Secretary Brajesh Mishra come in for special mention. He is, to say the least, uncharitable to K R Narayanan who is seen by many as the best President the Republic has had so far.
Personalities apart, there are a number of situations where Alexander's narrative is limited to absolving his masters of blame, if not putting it on others. While this is most glaring in the case of Operation Bluestar, it is evident in a number of other avoidable political crises, too. For instance, he insists that NTR's dismissal in 1984, by Governor Ram Lal, was without the knowledge of Indira Gandhi or anyone else in the PMO. Hard to believe. He does not mention Ram Lal being replaced by Shankar Dayal Sharma, who proved instrumental in undoing the damage and reinstating NTR.
He is candid enough to admit that the 1987 Sri Lankan accord was doomed to failure and, here too, he blames the senior officers of the Indian Army who planned the (IPKF) operation. He forgets that the Army was only carrying out orders, the same armed forces that had earlier been ordered by the political leadership to train the LTTE cadres. It is no secret that the LTTE, and other Tamil groups, were trained, armed and funded by Indian authorities. Yet Alexander does not even touch on the who, why, what and when of the nexus between Sri Lankan Tamil extremists and the Union and Tamil Nadu Governments. He gives a clean chit to MGR with whom he helped the Congress forge an alliance but is silent on his support to the LTTE. He also desists from implicating MGR for the institutionalised corruption in Tamil Nadu, which Alexander got acquainted with as Governor after MGR's death.
These omissions apart, many of his assumptions are open to question. For instance, he says "all calculations (in 1991) about Congress' return to power went awry as a result of Rajiv's assassination". As events turned out, the Congress won more seats in the round of voting held after Rajiv's assassination. But for this sympathy wave, the Congress would have fared worse than it did.
There are several such claims in the book that could be contested. But how does it matter. Critics would always carp. Alexander carries on.