Chandigarh losing its edge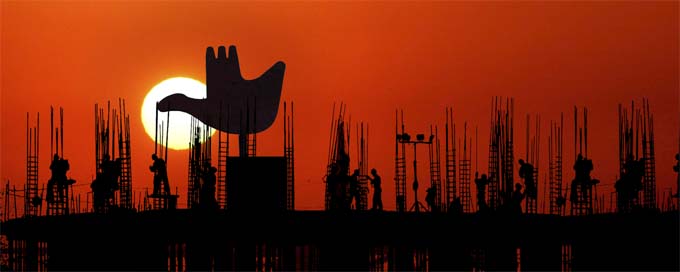 Chandigarh's fringes are being ravaged like never before. Thousands of illegal constructions have come up, destroying the greens meant to shield the city. The Punjab Capital Periphery Control Act seems to have lost its relevance. The Act requires to be recast if the city's natural cover has to be salvaged. Aditi Tandon and Chitleen K. Sethi report
Widespread encroachments
As age catches on with Chandigarh, jungles of concrete are slowly moving in and gobbling up the greens around it. The concept of planned urban development that formed the very spirit of the city's Master Plan lies in shreds as lure of the land entices speculators to flout laws.




Farmhouses in Kansal flout the Periphery Act.
— Photo by Parvesh Chauhan
With open lands vanishing from its fringes, the city can't but succumb to the perils of growth in the 21st century. Even as an old hand involved in its conception cries out in desperation, "Watch out, its lungs are choking," no one seems to be paying any heed. Chandigarh's periphery stands a silent witness to its desecration at the hands of hungry land grabbers.
The extent of violations in the 1362 sq km periphery area (72 per cent in Punjab; 24 per cent in Haryana and 4 per cent in UT) is massive: UT Estate Office sources estimate that 472 acres of the unacquired land is currently under periphery violations. The majority of the violations are in Mauli Jagran (150 acre), Daria (75 acre), Burail (50 acre) and Palsora (40 acre).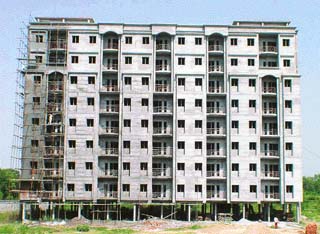 Against the rule: A housing complex at Sarangpur village. — Photo by Parvesh Chauhan
Haryana, though silent over violations, has a much larger proportion of land under the Punjab New Capital (Periphery) Control Act infringement, and Punjab, which is still assessing the damage as per directions of the High Court, has still larger chunks supporting illegal growth.
Passed in 1952, the Act prohibits erection and re-erection except for purposes of agriculture and other activites subservient to it. Rough surveys however suggest that about 40,000 illegal constructions dot the entire periphery, even as Haryana continues to build in Panchkula and Mansa Devi Complex and Punjab goes on with the expansion of Mohali. Short of funds, Punjab and Haryana are resorting to violations to make up for their cash crunch by selling prime periphery land at handsome prices.
Officials admit their hands are tied down when it comes to enforcement as many VIPs and politicians own plots in periphery areas. A serving Chandigarh MC councillor owns land in Manimajra, which he has allegedly acquired through plotting. Before the Estate Office could take action, the Mayor asked the Office not to take over the said land.
A senior functionary at Punjab Urban Development Authority (PUDA), Mohali zone, admitted that hundreds of illegal colonies had emerged in the periphery zone. The government is now working to freeze illegal growth. "I have passed 7000 demolition orders but enforcement is difficult as retired/serving bureaucrats, police officers and people holding gubernatorial posts own lands in these areas," he said.
So grave is the situation that the Act formulated to save UT's periphery from unplanned growth today lies in tatters. At this pace a day will come when not an inch of open land would be left in UT's periphery. Punjab and Haryana have already been advocating that the Act should be repealed. While Chief Town Planner Haryana Surjit Singh labels the Act redundant, a Subordinate Legislative Committee, headed by the Deputy Speaker, Punjab, recently almost directed the government to abrogate the law. With politicians promising regularisation of illegal structures, the situation is only turning worse.
Punjab has failed to check unregulated construction in periphery villages like Baltana, Naya Gaon, Dakoli, Zirakpur and Kansal. Due to PUDA's policy of least resistance to illegal colonising, there's a difference in the property rates in Punjab villages under the periphery zone and the UT villages adjoining them.
Baltana in Punjab reportedly has no agricultural land left. One acre here costs Rs 1 crore. In contrast, in UT where implementation of the Act is still stringent, the cost of land in Raipur Kalan, adjoining Baltana, is just Rs 15 lakh. A similar difference persists in property rates in periphery villages of Nayagaon (Punjab) and Khuda Alisher (UT). Attached with Estate Office UT as in charge of Periphery, Balraj explains the disparity, "We conduct regular demolition drives which prevent land prices from escalating, but Punjab allows a free hand to colonisers."
Till July, 2004, UT Land Acquisition Officer S.K. Setia had passed 685 cumulative demolitions orders in 22 UT villages in the periphery zone. Most of them were in Kishangarh (114), Hallomajra (111) and Manimajra (100).
Officials say there are about 4000 illegal structures in UT's periphery. Violations are rampant in Khuda Jassu, Khuda Lahora and Sarangpur where a multistorey building is coming up in violation of Chandihgarh's Edict. Till now, UT has registered only three cases for Periphery Act violations. Interestingly, illegal structures that numbered 1000 before elections rose to about 4000 after elections, courtesy politicians, who assure regularisation of unauthorised growths.
Pawan Kumar Bansal, MP, is a proclaimed votary of the extension of lal dora. Habitation outside lal dora (adabi area) is said to be four times higher than within it. The shift is explained by availability of cheaper land outside lal dora where one marla costs just Rs 60,000. Inside lal dora, the same plot costs Rs 1.25 lakh.
Pained at the scenario, MN Sharma, the first Chief Architect of UT, says, "We are slaughtering the Act to please the high and mighty who own plots in the periphery zone. It was to save the greens and provide for nutrients that the Periphery Act came in 1952. Unfortunately, violations came faster."
With repeated infringements of the Act, some planners in Punjab and Haryana are now questioning its validity, especially in the wake of the growing number of violations. Haryana calls for updating the Act, while Punjab has long been contemplating its repeal.
Private builders in Karoran and Nadda villages of Punjab have raised constructions till Patiala ki Rao, besides raising plinth levels of plots obstructing the flow of rainwater. These villages house four big housing societies– Shivalik Nagar, Dashmesh Nagar, Adarsh Nagar and Gobind Nagar. Gulmohar Complex has come up in Kharar, violating the Periphery Act.
Senior HC Advocate G.S. Grewal, who won the "Anandgarh" township case against the Punjab Government, says: "Punjab recently acquired land in Sohana to build another residential complex. The Chief Administrator, PUDA, said profits from the five sectors would be saved to build PUDA offices. This shows how profitable colonisation is for PUDA. Illegal growth thus suits a cash-strapped Punjab."
With the High Court recently pulling up Punjab for repeated violation of the Periphery Act, a committee headed by Chief Secretary is working out ways to regulate growth. PUDA is also video-graphing the periphery zone to determine the extent of violations. The committee will submit its report shortly. The focus will be on the evolution of a Master Plan and identification of green belts. Meanwhile, PUDA has been demanding more enforcement staff. PUDA Mohali Zone has just two junior engineers to look after one lakh hectare of land. — A.T.