MGM: Moving landmark
Sony's takeover of MGM Studio evokes nostalgia among those who grew up on MGM musicals, says Ervell E Menezes, as he looks back at the ever-lasting contribution of the studio to Hollywood.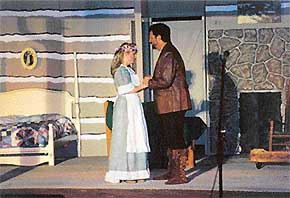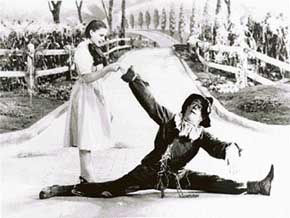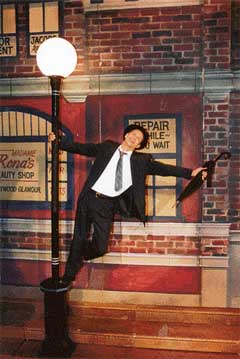 Great MGM classics: (From top) Scenes from Seven Brides for Seven Brothers, Wizard of Oz, and Singin in the Rain
The news that the MGM studio was being bought by a group headed by Sony Corporation of America was received with a tinge of sadness for the Metro-Goldwyn Mayer lot was at one time the most hallowed turf in Hollywood. The new owners will come into possession of 4,100 MGM movies from their library and what a wealth of titles these are.
Sam Goldwyn and Louis B. Mayer were the founding fathers of MGM and hence the name. There may have been the hard-as-nails Harry Cohn of Columbia and the PR-savvy Darryl Zanuck of 20th Century-Fox, of The Longest Day fame, but the MGM moguls were in a league of their own.
Sam Goldwyn was one of the original "fur, glove and junk merchants" who built the industry and was known for solecisms like "include me out" but his films were very special, particularly the musicals which later became synonymous with MGM. As for Louis B. Mayer he was no less authoritarian and Life Goes to the Movies has a 1943 photograph with a galaxy of 65 MGM stars in six rows: bigwigs like Lionel Barrymore, Spencer Tracy, Robert Taylor, William Powell, Wallace Beery and heroines like Katherine Hepburn, Greer Garson and Heddy Lamar. They said there were as many stars in MGM as they were in the sky.
The mid-1970s saw MGM compile the best of its musicals in That's Emtertainment which covered 30 years from 1929 to 1958 and what a glorious parade it was. Famous pair from Nelson Eddy and Jeanette MacDonald to Fred Astaire and Ginger Rogers to Donald O'Conner and Debbie Reynolds all lilted down the aisle on the light fantastic toe. Singers Judy Garland and Deanna Durbin were there as were dancers Ann Miller and Cyd Charisse and the singing and dancing pair of Frank Sinatra and Gene Kelly in Anchors Aweigh. And then that ace tap dancer Fred Astaire.
One was able to browse through The Hollywood Revue, A Date With Judy, In the Good Old Summer Time (where two-year-old Liza Minnelli makes her first screen appearance with ma Judy Garland and Van Johnson), Bathing Beauty with Esther Williams (when it was released at the Metro in Bombay the lower stalls found film buffs occupy the first row of seats, thinking they'd get a better view of Ms Williams in swimsuits), An American in Paris and that rambunctious Seven Brides for Seven Brothers with Howard Keel singing Oh Bless Your Beautiful Hide and Russ Tamblyn doing all sorts of acrobatics. Those were the days of the Hollywood musical. What about Gene Kelly's Singin in the Rain? It's now a collector's item.
The 1930s was the height of the studio system and the stars were like the private property of the studio. Clark Cable was one of the biggest of them and the making of Gone With the Wind was something out of this world. When Vivien Leigh came to India she cold-shouldered the journalist who asked her when they'd be doing a remake of GWTW. She thought it was sacrilege even to think of it.
There was Vincent Minnelli (Liza's dad), that star composer and director and others and the music they produced had a way of regurgitating the old and forming an amalgam with a distinct new flavour.
That Sony would have had an eye on the MGM library is obvious. Putting their 3,500 titles together with MGM's 4,100 gives them a sum total of 7,600 titles, easily the largest piece of film property on in the world.