Music greats through Lata's eyes
M. L. Dhawan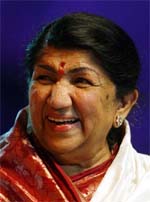 On the occasion of her 76th birthday on September 28, Lata Mangeshkar goes down the memory lane and pays glowing tributes to composers along with whom she heralded and sustained the golden era of film music.
Speaking of Madan Mohan, Lata recounts an episode that took place during the recording of Naino mein badra chhaye. "I was rehearsing before the mike. Madan bhaiyya was angry at some of the musicians who were playing off key. There was a door inbetween. He sprang lividly towards them. Instead of opening it, he hit the glass with his hand. Bleeding profusely he went on to shout 'Besure bajatey ho. Sur ke saath beimani karte ho. Sharam nahin aati tumko'." Lata rues that despite a long list of superhit songs, commercial success eluded him.
Lata says Hemant Kumar was simple and humble and generous to a fault. The soft cascade of his songs move listeners even today. "In 1962, I fell ill. My doctors feared that I may not be able to sing again. When I recovered I went to Hemantda for the rehearsal of Kahin deep jale kahin dil. After the rehearsal I questioned him about the quality of my voice. He recorded the rehearsal without my knowledge and this helped me regain my confidence," remembers Lata.
Lata says that she cannot forget what Dev Anand did for the ailing S.D. Burman. When on account of Burman's prolonged ailment, many producers cancelled their contracts with him, he told Dev Anand to engage some other music director for his Guide for which he had composed only one song. Dev Anand told him that he would prefer to wait for his recovery than engage another composer, including his son R.D. Burman. "But," asked Burmanda, "what if something happens to me?" "God forbid but if something happens to you, I shall release the film with just one song you have recorded."
Naushad, says Lata, is a hard taskmaster who spends sleepless nights over a song and works on it till it is perfect. "While recording Tere sadke balam na kar koi gham, with him I actually fainted because of multiple takes. While recording Mohe bhool gaye sanwariya, I was so overwhelmed by the tune that I started weeping during the recording."
C. Ramchandra made music that was both foot-tapping and heart-wrenching, says Lata. "My personal favourite is Kat te hain dukh mein din pehloo badal badal ke... where even the only sitar accompanying my voice appears to be in mourning," she says.
"Like their lifestyle, the music of Kalyanji-Anandji was simple. They looked for something new in music all the time. The film Saraswatichandra had hardly any scope for music, but they still came up with Main to bhool chali babul ka desh piya ka ghar pyara lage," Lata recalls.
One had to be present at RK recordings to see how Raj Kapoor changed the very tone and tenor of a song by the time the final score was okayed. At the time of first trial rehearsal of Henna's Chhitiye dard faraqwaliye laija laija saneha sohne yaar da, he asked Ravinder Jain, "Will anybody tell me what so many foreign instruments are doing in a rustic setting like this one. I want only 'desi' instruments in the song like the one gets to hear in the high mountainous sector of Lahore." With this change there emerged a song which wowed the masses and the classes.
Lata feels that she is fortunate to have started her singing career under such talented music directors. They had to suffer humiliations, indifference, indignity and even criticism in their life, but now they are remembered with respect and adulation and their compositions are considered milestones in music.