King of Bollywood in Queen's land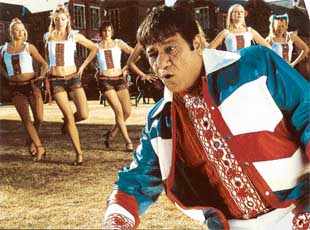 Om Puri in King of Bollywood
King of Bollywood starring Om Puri was the opening film at the six-day Bite the Mango film festival in Britain. The festival will conclude on September 30. The film has been directed by Piyush Jha. Puri was present at the film's premiere.
The actor's impressive list of work includes films like East Is East and My Son The Fanatic. King of Bollywood also stars British supermodel Sophie Dahl.
The film was released in India by iDream Productions through distribution partners Sony Pictures Entertainment.
The Bite the Mango film festival has contributed to the popularity of Bollywood in the West and in the past featured Mani Ratnam's Bombay and Roja as well as landmark movies like Mughl-e-Azam and Shekar Kapur's Bandit Queen. Bollywood's romance with the festival began in 1995.
King of Bollywood is the story of Karan Kumar (better known as KK), played by Puri, who in his heyday was a top star. He still has grandiose notions about himself, though he is now nothing more than a shadow of his former self. He is a faded, yet likeable, actor way past his sell-by date.
Crystal Chaurasia, played by Sophie Dahl, is a 24-year-old documentary filmmaker of Indian origin. As a child, Crystal's favourite Bollywood hero used to be KK. She comes to Mumbai from Britain to make a documentary.
KK realises that he is past his prime and prodded by his secretary Ratnesh Goyal (Manoj Pahwa), he tries to convince his son Rahul (Diwakar Pundir) to become an actor in order to carry on his legacy as a star.
But Rahul is averse to Bollywood and has no intention of becoming an actor. Crystal's presence triggers off KK's latent ambition and starts a chain of events that teeter on the edge of comic chaos.
— IANS