NATURE
Wonders of Shivalik
Vishal Gulati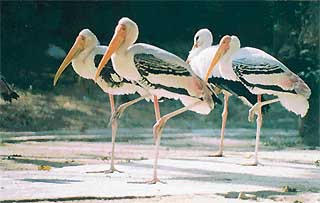 Painted stork is the white stork with a delicate rose pink hue on its wings. It hangs around marshes, lakes and rivers and can be spotted in Ropar wetlands.
The Shivalik range is probably one of the finest wildlife sites in India. Thirty-two per cent of the country's bird species and five per cent of the mammals have been found in the range which lies in the north-east part of Punjab.
Running along the Himachal Pradesh border, the range spreads over the four districts of Ropar, Hoshiarpur, Nawanshahr and Gurdaspur and covers 9,448 sq km. Sixteen per cent of the area covered by forests is rich in biodiversity. There are four types of forests dry deciduous, moist deciduous, dry deciduous scrub and chir pine. Out of these, dry deciduous forests in Mirzapur and Nurpur Bedi are the most biologically rich.
Of the 526 species of flowering plants recorded in the Shivaliks by the Punjab State Council for Science and Technology in its study, two herb species — Hibiscus hoshiarpurensis and Argyrolobium album — are endemic to the area. The range also has 214 plants of economic importance, including 132 medicinal plants.
The Shivaliks also abound in rich invertebrate fauna with 135 species of moths, 74 species of butterflies and 63 species of beetles and vertebrate fauna.
Little winged beauties can be seen flitting all over the Shivaliks, especially Sadavarat and Kahanpur Khuhi forests in Ropar district, Ropar wetlands and Dholbaha-Kukanet, Nara and Chohal forests in Hoshiarpur district.
Five species of butterflies reported here — the dark-brand bushbrown, the pea blue and the common pierrot, gull and Indian crow — have been included in the list of the Indian Wildlife Protection Act.
The flower-rich forests, where 390 of the 442 bird species found in Punjab have been recorded, are rich in avifauna. A large number of resident birds, including red jungle fowl, large Indian parakeet, Indian cuckoo, bank myna, wood shrike, yellow-eyed babbler and crested bunting, can be seen.
Four species — darter, white-eyed pochard, pallid harrier and painted stork — which have been declared globally threatened by the International Union for Conservation of Nature, have been recorded. All these birds, except pallid harrier, prefer marshes, flooded fields and rivers.
Seasonal streams, rivers and lakes are home to 55 fish species of 17 families. These include endangered mahseer, also known as "Tiger of Indian rivers". It is a nature lover's delight.
Mammalian fauna in Takhni-Rehmapur Wildlife Sanctuary near Hoshiarpur and the Guru Gobind Singh nature park near Anandpur Sahib is plentiful. Sambar, barking deer, wild boar, hare, jackal and jungle cat can be spotted.
As many as 19 species, including globally threatened Indian pangolin, rhesus macaque and common langur and otter, have been recorded. Twenty species of reptiles, including brown river turtle and Indian rock python, have also been recorded.
Vespa himalyana, a dark brown wasp with yellow strips, seems to be endangered in the Shivaliks as one specimen was collected.
Some latest findings include Ethmia praeclara, a silver grey moth with a wing span of 26mm, has been recorded in Ropar for the first time in the country. Moundinothrips robustus, a dark brown thrip and native to Indonesia, has been collected from fern leaves for the first time in Hoshiarpur district.