TELEVISION
Warrior Irfan is back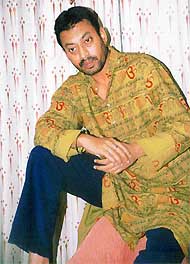 New challenges beckon for Irfan
For more than 15 years he's been an unsung hero whose face was familiar but whose name you never remembered. King Badrinath of Chandrakanta, Kumar of Banegi Apni Baat and the psychic of Darr— a star known only by the characters he played.
But ever since he won the British Academy of Films and Television Art [BAFTA] for the movie Warrior, things have never been the same for Irfan Khan.
Today besides being one of the most sought after stars of the newage cinema, he's in great demand on TV as well.
Now, if the grapevine is to be believed, it seems certain that Irfan has been roped in by Balaji Telefilms for its new show, Kya Kehna.
"I am looking forward to getting back on TV which is offering me a variety of roles," says Irfan best known for his roles in Kathasagar, Chandrakanta and Discovery of India.
However, with the Filmfare Best Villan award for Haasil, what motivated him to return to television?
"The medium is not important. As long as the role is challenging I take it on. I am only game for power roles." Wonder what power he saw in an Ekta Kapoor soap.
Nikki's journey continues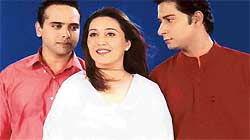 Nikki with co-stars in Astitva
She has emerged triumphant from all the heartbreaks and sorrows in the last 250 episodes. And now, Nikki Aneja a.k.a. Dr Simran of Astitva on Zee TV looks all set to be around for the next 250 episodes.
"The secret of Astitva's enduring appeal is the sensitivity with which relationships have been handled. It has a credible storyline and plausible situations. This is no weepy saas-bahu stuff," says Nikki.
And even as the show starts, its march to the third century-mark rumours abound that it may witness another fast forward to retain viewer interest.
Nikki doesn't deny the possibility, "Yes, we might go forward. I am not ruling that out. But that's a decision that the director has to take."
However, she takes you by surprise when she credits director Ajay Sinha for Astitva's unequivocal success.
But then, she has reasons to be modest. Had it not been for Sinha, Nikki may never have achieved the numero uno position she's in today.
Parting shot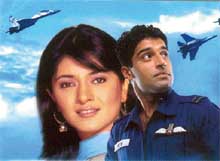 Sonal Sehgal and Shakti Anand
"It was a mutual decision and we've parted amicably." That seems to be the favourite line of a number of stars abandoning serials midway. Now, after walking out of Saara Akaash, Sonal Sehgal, too, has joined the list of those parroting the line.
And what are her future plans? The one-serial star joins the Balaji camp for a role in Kasauti Zindagi Kay. "Yes I am doing a cameo that'll last three months," confirms Sonal, who is rumoured to be tying the knot with former Saara Akaash co-star Shakti Anand.
There are also rumours that she's ready to storm Bollywood and is signing a slew of films. But she denies it.
"I wish that was true. As of now I am looking forward to working with Sagar Arts in a new yet untitled serial," says Sonal.
However, she is consciously distancing herself from TV producers ever since she signed the dotted line for a crossover film.
Yes, she says, there are plenty of film offers but nothing of substance. "The only concrete offers have been for item numbers but I don't want to reduce myself to a strip tease." But Sonal, is there any other way of succeeding in films these days?
Nausheen's new look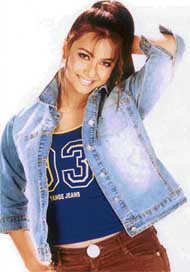 She is an Indo-Iranian beauty who's fast becoming a youth icon. Kkusum is a thing of the past and Nausheen Ali Sardar is making her presence felt elsewhere. She's taken to the floorboards with a Hindi play Kusum Manohar Lele and shot for a Pakistani soap Ana.
Now back in Mumbai, and looking stunning after having shed a few kilos, Nausheen is all set to appear in not one but three new avatars in Kaal Chakra on Star Plus where Mohnish Behl, Mukul Dev and Manav play her co-stars.
"In the triple role of Rashmi, Tania and Nisha, I get to do every conceivable emotion in Kaal Chakra. I even play a vamp. I can't reveal more," she smiles.
What she is willing to reveal is her fondness for the character of Kkusum which she played for three years. "When the role was first offered to me, I didn't realise that I was going to do a character who was so close to me in real life. I really miss the part."
Wonder if Ekta Kapoor will fast forward Kkusum by another 20 years and recall her.
Balaji to the rescue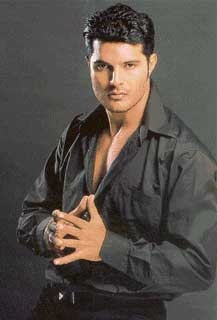 A right break for Himanshu
Making it big in the tinsel world has so far remained an unfulfilled Khawaish but debonair Himanshu Malik is not likely to throw in his towel yet.
The young actor who got off the blocks with Ram Gopal Verma's Jungle playing Urmila Matondkar's sissy boyfriend has witnessed yet another failure in Rakht. But, says an ever-optimistic Himanshu, "I am getting noticed and my luck will soon turn for the better."
And truly his fortune might be changing what with two of his forthcoming starrers — Pooja Bhatt's Rog and Samit Batkar's Jackpot mopping up positive publicity.
But the best thing to happen to the star is Ekta Kapoor who has cast him in her new thriller Koi Aap Sa.
So impressed is she with Himanshu that she is toying with the idea of casting him in a couple of her new soaps.
So move over Cezanne Khan and Manav Govil, Balaji Telefilms' new star attraction is here and going by his determination, Himanshu looks all set for a long innings on the big and small screens.
— NF
Dance away your blues
You don't just need legs to dance with the stars of the Royal Ballet; you also need a brain. In the The Dancer's Body Saturday at 8.40 p.m. on the BBC World, Deborah Bull, a former principle of Britain's Royal Ballet, shows what it takes to be a professional dancer and reveals that you need not just a pair of legs but brains as well.
Deborah examines how a young dancer's skills develop from childhood to maturity and she demonstrates how much of it depends on logic and intelligence.
It is hard enough to master the extreme movements dancers are expected to perform but they must remember the steps and repeat them faultlessly.
They have no script to rely on, but she reveals some of the techniques they use to commit a performance to memory. The dancers start developing sixth sense. This helps them communicate without words.