CAREERCATURE
by Sandeep Joshi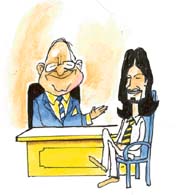 No need to tell me your experience. I can make out you have worked in a call centre

WORLD WATCH
Uncle Samís lure lessens, Down Under beckons
The strong Indian student community, which is set to drive the global education scene in coming years, is trying out new destinations, beyond the much sought-after shores of the US, according to a report from New Delhi.


TITLE TRACK
People-Delight
Innovative Ideas to Motivate Your Team
By Rajiv Khurana
Vision Books; pages 108; Rs 125


SMART SKILLS
Work etiquette crucial to corporate culture
by Usha Albuquerque
This could be a typical schedule of the average business executive or businessman today. Social activities and business etiquette are as important as balance sheets and deadlines. Caught in the sweep of globalisation, we cannot afford to stay insular in our attitudes, etiquette and fashions.


CAREER HOTLINE
Make a foray into foreign marketing
Q I am a working in sales in the FMCG sector but I want to move into international marketing. How should I proceed?
Future in floriculture

DRDO recruitments

Specialising in Net security

Avenues in accounts

Nursing exam

Look after labour welfare