Tuesday, September 28, 2004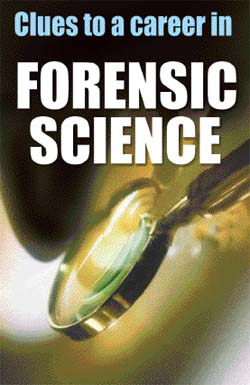 With the spiralling crime rate, the time is just right to arm oneself with a degree in Forensic Science to help untangle knotty cases and trace criminals, writes Pramod K. Chaudhari

There is an old adage that a murderer leaves some mark somewhere and therein hangs a tale... To be unravelled by a sleuth, nay, forensic scientist.
Forensic Science plays a key role in any investigation. With the rise in crime rate, we need an army of forensic scientists to zero in on criminals. Hence, the demand for forensic experts is increasing.
Criminals wield the latest gizmos these days and play havoc with the lives of thousands of innocent people. This has made the role of forensic experts all the more crucial.
Future trends
There are good career prospects in the line. Says S.R. Singh, CBI Director, Central Forensic Science Laboratory, Delhi, "Students who complete this course have reasonably good job prospects. They get opportunities in the district forensic laboratories, courts, prisons, CBI, police, detective and security agencies and law firms. This course also proves to be of great value to serving police officers and lawyers. The students can also set up their own forensic laboratories. Besides, defence councils also employ them."
The prospects for forensic scientists are increasing in the private sector too. Corporate houses are likely to hire forensic experts in a big way in future owing to the growing incidence of white-collar crimes, frauds and scams.
Money matters
According to sources, this field has its own unique way of paying the experts, especially in the private sector. It is not like going to a hotel and ordering stuff a la carte. There is no fixed tariff in the private sector. If 10 handwritings are to be compared, a fee of Rs 10,000 may be charged.
Singh says, "Remuneration is not very high in this line. However, you get a lot of job satisfaction."
This calling may not be an 'open sesame' to a goldmine, but it is definitely lucrative for those who seek thrill and excitement in life.
"A lot of money is there in the private sector," says Dr Sally Lukose, lecturer in Forensic Science, Amity University, Delhi. "A private forensic expert can earn up to Rs 3 lakh per case. People involved in litigation are ready to pay any amount to win their cases. L'affaire Lodha is a case in point."
Progression path
As far as career progression is concerned, the CBI director elucidates, "The highest post is that of Joint Secretary and the lowest is of Lab Assistant. We have the same hierarchy as in any other government department, i.e. Groups A, B, C and D."
In universities, a Lab Assistant rises to become a Senior Scientific Assistant, Junior Scientific Officer (JSO) and then Senior Scientific Officer (SSO).
A Lab Assistant gets Rs 7,000 to Rs 8,000. By the time he becomes a JSO, he gets Rs 15,000. An SSO gets around Rs 20,000.
Flip side
There is a flip side to this profession and that is extra-sensory perception ESP.
How helpful is (ESP) in this vocation?
Dr Amit Jain, Director, Lifestyle Alternatives, who has been practising mind and body healing for the past 12 years and excels in aura reading as well, is of the view that the role of ESP in cracking cases varies.
"If a Forensic Science expert has a high ESP, he definitely has an edge in his vocation. But aura keeps changing as per the mood of the person, so one cannot totally depend on extra-sensory perception."
According to an old adage, an expert in the vocation must often keep in mind the phrase 'cherchez la femme (seek for the woman). It may sound rather like a phrase in a novel or smack of sheer male chauvinism, but every ace scientist relies on it.
Whenever there is a crime, behind it is the man's instinct to please a woman. The woman can be his beloved or anybody else. Find the woman and you solve the case.

"Role of forensic scientists will grow in future"
Chetna Keer Banerjee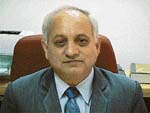 Dr R.S. Verma, Director, CFSL, Chandigarh
Forensic scientists play an important role in helping crack cases and crimes. Dr R.S. Verma, Director, Central Forensic Science Laboratory, Chandigarh, outlines the career prospects in this field. Excerpts from an interview:
What are the areas covered under Forensic Science?
Forensic Science embraces all branches of pure sciences like Physics, Chemistry, Biology, Botany, Zoology, Anthropology, Medicine, Geology, Mathematics, photography etc.
It also has its own specialised disciplines like Fingerprinting, Questioned Documents, Serology, Explosives, Toxicology, Ballistics, Voice Identification, Polygraphy, Odour Analysis, Nose Prints, Ear Pattern, Brain Fingerprinting, Forensic Engineering, Track Marks, DNA Fingerprinting, and Computer Forensic.
What are the job avenues in the government sector?
The job avenues as a forensic scientist are basically available in the State/Central Forensic Science Laboratories.
Are any new employment opportunities coming up in the private sector?
At present, the Forensic Science Service is not available to the general public. The facility can be availed of only in cases where an FIR has been registered. Thus, only the police, court and other government organisations can avail of the facility in the present scenario. However, there are plenty of opportunities for private practice in different branches of this science.
What are the qualities needed to make a mark in this field?
Basic qualifications, training and experience along with inherent qualities such as honesty and dedication are required to be good in this job.
Do you think the role of forensic scientists will increase in the coming years?
Forensic scientists have a wide role to play due to the fact that in the present circumstances it is only the material evidence in traces that has more chances to link the criminal/victim with the crime. Witnesses, for fear of dreaded criminals, may not be available in the near future.
Any advice for youngsters?
The knowledge of Forensic Science becomes a way of life, as a result of which a person can save himself from becoming a victim of any fraud or crime.